Dir.: David Cronenberg; Cast: James Spader, Holly Hunter, Deborah Kara Unger, Elias Koteas, Rosanna Arquette; Canada 1996, 100 min.
Crash certainly broke ground on its release in 1996. Cronenberg adapted the screen hit from the 1973 novel by JG Ballard's 1973 who was declared "beyond any psychiatric help" by a publishing house critic back in the day.
The thriller won the Special Jury Prize "for Audacity" at the 1996 Cannes Film Festival, where it was talk of the town, Crash feels rather trite in the age of the Pandemic, twenty five years later.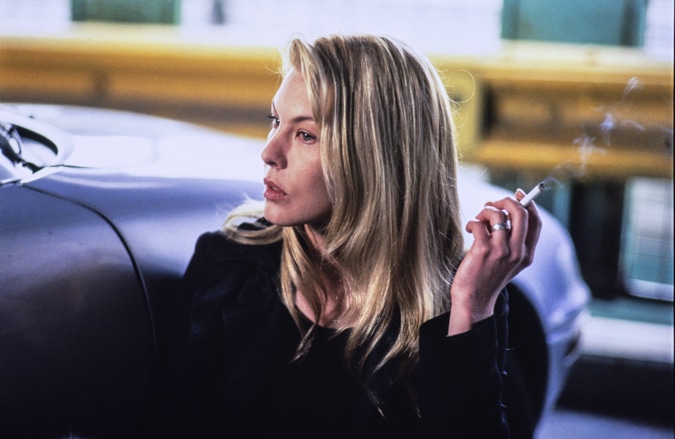 James Spader plays Ballard, a TV producer 'enjoying' an open relationship with his wife Catherine (Unger). The two entertain each other with salacious titbits from their extra-marital affairs. But even this kinky variation does not satisfy them – there is still something missing.
The 'something' is rather shockingly (at least at the start) a love for car crash related sex. After one such incident Ballard just pulls through although the other driver is killed. He gets together with the female accident survivor Dr. Helen Remington (Hunter) and she introduces him to fellow crash fanatic Vaughan (Koteas), a veteran of staged accidents, and James is entranced by their post crash sex.
Poor Catherine has to wait for her own crash before she can join the elite circle of sex-crash survivors. Vaughan meanwhile re-stages the 1955 deadly crash which killed James Dean, complete with Dean's 'Porsche Spyder'. Not satisfied with his endeavour, Vaughan plans for the re-construction of the Jane Mansfield decapitation. After Catherine finally had her own collision – not a particularly impressive one – she can join her husband again. But this time Rosanna Arquette joins the party in a chrome body suit and leg braces, and the re-united couple and Helen can have a three-some of sorts. 
DoP Peter Suschitzky shows a barren, snowbound Toronto in keeping with Cronenberg's habitual bleak dystopian world inhabited by these  hybrid characters. For once the director shares a different view: "Even though people think the movie is cold, I don't think it's cold. It begins cold, but gradually fills with emotions. It is subtle and not delivered the normal way it's delivered in movies." Viewers might find it difficult to come to terms with this new subculture where the addicts seek "to re-experience the mortality they so narrowly escaped by purposefully getting into more accidents where the only goal is to have sex with fellow survivors". Cronenberg paints the small elite "of people who understand the crash epiphany, which allows them to relate each other". By definition, there is a whole outside world, where everyone is irrelevant to the self-styled elite of death-seekers – Freud would have had his fun with analysing them. But Cronenberg seems unaware of his closeness to Nietzsche's postulate of "Mensch and Übermensch: "The subject of the film is there is no moral stance that you can take. And if impose my own art artificial standards, then I am completely spoiling my experiment, which is to let these creatures have their head and try to re-invent all these things they are trying to re-invent".
Some films are made to be just for a particular moment, that's were Crash belongs, a piece of utter decadence, great to look at, but ultimately driving on empty. AS
CRASH IS NOW A DIGITAL RELEASE ON 30 NOVEMBER 2020