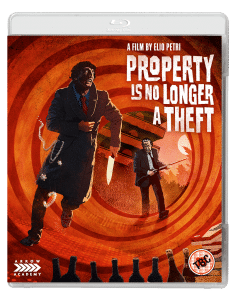 Dir: Elio Petri | Writer: Ugo Pirri | Cast: Ugo Tognazzi, Flavio Bucci, Daria Nicolodi | Italy | Comedy Drama 126′
Property is No Longer a Theft is the final part of a trilogy by Elio Petri which comprises Investigations of A Citizen Above Suspicion (1970) and Lulu the Tool (1971) aka as Le Classe Operaia va in Paradiso. Bergman allowed himself a "faith" trilogy and Antonioni an "alienation" trilogy, so Petri, as a politicised filmmaker, delivers a "neurosis" trilogy. The inherent sickness of acquiring property, money and power is viewed from a darkly comic perspective: a corrupt Italian capitalism where the thieves, both legal and criminal, thrive and fall.
Total (Flavio Bucci) is a young bank clerk striving for a more meaningful existence beyond the daily grind of dealing with rich businessmen and their money. To get his own back on one of his clients – a wealthy but slightly dubious butcher (Ugo Tognazzi) – Total steals the meat man's car, amongst other possessions, and kidnaps his young girlfriend Anita (Daria Nicolodi). Total's motives are a crazed sense of social justice – punishing the rich butcher who he sees as representative of a corrupt class. Yet capitalism has rules that Total cannot break and he pays a severe price for his anarchic intervention.
Few films present us with a philosophy of theft. The emotionally-charged arguments in The Godfather 2 or spiritual tension in Pickpocket have a theoretical and philosophic power. Coppola depicts stealing as a natural activity. Bresson, as a means to find spiritual grace. Yet Petri presents us with a bitter and ironic escapade in 'praise' of a thieving world whose logic and highly normalised rules we cannot ignore.
A Brechtian/Godardian distancing effect interrupts his story, with monologues by his characters functioning as unreliable narratives. We criticise and examine their relationship with money and one another. These talks to the camera are filmed in a faintly sinister manner: leering, sweating people anxious to justify their actions whilst the sub-text is often a cry of pain. They're vulnerable, very human and sometimes deeply sad. Without its comedy Property is No Longer a Theft might have been a tedious political diatribe against capitalism. Yet a brilliant and biting script makes for a compelling, even grotesque, experience as every mad attempt to justify the logic of stealing and owning is hilariously exposed.
Despite his humble role as the local butcher, Ugo Tognazzi's character is an ill-educated, coarse and ego-driven man living a 'nouveau riche' lifestyle. He sexually abuses his girlfriend (Nicolodi's Anita), who is partly complicit with his treatment and is strongly aware of how she functions in his and other men's lives. In contrast, bank employee Total often appears deranged and deluded in his pursuit of justice.
Albertone (Mario Scaccia) is a burglar/professional actor employed by Total to rob the butcher. They're caught by the police. Albertone dies during the interrogation. At his public funeral, a speech is delivered praising the criminal class over the legal class of thieves. Hyperbole is piled up in praise of Albertone, resulting in richly absurd comedy. The phrase "honour among thieves" has never been so superbly ridiculed in the cinema.
Property is No Longer a Theft is both very funny and very serious. It's a bitter, radical and complex film about monetary contagion. Total suffers from itching, odd tics; always wearing gloves so as not to be physically contaminated by the touch of money. (There's a great scene where he asks the bank manager for a rise. When refused he takes a banknote and burns it in front of his boss.)
"…in the struggle, legal or illegal to obtain what we don't have, may fall such with shameful illnesses; they become plagued, inside and outside."
Total's opening speech sets the tone for the rest of the film. The characters' almost farcical antics are captured by Petri's acute eye for detail as Total purses his intension to be a "Marxist Mandrake". The break-ins and bungled robberies are excitingly filmed. Fiercely exact editing and camerawork gives the film an exhilarating rhythm (accompanied by an off-centre and spiky score form Ennio Morricone)
Like Francesco Rosi, Petri is an almost forgotten director who urgently needs to be re-evaluated. Property hits all the capitalist bulls' eyes and is a minor masterpiece, along with his feature debut L'Assassino (1961). More Petri please | ALAN PRICE© 2018
NOW OUT ON BLURAY FROM ARROW | 20 MARCH 2018