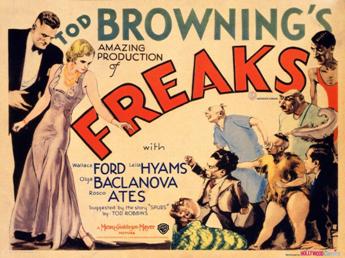 Dir.: Tod Browning
Cast: Harry Earles, Olga Baclanova, Daisy Earles, Henry Victor, Wallace Ford, Leila Hyams
USA 1932, 62 min. Dystopic Drama
After the success of Dracula (1930) MGM wanted something "even more horrible" from Browning. Shot in five weeks on the set of Susan Lennox: Her Fall and Rise, FREAKS was a flop at the box office and critics slaughtered it. MGM withdraw the film very quickly and it went into the history books as hard core horror. But nothing could be more far from the truth: FREAKS is humanistic, never exploiting the disabilities of the actors; just showing their need for love and solidarity.
In a circus, were the huge majority of the artists are severely disabled, the Lilliputian Hans (H. Eagles) is engaged with Frieda (D. Eagles), a fellow sufferer. But Hans falls in love with the attractive trapeze artist Cleopatra (Baclanova), a woman of normal height, whose boyfriend Hercules (Victor) is equally venomous in the way he treats the disabled members. But when Cleopatra learns that Hans is wealthy, she changes her mind and marries him only to poison him slowly afterwards. The disabled artists take terrible revenge on her: at the end Cleopatra is just head torso and has gone mad, the crowd proclaiming, "you are now one of us".
Far more shocking than the disabilities of the majority, is the moral unattractiveness of Cleopatra. Her greed is far more ugly than the disfigurement of the others. The wedding feast is one of the high points of the film: Hans and his friends offering Cleopatra to "become one of them", something she shrinks away from in horror, not knowing that this is exactly how she will end up.
Other great moments include a scene when Violet, a Siamese twin, feels the kiss a man plants on the lips of her sister Daisy. Browning also shows the ingenuity that the disabled artists develop to overcome their issues to solve practical problems: the armless Frances holds a goblet with one of her feet, and the limbless Prince Randian lights a cigarette, using only his mouth.
FREAKS is also a parable on Hollywood, where the studio system exploits popular notions of beauty for profit. For Browning (1880-19620, who had directed 57 films before Freaks, the film signalled the end of his career, he would only be at the helm on four other occasions, before his enforced retirement in 1939. The film theorist Andrew Sarris called Freaks rightly "one of the most compassionate films ever made." It was banned in the UK until 1963. AS
IN CINEMAS FROM 12 JUNE 2015