2019 gets off to an impressive start with two extraordinary arthouse dramas both releasing in January. Timothée Chalamet plays a young man struggling with addition in Felix Van Groeningen's  A Beautiful Boy and Saoirse Ronan gives a dynamite performance as the tragic Mary Queen of Scots in a mesmerising historical epic from theatre turned screen director Lisa Rourke. There's plenty more to look forward as the New Year gets under way, here are a selection of arthouse features and documentaries releasing in 2019.
The focus of Jane Magnusson's European Award winning documentary is 1957, arguable the zenith of  Ingmar Bergman's career when he released two on his most acclaimed dramas The Seventh Seal and Wild Strawberries, a TV film and four plays. It's an impressive film that reflects Bergman's mammoth contribution to the world of film and theatre. 25 January 
Some critics went wild for this psychological thriller from South Korean director Lee Chang-dong. Certainly alluring, the enigmatic arthouse piece is based on a story from Haruki Murakami about a barn-burning weirdo and his struggle to win the girl of his dreams. 1 February 1st
In his follow-up to Embrace of the Serpent Ciro Guerra is joined by his wife Cristina Gallego for this arthouse chronicle of the emergence of the drugs trade in his native Colombia. Spring 2019
Melissa McCarthy takes plagiarism to extraordinary ends as Lee Israel, a New York writer struggling to make ends meet – eventually by criminal means. Marielle Heller and Nicole Holofcener offer up an absorbing dark comedy drama that also stars Richard E Grant. Opens February 1st
Sometimes Always Never 
One of my favourite British films this years was this amusingly cheeky indie drama – it will make you laugh and contemplate your own life too. Love, ageing, loneliness and emotional fulfilment all deftly intermingle in a 'detective' drama about a father (a thoughtful Bill Nighy) and his two sons, one of whom has disappeared. Set in the rain-soaked Ribble Valley, there's a soft melancholy to the muted visuals and the quintessentially English storyline, crafted by Frank Cottrell Boyce (The Railway Man). A subtle film film but an enjoyable one.
Writer John Ajvide Lindvist's arthouse oddity has the same fresh originality as his vampire thriller Let the Right One In, ten years on. The Swedish social satire is a romantic parable that blends fantasy, mystery and horror and won the top prize at this year's Cannes 'Un Certain Regard'. March 8th
High Life
Claire Denis is the latest auteur to try her hand with a Sci-fi drama. And she succeeds. This one stars Robert Pattison and Juliette Binoche and premiered at Toronto to wrapt applause. Early spring 
On the Basis of Sex
In the second film about noted US jurist Ruth Bader Ginsburg (RBG is already on release)– Felicity Jones stars as the fearsome feminine judge and activist who has broken down barriers since the 1950s, and continues to do so with her subtle charm and incisive intellect. February 8th   
Carmel Winters's won the FIPRESCI Discovery Prize in a drama that follows the ambitions of a young and feisty boxing enthusiast (Hazel Doupe) in 1960s Ireland. Spring 2019
Mahershala Ali and Viggo Mortensen star in this enjoyable road movie that delighted critics both at Marrakech and Toronto. It follows a suave African-American pianist (Ali) and a New York bruiser (Mortensen) to America's Deep South on a voyage of discovery – of themselves and the racial tensions of the 1960s. 1 February 2019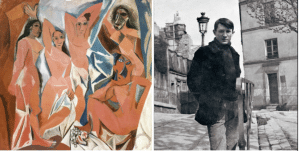 The Young Picasso 
Exhibition on Screen chronicles the early years of the Spanish painter, from his birth in Malaga to  his international recognition in Paris in his mid thirties. Informative and a must for art lovers. 5 February 2019
Greta
Isabelle Huppert had a low profile in 2018, but she's back with a vengeance in Neil Jordan's critically divisive drama that explores the relationship between a young girl (Chloe Grace Moretz) and Huppert's lonely widow. 19 April 2019
The Irishman
When Martin Scorsese offered a lifetime Tribute to his great friend Robert De Niro at Marrakech Film Festival , The Irishman was the talk of the town. Scorsese's latest film will be releasing on Netflix, 
The Mule
Another Hollywood luminary – now in his 90s – Clint Eastwood will hit cinemas at the end of January 2019 with his 143rd film – in which he also stars. The Mule is a high-octane thriller set in the US drug trade  January 25th
Jacques Audiard casts Joaquin Phoenix and John C Reilly in this sensitively-scripted buddy movie that sees the titular brothers embark on a Wild West odyssey, based on Patrick deWitt's western novel. Skilfully avoiding a macho approach, this is insightful and great fun. April 5th
Benedikt Erlingsson follows his unusual equine-themed drama Of Horses and Men with another innovative tale from his native Iceland that sees an ambitious eco warrior in the shape of a middle-aged woman strike out for the environment. 3 May 2019
Dominga Sotomayor's languorous Chilean family drama was a big hit at Locarno 2018, and takes place during the summer of 1990 while the country was making a dangerous bid for democracy.
Once Upon a Time in Hollywood
Quentin Tarantino latest, another highly-anticipated controversial caper tackles the thorny theme of Hollywood during the Charles Manson era. Brad Pitt and Leonardo DiCaprio star. July 26
The Woman in the Window
Based on A J Finn's bestseller, Joe Wright and Tracey Letts create an intriguing crime thriller that explores urban angst, loneliness and voyeurism in contempo New York. Julianne Moore, Gary Oldman and Amy Adams star.
The Lady Eve
We can always rely on the classics, especially when Preston Sturges, Henry Fonda and Barbara Stanwyck are concerned. Re-released by Park Circus this screwball comedy with a social message  is possibly one of the most enjoyable films you'll see in February, and makes for perfect Valentine viewing. 15 February.
BEST INDIE AND ARTHOUSE FILMS TO LOOK OUT FOR IN 2019