To celebrate the 17th edition – 30 November to 8 December – MARRAKECH FILM FESTIVAL has introduced an interactive new talk series.
CONVERSATION WITH is an initiative that offers a space for expression, exchange and reflection with screen legends and film luminaries:
Martin Scorsese (b.1942, US)
Director, writer, actor and producer is one of the most influential directors working today and also one of the most generous in his support of talented emerging filmmakers. In a multi-award winning career spanning nearly 60 years his work has been inspired by his early life growing up with Italian parents in New York City in crime dramas such as Mean Streets (1973), Taxi Driver (1976) and Goodfellas (1990), and his own religious faith as in Silence (2016) and The Last Temptation of Christ (1988). He has captured the spirit of legends such as boxing supremo JakeLaMotta in Raging Bull (1980), Howard Hughes in The Aviator (2004) and the Dalai Lama in Kundun (1997). His animated feature Hugo (2011) was dedicated to his daughter Francesca. His thriller Cape Fear (1991) has one of the most frightening performances in film history courtesy of his long time collaborator Robert De Niro (Max Cady) and Shutter Island (2010) that was his stylistic tribute to both Out of the Past (1947) and Vertigo (1958). His other regular collaborators have been Leo DiCaprio and Bernhard Herrmann who created iconic scores for Taxi Driver and Cape Fear. His latest crime drama The Irishman based on the death of Jimmy Hoffa, is shortly to be released on Netflix.
Guillermo Del Toro (b. 1964, Mexico)
Del Toro started making programmes for Mexican TV before he directed and produced his first feature film Dona Herlinda and Her Son (1986) at the age of 21. Learning his make-up techniques from The Exorcist's Dick Smith he got his first break in 1993 with Cronos which went on to win the FIPRESCI prize at Cannes. Since then he has won two Oscars in 2018 for The Shape of Water, a remake of Jack Arnold's Creature from the Black Lagoon (1954). He is currently working on a documentary about the filmmaker Michael Mann.
Cristian Mungiu (b. 1968, Romania)
Screenwriter, director and producer Cristian Mungiu rose to international fame in 2007 with his bleak drama 4 Months, 3 Weeks & 2 Days that shocked audiences with its raw depiction of backstreet abortion in communist Romania. He was the first Romanian director to win the Palme d'Or. Since then he has made a series of films exposing moral degradation in Romanian society. Beyond the Hills (2012) won his Best Screenplay at Cannes in year of its release, and his thorny depiction of family life Graduation followed four years later winning his Best Director at Cannes 2016 (ex aequo with Olivier Assayas for Personal Shopper). 
Yousry Nasrallah (b.1952, Egypt)
Born into a Coptic Christian family in Cairo, Nasrallah started his career as a film critic in Beirut in the late 1970s, soon becoming assistant  to Youssef Chahine whose company Mirs would go on to produce his films that focus on Socialism, Islamic fundamentalism and expatriation. His award-winning debut Summer Thefts (1985) was described as "the only non-ideological film on Nasserism in Egypt". El Medina (1999) describes the struggle for creative realisation of a young Egyptian actor and After the Battle competed for the Palme d'Or in 2012.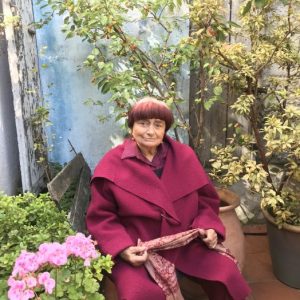 Agnes Varda (b.1928 Belgium) 
Director, writer and photographer Agnes Varda has made over 50 films in her celebrated career. She was born in Belgium but moved to France as a baby before settling in Paris where she eventually married Jacques Demy and became one of the protagonists of the French New Wave with her feature debut La Point Courte (1951). She went on to make a series of award-winning dramas focusing on life and love: Cleo de 5 a 7 (1962), Le Bonheur (1965); L'une chante, l'autre pas (1977) and Jacquot de Nantes (1991) a biopic drama dedicated to her husband. Her latest documentary Faces Places (2017) is a rural ride through France.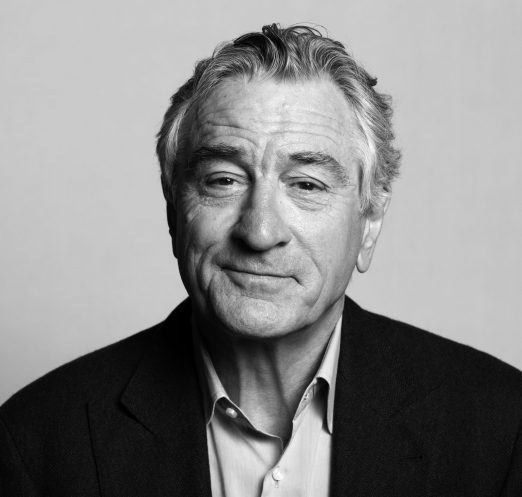 Robert De Niro. (b. 1943, US)
One of the greatest actors of all time, Robert De Niro grew up in Manhattan where he launched his acting career in Brian De Palma's The Wedding Party at the age of 26. By 1974 he had won the New York Film Critics Award for Best Supporting Actor in Bang the Drum Slowly, the National Society of Film Critic for Mean Streets, and the Academy Award for Best Supporting Actor for The Godfather, Part II. In 1980 he won his second Oscar, as Best Actor, for Raging Bull.
De Niro's next project will be Netflix's The Irishman in which he stars and is producing with Martin Scorsese, for their ninth collaboration. In 2009, De Niro received the Kennedy Center Honor for his distinguished acting and the Stanley Kubrick Award from the BAFTA Britannia Awards. De Niro was honored with the Cecil B. DeMille Award at the 2011 Golden Globe Awards. He served as the jury president of the 64th Cannes Film Festival.
De Niro is also known for his Tribeca Production company and the Tribeca Film Festival, which he founded with Jane Rosenthal and Craig Hatkoff. Through Tribeca Productions, De Niro has developed projects on which he has served as producer, director and actor. Tribeca's A Bronx Tale in 1993 marked De Niro's directorial debut. De Niro also directed The Good Shepherd in 2006.
During the interview De Niro confessed to not liking smoking on set. And has never had trouble keeping his personal life, personal. "Don't bring your drama to the set, put it into your performance".
https://vimeo.com/303947159/d498bda114
Cannes Film Festival Creative Director Thierry Fremaux.
Thierry Fremaux has come a long way since joining the Lumiere Institute in Lyon. The Fast-talking artistic force behind Cannes also directs, along with (president) Bertrand Tavernier, the Lyon-based Lumiere Festival that each year celebrates the vitality of classic film (restored films, retrospectives and tributes). Fremaux has even made a film about the brothers (LUMIERE 2016). who were the first filmmakers with their ground-breaking invention, the cinematograph. The legendary brothers not only invented the technique of making film, but also the art and the way of bringing people together in a theatre. Thierry explains how the aim of the Lumiere Festival was to connect the past with the present – as digital internet platforms, and mobile phones now compete with the classic way of crafting films. To be 'healthy' with contemporary cinema we have to look to the past, and that is why Lumiere came about – back in 2009
As artistic director at Cannes his work is much more difficult than it was 30 years ago, not simply because of the volume of films presented to the festival (the team selects the line-up down from over 1800 films) but also the sheer variety. And if Cannes misses a potential new auteur then this becomes a big deal – not just a small faux pas. As he explains: "Cannes is an international festival set in France and we try to embrace the ever-widening variety of film from across every continent. In the 1990s film noir was being re-invented in Hong Kong by Phil Joanou (State of Grace), inspired by Pierre Melville. Each time a young filmmaker makes a breakout hit – the spotlight will be on him, and we can't afford to miss that". "Pan's Labyrinth came as a big shock to many festival goers, as it was the kind of style that had never really been invited before, and it really surprised people about the way forward we were taking – also with animation and with documentary". Most films "choose" Thierry rather than the other way round, as passionate filmmaking eventually shows through, as much as talent. But certain films will never be right for the competition. "You have to ask the question – is it good or not for the film to be in Cannes. Also is it suitable for the audience – or for the press – we have in Cannes". 
At the moment Thierry works with a group of 8, sometimes 10 people to make the final Cannes selection (equally split by gender). "The culture of making films is not that same for a man as for a woman so gender equality is absolutely vital as we move to 2020. This year's Cannes selection was criticised but we have a duty to put new names on the map. And we have to adapt Cannes for the future and to make it comfortable for the audience and the press". Clearly there will more changes, but Thierry assures us that they will be for the better. MT
MARRAKECH FILM FESTIVAL | 30 NOVEMBER – 8 DECEMBER 2018 | INTERVIEW AT THE MAMOUNIA HOTEL POOLSIDE, MARRAKECH 2018