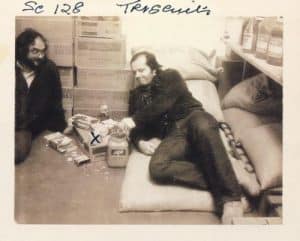 Stanley Kubrick, one of the greatest film makers of the 20th century, spent most of his later life working in England where he raised a family in the Hertfordshire town of Childwickbury, between St Albans and Harpenden, 35 minutes drive North of London. It was in the Norfolk Broads and Beckton, in the East End that he created the Vietnam scenes for Full Metal Jacket (1987), an orbiting space station for 2001: A Space Odyssey (1968), and Dr Strangelove's war room (1964). 
BFI KUBRICK RETRO  
Throughout April and May 2019 the BFI will present, in partnership with The Design Museum, Kensington, a definitive Stanley Kubrick season at BFI Southbank. The season will offer audiences the opportunity to experience masterpieces such as 2001: A Space Odyssey (1968), Barry Lyndon (1975) and The Shining (1980) on the big screen as Kubrick intended, with screenings being presented on 35mm wherever possible. The season will also delve deep into the director's oeuvre with a playful and diverse programme of events, revealing why Kubrick is considered one of the most influential filmmakers of all time, and his style has given rise to the new entry in the Oxford Dictionary: "Kubrickian" meaning painstakingly perfectionist.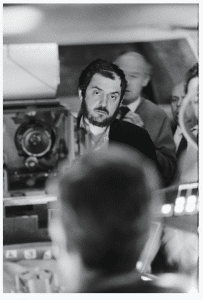 Stanley Kubrick was most inventive in his introduction of revolutionary devices to his filmmaking, such as the camera lens designed for NASA to shoot by candlelight. His fascination with all aspects of design and architecture influenced every stage of all his films. He worked with many key designers of his generation, from Hardy Amies to Saul Bass, Eliot Noyes and Ken Adam.
KENSINGTON EXHIBITION 
The exhibition, which has already travelled round Europe, is supported by Kubrick's brother-in-law and executive producer on many of his films, Jan Harlan. The two first collaborated on Kubrick's unrealised film project Napoleon in 1969, which has become known as the greatest movie never made, and will shortly form the subject of a made for TV documentary inspired by Steven Spielberg and directed Cary Fukunaga (Bond 2025).
Kubrick was as demanding on his actors as he was on himself. After playing Barry Lyndon's hapless stepson in the 1975 epic drama English actor Leon Vitali went to work as his assistant for some 30 years and his story is told in Tony Zierra's informative 2017 documentary Filmworker
The exhibition at Kensington's Design Museum features scripts, costumes, films and props and provides a fascinating counterpoint to the BFI's film retrospective, which takes place from April to May what it has called the "definitive Stanley Kubrick season" showing his films in 35mm, using projectors. There will also be a new print of A Clockwork Orange. MT
Kubrick's feature films:
Fear and Desire (1953)
Killer's Kiss (1955);
The Killing (1956)
Paths of Glory (1957)
Spartacus (1960)
Lolita (1962)
Dr. Strangelove or: How I learned to Stop Worrying and Love the Bomb (1964)
2001: A Space Odyssey (1968)
A Clockwork Orange (1971)
Barry Lyndon (1975)
The Shining (1980)
Full Metal Jacket (1987)
Eyes Wide Shut (1999)
Stanley Kubrick: the Exhibition | Kensington Design Museum 26 April-17 September 2019.