The first physical film festival since Coronavirus VENICE returns to its origins with a bracingly auteurist competition line-up that shines the spotlight on Arthouse masters and brazen new talent From Europe, Asia and South America.
Championing female filmmakers and fraught with exciting news films from veterans Lav Diaz, Fred Wiseman, Andrey Konchalovsky, Orson Welles and Amos Gitai the 77th Venice Film will take place on the Lido from September 2-12.
Among the regular auteurs selected are Chloe Zhao (Nomadland),  Nicole Garcia (Lovers),  Michel Franco (Nuevo Orden), Kiyoshi Kurosawa (Wife Of A Spy), Malgorzata Szumowska (Never Gonna Snow Again, co-dircted by Michal Englert) and Gianfranco Rosi with his latest documentary Notturno
Buzz-worthy British films include Roger Michell's The Duke, with Jim Broadbent and Helen Mirren; and Luke Holland documentary Final Account, both playing out of competition. The Critics' Week selection also includes The Book of Vision starring Britain's Charles Dance and Uberto Pasolini's Nowhere Special starring James Norton and produced by a UK/Romania/Italian team.
The festival opens with Daniele Luchetti's Lacci, the first Italian film to open the celebrations fr quite some time. Festival director Alberto Barbera describes it as: "an anatomy of a married couple's problematic coexistence, as they struggle with infidelity, emotional blackmail, suffering and guilt, with an added mystery that is not revealed until the end. Supported by an outstanding cast, the film is also a sign of the promising phase in Italian cinema today, continuing the positive trend seen in recent years, which the quality of the films invited to Venice this year will surely confirm."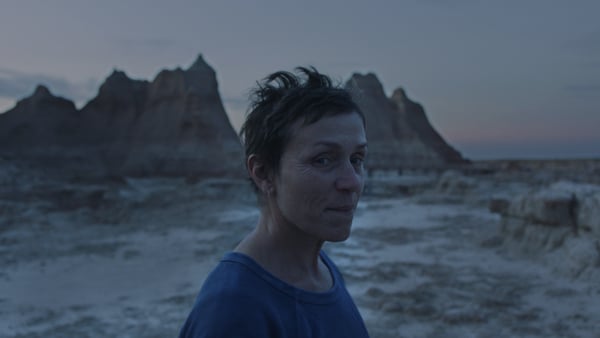 Competition
Nomadland (US) (above) | Dir. Chloe Zhao
Frances McDormand (Three Billboards) embarks on a road journey across America in the latest from The Rider director Chloe Zhao
Quo Vadis, Aida? | Dir. Jasmila Zbanic
And Tomorrow The Entire World (Ger-Fr) | Dir. Julia Von Heinz
The Disciple (India) | Dir. Chaitanya Tamhane
Never Gonna Snow Again (Pol-Ger) | Dir. Malgorzata Szumowska, Michal Englert
Notturno (It-Fr-Ger) | Dir. Gianfranco Rosi
Gianfranco Rosi poignant love letter to Lampedusa (Fire at Sea) won him an armful of awards including the Golden Bear at Berlinale 2016. He is back in Venice, where he won the Golden Lion in 2013, this time turning his documentary camera on Syria.
Padrenostro (It) | Dir. Claudio Noce
Miss Marx (It-Bel) | Dir. Susanna Nicchiarelli
Italy's Susanna Nicchiarelli won the Orizzonti Award in 2017 for her dazzling drama Nico 1988
Now in the main competition with an all star British cast she explore the life of Eleanor Marx daughter of the infamous Carl.
Pieces Of A Woman (Can-Hun) | Dir. Kornel Mandruczo
In his first English language film the Hungarian director who made his name with White Dog explores the emotional journey of a woman who has lost her child.
Sun Children (Iran) | Dir. Majid Majidi
The Tehran based director has already won plaudits for best script, production design and film for his latest drama that tackles the subject of child labour.
Wife Of A Spy (Jap) | Dir. Kiyoshi Kurosawa
A Japanese wife is saddled with the sins of her husband in this painterly portrait set in 1940s Japan from Kiyoshi Kurasawa (Creepy).
Dear Comrades (Rus) | Dir. Andrey Konchalovsky
The Russian director known for Postman's White Nights (2014) and Paradise (2016) returns to Venice with his latest, a political drama based on real events in Novocherkassk 1962 when Soviet troops seeking to cover up mass labour strikes opened fire on workers and one in particular Lyudmila (Yuliya Vysotskaya).
Laila In Haifa (Isr-Fr) | Dir. Amos Gitai
Lovers (Fr) | Dir. Nicole Garcia
Pierre Niney, Stacy Martin and Benoit Magimel star in this Noirish Parisian drama that sees a woman fall for her ex while on holiday with her husband.
Nuevo Orden (Mex-Fr) | Dir. Michel Franco
Franco loves exploring the psychology behind human relationships as he does here again in this latest that sees a high-society wedding gatecrashed by unwelcome guests.
The World To Come (US) | Dir. Mona Fastvold
Physical and emotional privation gives rise to a surprising love story in Norwegian filmmaker Mona Fastvold's drama set in an US East Coast frontier town during the 1850s.
Le Sorelle Macaluso (It) | Dir. Emma Dante
In Between Dying (Az-US) | Dir. Hilal Baydarov
Out Of Competition – Drama
Lacci (It) – Opening Film | Dir. Daniele Luchetti
Mosquito State (Pol) | Dir. Filip Jan Rymsza
Night In Paradise (S Kor) | Dir. Park Hoon-Jung
The Duke (UK) | Dir. Roger Michell
Jim Broadbent and Helen Mirren lead a cast of Fionn Whitehead, Matthew Goode, Anna Maxwell Martin for this British drama based on the theft of Goya's portrait of the Duke of Wellington from the National Gallery in London in 1961.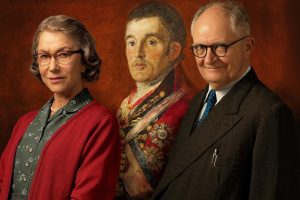 Assandira (It) | Dir. Salvatore Mereu
Love After Love (China) | Dir. Ann Hui
Mandibules (Fr-Bel) | Dir. Quentin Dupieux
Lasciami Andare (It) – Closing Film | Dir. Stafano Mordini
The Human Voice (approximately 30') is a loose adaptation of the original stage play by Jean Cocteau, directed by Pedro Almodóvar and featuring Tilda Swinton as 'the voice'. It tells the story of a jilted woman (Swinton), hoping her lover will get in touch. This is Pedro Almodóvar's first time shooting in English. Alberto Iglesias composed the score.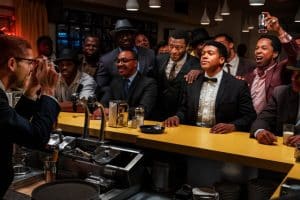 One Night in Miami by Regina King
Set on the night of February 25, 1964, the story follows a young Cassius Clay (before he became Muhammad Ali) on the night her defeated Sonny Liston to win the title of World Heavyweight Boxing Champion. Clay – unable to stay on at the venue because of Jim Crow-era segregation laws – instead spends the night at the Hampton House Motel in one of Miami's historically black neighbourhoods, celebrating with three of his closest friends: activist Malcolm X, singer Sam Cooke and football star Jim Brown. The next morning, the four men emerge determined to define a new world for themselves and their people. In One Night in Miami, Kemp Powers explores what happened during these pivotal hours through the dynamic relationship between the four men and the way their friendship, paired with their shared struggles, fueled their path to becoming the civil rights icons they are today.
Out Of Competition – Documentaries
Sportin' Life (It) | Dir. Abel Ferrara
Crazy, Not Insane (US) | Dir. Alex Gibney
Greta (Swe) | Dir. Nathan Grossman
Salvatore – Shoemaker of Dreams (It) | Dir. Luca Guadagnino
Final Account (UK) | Dir. Luke Holland
Looking at the other side of the coin, Holland cobbles together interviews from those Nazis who perpetrated the Holocaust.
La Verita Su La Dolce Vita (It) | Dir. Giuseppe Pedersoli
Molecole (It) | Dir. Andrea Segre
Paolo Conte, Via Con Me (It) | Dir. Giorgio Verdelli
Narciso Em Ferias (Bra) | Dirs. Renato Terra, Ricardo Calil
Hopper/Welles (USA) | Dir. Orson Welles
Yes, another documentary about Orson Welles – can there ever be too many? This unscripted one captures a conversation between the maverick multi-talented Welles and the ingenu filmmaker Hopper that took place in 1971 over dinner, shooting the breeze over politics, personal issues and, or course, filmmaking. Made available courtesy of The Other Side of the Wind (Venice 2018) producer Filip Jan Rymsza.
City Hall (USA) | Dir. Frederick Wiseman
Out Of Competition – Special Screenings
Princesse Europe (Fra) | Dir. Camille Lotteau
30 Monedas – episode 1 (Spa) – series | Dir. Alex De La Iglesia
Orizzonti
Apples (Greece-Pol-Slovenia) – Opening Film | Dir. Christos Nikou
La Troisième Guerre (Fra) | Dir. Giovanni Aloi
Milestone (India) | Dir. Ivan Ayr
The Wasteland (Iran) | Dir. Ahmad Bahrami
The Man Who Sold His Skin | Dir. Kaouther Ben Hania
I Predatori (It) | Dir. Pietro Castellitto
Mainstream (USA) | Dir. Gia Coppola
Genus Pan (Phil) | Dir. Lav Diaz
Zanka Contact (Fr-Mor-Bel) | Dir. Ismael El Iraki
Guerra E Pace (It-Switz) | Dirs. Martina Parenti, Massimo D'Anolfi
La Buit Des Rois (Ivory Coast-Fr-Can) | Dir. Philippe Lacote
The Furnace (Aus) | Dir. Roderick Mackay
Careless Crime (Iran) | Dir. Shahram Mokri
Gaza Mon Amour | Dirs. Tarzan Nasser, Arab Nasser
Selva Tragica (Mex-Fr-Ger) | Dir. Yulene Olaizola
Nowhere Special (It-Rom-UK) | Dir. Uberto Pasolini
Listen (UK-Port) | Dir. Ana Rocha De Sousa
The Best Is Yet To Come (China) | Dir. Wang Jing
Yellow Cat (Kazakhstan-Fr) | Dir. Adilkhan Yerzhanov
VENICE FILM FESTIVAL 2-12 SEPTEMBER