With temperatures this Christmas dipping to -18 in parts of Scotland, Richard Chatten reflects back on Britain's Big Freeze of 1963 and the films that were on in the cinema back in the day.
Sixty years ago in December this country was hit by months of sub-zero temperatures and actually made it into the Guinness Book of Records for one of the coldest UK winters ever.
Britain was covered in a thick blanket of snow long enough for it also to leave an indelible mark on the British cinema, through which its progress can actually be charted.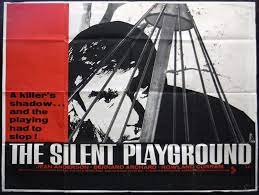 Perhaps the earliest film of The Big Freeze was Stanley Goulder's The Silent Playground, a drama shot set in South London during which the snow obviously first fell, playing havoc with the film's continuity, since it comes and goes scene from scene.
The snow was firmly established by the time of the two classic Pinter adaptations The Caretaker and The Servant, the cold being so bitter that Joseph Losey was hospitalised with pneumonia, and Dirk Bogarde had to take over the latter as director for several days.
Val Guest's 80,000 Suspects, starring Richard Johnson and Claire Bloom, depicted the attempts to control an outbreak of smallpox in a Bath covered in snow, and became a metaphor for generalised crisis, although people were hardier back then having been through one, and some of them even two, World Wars. Several Edgar Wallace mysteries (notably John Moxey's Ricochet) are also shrouded in snow along with Calculated Risk, a heist thriller with music by George Martin.
By the time of Wolf Rilla's The World Ten Times Over the snow had visibly turned into slush. Probably the last film that appeared during the frosty weather was Hammer Film's Nightmare, a psychological thriller marking the film debut of Jennie Linden. It hit cinemas in the chilly April of 1964.
The only feature depicting The Great Freeze in colour appears to have been Snow, a British Transport Films short shot by the veteran cameraman Wolfgang Suschitsky which portrays British Rail making light weather (if you'll pardon the pun) of the snow. The Great Train Robbers sensibly waited till the following summer. @RichardChatten.
THE BIG FREEZE | DECEMBER 2022