Dir: Anthony Wonke | UK Doc | 114′
This biopic about the Italian-born jockey Frankie Dettori is a film for everyone to enjoy, not just the racing fraternity. It gallops forward on the back of Dettori's infectious charisma and sunny optimism, a role model who proves that perseverance and commitment is just as important as talent, often more so. With over 3000 wins under his belt, Dettori is as popular as he's successful on the turf. An admiring portrait of a man who's still raring to go at 50, but the admiration is justified, and, as a bonus, the camera just loves him, as much as the horses do.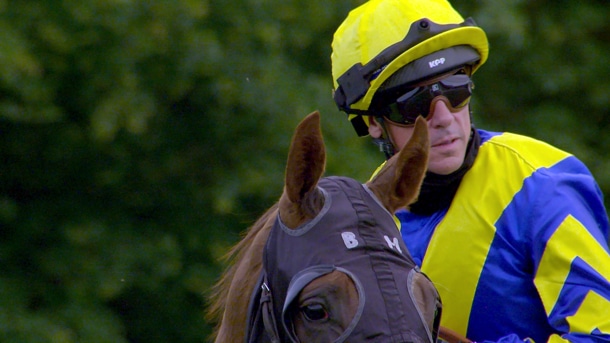 Like the jockey himself, Anthony Wonke's film darts backwards and forwards, while Frankie, spotlit, just talks into the camera. It all starts with a spurt of adrenaline in  October 2019 at the famous Arc de Triomphe in Longchamp (near Paris) where we first meet Dettori and his 'soulmate' Enable, the champion British Thoroughbred racehorse. The pair are a legend. And rightly so. Frankie describes his bond with the horse as a 'living/breathing experience'. Riders can be "emotionally touched" by certain horses, and the champion Enable was certainly one of them for him. Dettori rode Enable in everyone of her 14 races, winning 11 of them. And although they didn't win on this third unprecedented attempt to take the Prix de l'Arc de Triomphe, there is tremendous support from the 40,000 strong crowd who are more nervous than he is. The deflation of being pipped to the post is so emotional, and you feel for him – and the horse. Then comes the usual pep-talk from his father on the journey back home.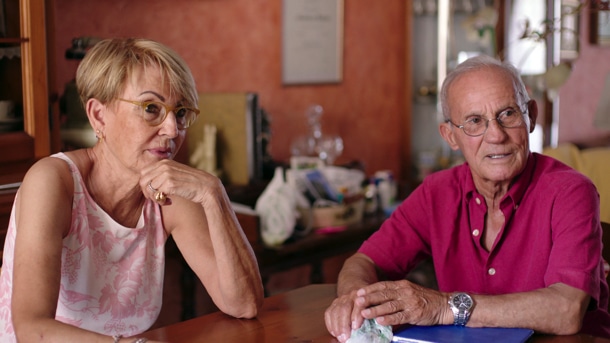 The story then flashes back to Italy and Dettori's modest upbringing in Milan. His father Gianfranco had tried his luck as a stable boy and soon developed a talent for riding, becoming a champion jockey and one of the best riders of his generation. His constant presence as a taskmaster and mentor has shaped Frankie's career. Frankie describes how his father (who still calls him Lanfranco) eventually gave him a palomino pony. But he had "all the gear and no idea" until he was shipped off to Luton, England – which was the making of him. Padre Dettori still spurs him on mercilessly, even today, where the story comes full circle with his own daughter Ella, now competing as a rider.
Frankie remembers a fraught childhood. And although his mother was an affectionate figure, the young Frankie was a 'volcano inside' according to his sister Alessandra who spent lockdown in the family home near Newmarket with his English wife Catherine and their five children, and still makes him his favourite "polpette".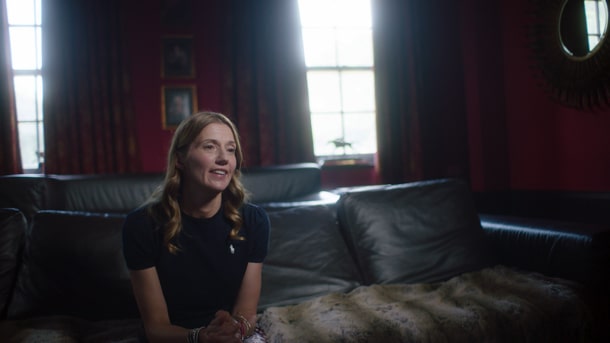 There's so much to pack in, but Bafta-awarded Anthony Wonke somehow manages it in just under two hours: that day at Ascot in 1996 when Dettori won 7 races on the trot; the tragic plane crash at Goodwood that saw him escaping with Ray Cochrane (the pilot  was killed); his international achievements in Dubai, and the pinnacle of the racing diary The Epsom Derby. He covers the years with the training aristocracy: Luca Cumani, Peter Burrell and John Gosden who describes him as a "one-man marketing operation". But Gianfranco really seems to have made him what he is today, pumping him full of confidence but also verbally horse-whipping his son into shape. Horses run for him. He seems to fly with the horse and the strong work ethic is there too. And his joie de vivre is extraordinary.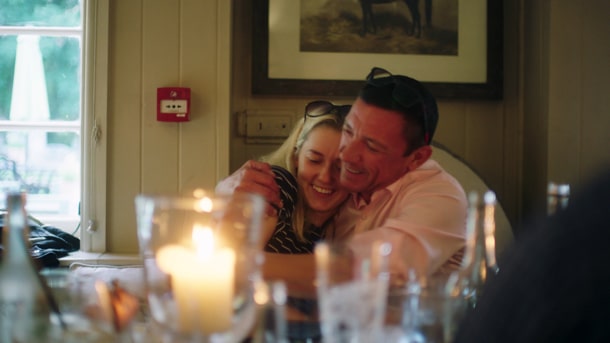 There are the lows too, where Frankie has a brush with drugs, spending time in a Hong Kong jail. But the film also describes his love of the limelight: he wanted to be famous too much to let that life get the better of him. Covid was the worst time, his wife Catherine describing how he very much needs the buzz of the track and the international competitions to keep his mojo up. She comes across as a powerful, stabilising force along with their united, loving family; a rift with his father is now healed. At its heart, Dettori is a feelgood film that captures the essence of an extremely likeable man who simply rides horses better than anyone else does. MT
ON RELEASE ON 15 NOVEMBER IN SELECTED CINEMAS, BLU-RAY, DVD & DOWNLOAD TO OWN.