Celebrating its 34th year the Midnight Sun Film Festival presents a niche selection of this year's features and documentaries, along with musical evenings and master classes in its luminous setting of Sodankylä, Finnish Lapland. 
At the top of the list of new films is Berlinare's Golden Bear award, Nadar Lapid's Synonyms, a weird and wacky drama about a young Israeli in Paris. French Canadian Denis Cotê will also be in the Arctic Circle this June with his enigmatic portrayal of a village, Ghost Town Anthology. along with Claire Denis and her latest High Life, a sci-fi drama starring Robert Pattinson and Juliette Binoche. And one of the gems of San Sebastian 2018  will be also join the party, Rojo, a film from Argentinian director Benjamin Naishtat, captures the existential angst of the military dictatorship of the 1970s.
Portuguese director Rodrigo Areias will present the Finnish premiere of his documentary film about a fishing village in the Azores, Blue Breath. One of festival's top documentaries was a favourite at this year's Sundance. Honeyland from directors Tamara Kotevska and Ljubomir Stefanov, explores the life of "the last female wild beekeeper".
From last year's Karlovy Vary Festival there will also I Do Not Care If We Go Down in History as Barbarians, Romanian's top director Radu Jude's distinctive analysis of the country's history and the present. Belarus is sadly not well known for its cinema, let alone its strong female characters, so Darya Zhuk's Crystal Swan  offers a chance to sample the creative efforts of both its lead and director. Meanwhile, There will also be a chance to see Kazakh cult film director, Adilkhan Yerzhanov's colourful melodrama The Gentle Indifference of The World.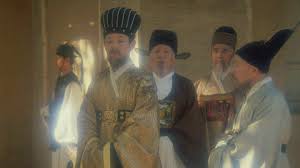 Masterclasses and specialties
One of the festival's guest film maker, Kent Jones, will be presenting in his masterclasses films such as Alfred Hitchcock's thriller The Lady Vanishes, as an expert of Kazakhstan's New Wave of the 90s, Jermek Šinarbajev's true rarity, Revenge (above).
What do we know about the films of the Baltic States? The artistic director of the heartfelt Riga International Film Festival, Sonora Broka, will be leading the audience to the joyful cult film specialties from musical films to erotic horror: included in the "Baltic 101" theme will be Estonian director Rainer Sarnet's November, Lithuanian Arünas Zebriünas's The Devil's Bride and Latvian Vasili Massi's The Spider as well as Ronald Kalnis's Four White Skirts.
Finland's internationally best known festival curator, Mika Taanila will return to Sodankylä once again presenting not only the newest short film treasures of experimental films from all around the world, but also in a special show, the legendary short film sensation Christmas on Earth, by the shooting star of the 60s underground, Barbara Rubin, complemented with Chuck Smith's documentary Barbara Rubin and the Exploiding NY Underground.
Music films and auteur portraits
Traditionally, music films and documentaries about filmmakers with production samples are a part of the programme at MSFF. The great actor Ethan Hawke has once again been behind the camera and directed a successful biography Blaze about Texas singer legend Blaze Foley. Airbek Daiyerbekov's The Song of The Tree is a unique Kyrgyz musical. This time jazz is represented in two elegant documentaries: Leslie Woodhead'ssinger portrait Ella Fitzgerald: Just One of Those Things and Eric Friendler's It Must Schwing: The Blue Note Story.
MIDNIGHT SUN FILM FESTIVAL | 12-16 JUNE 2019