The 22nd edition of the  UK Jewish Film Festival this year runs from 8th-22nd November 2018 at cinemas across London, Manchester, Leeds, Nottingham, Brighton and Glasgow.
The programme features a Philip Roth Retrospective in tribute to the much loved author, with a screening of three cinematic interpretations of his work: Goodbye, Columbus; Human Stain and Portnoy's Complaint.
Other strands include: The Alan Howard International Documentary Strand, Israeli Cinema, Made in Britain, European Cinema, Education Programme, The Sound of Silence providing a spectacular journey back to the 1920s with beautifully restored classic films, Across the World – from Argentina to Russia in 15 days.
Films in Competition for the Dorfman Best Film Award are: The Accountant of Auschwitz, Foxtrot, 2017/Samuel Maoz); Promise At Dawn (2017/Eric Barbier); Three Identical Strangers (2018/Tim Wardle); The Waldheim Waltz (2018/Ruth Beckermann/Berlinale Doc Winner); and Working Woman (Isha Ovedet/2018).
The jury presided by Michael Kuhn includes Anita Land, Clare Binns, Andrew Pulver, Henry Goodman and Michael Rose.
Best Debut Feature Award contenders are: Closeness (2017/Kantemir Balagov/FIPRESCI prize winner, Un Certain Regard, Cannes 2017); Doubtful (2017/Eliran Elya); Driver, Outdoors (2017/Asaf Saban); Red Cow (2017/Tsivia Barkai) and Winter Hunt.
Claudia Rosencrantz will lead this jury.
Up for Best Screenplay Award is: Budapest Noir (2017/Eva Gardos), Death of a Poetess (2017/Dana Goldberg/Ephrat Mishori), Foxtrot, Promise At Dawn, To Dust (2017/Shawn Snyder) and Winter Hunt. Jury headed by Nik Powell.
The Opening Night Gala on the 8th November at BFI Southbank is the UK Premiere of Working Woman, directed by Michal Aviad and starring Liron Ben Shlush, Menashe Noy and Oshri Cohen. This film has been nominated for the Dorfman Best Film Award. Released in 2018, this cautionary tale could hardly be more appropriate in the current climate, and follows an ambitious career woman who struggles with harassment in the work place.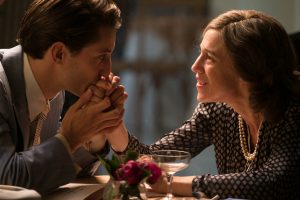 The Closing Night Gala, Eric Barbier's Promise At Dawn will take place on 22 November at Curzon Mayfair and stars Pierre Niney with Charlotte Gainsbourg (Best Actress Cesar Nomination) playing the overbearing Jewish mother in a powerful adaptation of Romain Gary's memoir.
The Centrepiece Gala is the London Premiere of Three Identical Strangers, directed by Tim Wardle won the Special Jury prize at Sundance Film Festival and involves three men raised by their respective adoptive families within a hundred-mile radius of each other. These siblings Robert Shafran, Eddy Galland and David Kellman were oblivious to the fact that each had two identical brothers until a chance meeting brought them together, aged 19, for the first time since birth. MT
UK JEWISH FILM FESTIVAL | NATIONWIDE | 8-22 NOVEMBER 2018