Hou Hsiao-hsien is one of contemporary cinema's most dynamic and esteemed auteurs, and a leading light of Taiwanese cinema and its New Wave movement.
It's surprising that his pre New Wave debut CUTE GIRL/Lovable You (Jiushi liuliu de ta (1980) is a raucously upbeat romantic musical comedy of the 'golden age' of Mandarin cinema in Taiwan. This first film is light years away from the director's complex and poetic portrayals of Taiwanese social history that would first emerge with The Boys from Fengkuei (1983).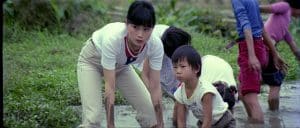 Although Hou Hsiao-hsien tries to play down his early films – CUTE GIRL (1980) *** is evidence of his talent for clever comic timing and situational comedy, as well as the more serious fare that would follow later. The romcom was a commercial vehicle for two leading stars of the 1980s: Feng Fei-fei (who has since died) and Kenny Bee, who was the main character in this first part of the trilogy that continued with Cheerful Wind/Feng er ti ta cai (1981) and The Green, Green Grass of Home/Zai in hepan quincao qing (1983).
So boy (Bee) meets girl (Fei-fei) with profuse musical accompaniment and a nod to Taiwan's economic boom – although technology is still confusing and mobiles have only just really arrived. Themes of modern life in Taipei contrast with the traditional rural idyll and come into play when a young surveyor is practically forced by his parents to marry the daughter of a rich industrialist in the schematic but amusing plot line. The social context is familiar, but the serenity and sumptuous widescreen cinematography is absent, along with the slightly melancholy tone of his later work.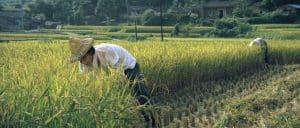 THE GREEN, GREEN GRASS OF HOME (1981) *** is the third part of the Kenny Bee trilogy and continues in a formulaic romantic/musical comedy vein, with a considerably more auteurist feel already emerging along with some impressive extended takes and naturalistic, improvisational performances from impressive child newcomers.
Bee arrives in the country village as a substitute teacher and soon becomes part of a community where adults are often more childish than their pupils. Ironically, Bee succeeds in offering some lessons in conservation to these 'back to nature' types, as they make their emotional way into adulthood. Sadly, the young female schoolgirl characters hardly get a look in, but this is an interesting prelude to his masterpieces that would follow.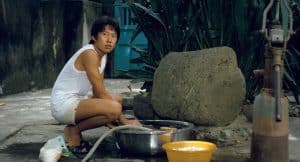 THE BOYS FROM FENGKUEI (1983)**** His first work as an auteur (rather than a commercial director ) is a coming of age story set in an idyllic fishing village in the Penghu Islands where a group of boys are waiting to be called up for the army. The harsh realities of city life soon bite in a cautionary tale that sees three of the youngsters leaving for the large port of Kaohsiung, where their fate awaits and reality finally comes home. Slightly darker in tone but with some gentle humour, Hsiao hsien stresses the importance of a good education and a proper start in life in this poetic and at times sentimental rites of passage drama. MT
CUTE GIRL IS NOW ON MUBI | HOU HSIAO-HSIEN: THREE FILMS 1980-83 MASTERS OF CINEMA