Dir: David Bickerstaff | Writers: David Bickerstaff/Phil Grabsky | With: William Feaver, James Hall, Tim Marlow (RA Artistic Director 2014-19, Jasper Sharp, Curator, Kunthistorisches Museum Vienna | Andrea Tarsia (Head of Exhitibitions RA) | Doc, 85′
"I wanted to shock and amaze" says Lucian Freud in faintly-accented English. Sitting in his workshop where he fought, struggled and experimented tirelessly with his craft – Freud was well into his eighties when he died in 2011 – the renowned Berlin-born portraitist is an intense and furtive figure in the early scenes of this new biopic by David Bickerstaff. The filmmaker's previous subjects have included
Van Gogh
,
Picasso
and
Monet
. Co-written by Phil Grabsky, the doc interweaves filmed interviews with Freud in his final years, with the usual talking heads approach. Curators and specialists add valuable insight, although a few of the contributors bring little to the party.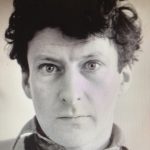 The former artistic director of the Royal Academy Tim Marlow takes us round Lucian Freud's first and only exhibition at the London gallery (until 26 January 2020). Although Freud is seen as a modern artist his work is very much connected to that 'old master', painterly tradition of Titian and Rembrandt: Few modern artists have explored the human body with such intensity, and such determination. Of course, he was a gambler, a playboy and a bon viveur, but few artists spent as much time in their studio as Lucian Freud. The RA's Andrea Tarsia explains how he pitted his developing style against his personal life, scrutinising himself as much as his subjects. His single-minded passion focused on self-portraiture as much as on those his was painting:. "Everything is a self-portrait". Often his subjects are not even named: what mattered more to him was the immediacy of the situation, the spontaneity of the gaze. Accompanied by a jazzy score the doc conveys the energy and charisma that seems to spin off each hypnotic portrait, even a small canvas can dominate a room.
Born into an eminent but non-religious Jewish family on the 8th December 1922, Lucian Freud's father was an architect and the youngest son of the analyst Sigmund Freud. The middle son of three, Lucian was his mother's favourite and as such he was deeply resented by his brothers. His biographer William Feaver (The Lives of Lucian Freud) reports how as a popular teenager he was taken by surprise when the family came under scrutiny by the authorities and had to move to London in the autumn of 1933. He was sent to the progressive Dartington school where he developed an interest in plants and horses, and thence Bryanston whence he was expelled for mooning in Bournemouth High Street, on a bet. A stone sculpture of a horse secured him a place in a London art school in 1937 but this was also short-lived. Eventually Freud fetched up in what he told his parents was "the only decent art school" of the time run by Sir Cedric Morris in East Anglia. Subversive to the last, Freud once again disgraced himself and "burnt the school down".
But Morris had by this time instilled some discipline into the 18 year old Freud and he produced his first work – a tight and rather flattened oil painting simply entitled 'Self-portrait,1940′. An ability to draw was the first step on the ladder and led to commissions for various book covers but impetuosity led to Freud joining the Navy for a spell. Returning to London he shared a St Johns Wood flat with fellow painter John Craxston who introduced him to an influential circle of friends. For nearly ten years he and John experimented with architects sample pots producing glossy-looking abstracts and portraits.
In the early 1940s Lucian Freud moved to the more seedy area of Paddington and settled down to a more committed painting style, 'Man With a Feather' (1943) was exhibited at his first solo show at London's Lefevre Gallery. Now in his early twenties, women fell for Freud's mesmerising allure and powerful presence, and he was able to navigate his way round English society marrying Kitty Garman. But he made a hopeless husband; although he could be sensitive and sociable, focusing on you with an intense gaze, he could also be callous and cruel.
In Paris in 1946 he met Picasso and soon realised the dedication that painting required. By now he was using oils and honing his style of self-portraiture, his face creeping into the frame with surprise, suggestion or a quizzical expression that calls to mind the 'fourth wall'.  'Still Life with Green Lemon' was a case in point, painted during a visit to Greece in 1946. Ostensibly these were self-portraits – Freud's face only just intruding into the edges of a work dominated by another subject – he was already displaying the prickly illusiveness that was to become his style. 'Startled Man' (1948) ushered in a period of clean, conte-work. This is an extremely accomplished drawing that really flaunts his capabilities. 'Sleeping Nude' (1950) and the surrealist 'Interior at Paddington' (1951) were actually hyper-realist paintings. By this time John Minton had become a friend, and Freud had also met and painted Francis Bacon. His marriage to Lady Caroline Blackwood saw her being incorporated into various works, and she appears in bed in his self-portrait 'Lucian Freud, 1949' which was exhibited at the Venice Biennale that year. She left him four years later due to his infidelities. Like most artists Freud wanted his life to be his work, and it was impossible for him to be committed to any woman. His only focus was himself and whoever he was painting at the time.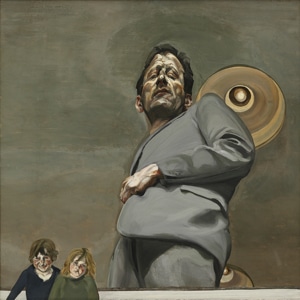 A sensuality entered the artist's work in the late 1950s and early 1960 where an emphasis on touch starts to appear. This is most noticeable during a trip to Ian Fleming's Golden Eye when he painted a Flemish style portrait on a small scrap of copper. It sees him putting his finger on his lips and was the start of this sensuous awareness. The 1960s also marked a switch to hog-hair brushes with 'Man's Head' (1963) and the restless associated portraits, smooth backgrounds allowing the face to stand out. Although Freud admired Francis Bacon's style of working in a gestural way, his own work increasingly gained a more structural, almost architectural element, as he slotted colours together with pasty brushstrokes, trying to make the paint tell the story.
The film's focus then switches from Freud's own work to visit Amsterdam where he often visited the Rijksmuseum to study Rembrandt and understand his approach. Back in London at the Royal Academy's Exhibition, the film shows how Freud's portraits  actually hold and dominate the room. 'Man with a Blue Scarf' (2004) was a canvas that required exactitude, the sitter under as much pressure to perform as Freud himself. This portrait of art critic Martin Gayford offers further evidence of the Freud's obsession with detail. The relationship was intense and required the sitter to be totally committed and, crucially, to return to the studio for sittings that went on several times a week for at least a year. But during this time Freud engaged in avid conversation: highly entertaining he was a raconteur who was as focused on the sitter as he was in himself. But Freud was certainly not an expressionist painter.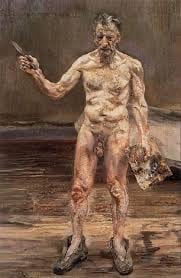 Lucian Freud's large 1993 self-portrait is defiant – he was 71, but still emanated power and excitement; his greatest fear was losing his mind, but he was also concerned about his physical vigour. 'Benefits Supervisor Sleeping' (1995) sold in 2008 for 33.6million dollars – the highest price ever paid for a work by a living artist. Freud carried on painting voraciously until his death on 20 July 2011. He was 88. "Being with him was like being plugged into the National Grid for an hour" said one sitter. "Freud was one of the great European painters of the last 500 years. He's one of those big figures across the centuries, rather than representative of an era or a movement" says Tim Marlow. "Tradition is a big word but Lucian challenged tradition constantly". Jasper Sharp adds him to a list that goes back to Holbein; Durer; Cranach and Rembrandt. And he goes on: "Freud gives that list a little shuffle, making us look at Rembrandt a bit differently and Holbein a bit differently through his eyes, and through himself". And that is a remarkable achievement for any artist. MT
LUCIAN FREUD: A SELF PORTRAIT | ON RELEASE FROM 14 JANUARY 2020 |
SEVENTH
ART PRODUCTIONS | ROYAL ACADEMY 
LUCIAN FREUD