RENDEZVOUS is a chance to catch up on all the latest releases from France and this edition looks rather good. Running from the 23 of April, it has VIOLETTE, **** Martin Provost's sumptuous and involving postwar portrait of writer Violette Leduc, starring Emmanuelle Devos in the title role and Sandrine Kimberlain as Simon de Beauvoir.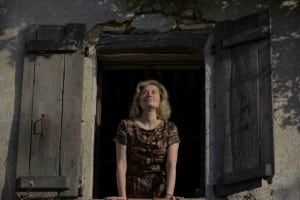 The long-awaited VENUS IN FUR**** is Roman Polanski's film adaptation of the stage version of Leopold von Sacher-Masoch's play "La Venus a la Fourrure". Unfolding as a tempestuous two-hander, it follows the slow seduction of Mathieu Amalric's theatre director Thomas by the vampish primadonna Vanda, played by his foxy wife Emmanuelle Seigner, in explosive form.  Two tributes to the late and great Alain Resnais are showing during the Rendezvous: his stunning debut feature HIROSHIMA, MON AMOUR**** and swan song feature AIMER, BOIRE, CHANTER (Life of Riley)*** hot from the Berlinale, where it won the FIPRESCI prize. Very much an acquired taste, it's another film adaptation, this time of the play by Alan Ayckbourn. Featuring animated footage and collage-style sets, it is graced graced with theatrical performances from his late wife Sabine Azema, Hippolyte Girardot and Sandrine Kimberlain. Tahir Rahim and Lea Seydoux play tortured lovers in Rebecca Zlotowski's sinister drama of friendship and divided loyalties in a French nuclear power plant: GRAND CENTRAL***.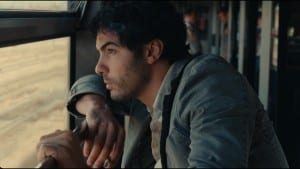 On a lighter but less successful note, are the festival's child-based features : JE M'APPELLE HMMM**… fashion designer Agnes B's first foray into film that follows a runaway child on a coming of age journey with an older truck driver. Contrived and flatly directed, it does have an appealing performance from newcomer Lou-Leila Demerliac as the little girl, Celine.  Nicolas Vanier's screen adaptation of Cecile Aubry's wartime story of a boy who foils the Nazis with the help of his dog BELLE ET SEBASTIEN** unfortunately fails to leave the page with the original's vim and verve, largely due to poor direction. But Bertrand Tavernier's political comedy QUAI D'ORSAY**** offers a witty and stylish look behind the facade of the French Foreign Office with some great talent too in the shape of Niels Arestrup (Our Children), Raphael Personnaz (Marius) and Thierry Lhermitte (Le Diner de Cons).
RENDEZVOUS WITH FRENCH CINEMA RUNS FROM 23-30 APRIL 2014 in CENTRAL LONDON