Aimed at bringing new French films to the provinces, there is also a strong London presence to this popular festival, celebrating its 22nd anniversary this year. From the latest features to iconic cult classics, the 2014 edition offers with a strong slate of dramas starring a variety of well-known French talent: Emmanuelle Devos, Catherine Deneuve, Isabelle Huppert, Mathieu Amalric and Jean-Pierre Darroussin, to name but a few. This year the focus is on the work of the late Alan Resnais, with his debut HIROSHIMA MON AMOUR (1959) to his swan song: AIMER, BOIRE, CHANTER (2014).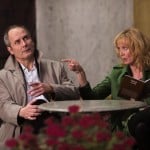 LIFE OF RILEY | AIMER, BOIRE, CHANTER | ALAIN RESNAIS | 2014 | ***
For his 50th film, which also turned out to be his swan song, Alain Resnais adapts the work of Alan Ayckbourn in this stagey farce with garish theatrical sets and occasional glimpses of the leafy countryside of the Yorkshire Dales. Starring his wife Sabine Azema, Sandrine Kiberlain (Bird) Andre Dussollier and Hyppolyte Girardot, it's just the sort of thing that older French audiences lap up but do we really need another stage adaptation (his third) of YOU AIN'T SEEN NOTHING YET?. This turns out to have additional flourishes with drawings by French artist Blutch and puppetry to boot! You know the story here – middle-aged, middle-class couples whose close friend is diagnosed with cancer. Or is he? Mannered performances all round may appeal to his diehard devotees.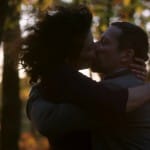 THE BLUE ROOM | (LA CHAMBRE BLUE | MATHIEU AMALRIC | 2014 | ***
Mathieu Almalric bases his directorial debut, in which he also stars, on a 1964 crime thriller from Belgian detective Simenon. Lushly erotic and superbly shot on the Academy format (square) by the capable Christophe Beaucarne, it will please the art house circuit with its subtle performances and fractured narrative style. After making love to his mistress Esther (a sinuous Stephanie Cleau) in the eponymous blue room, tractor magnate Julien goes home to his lovely wife and daughter. The story jumps forward to show him being cross-examined by a local magistrate (a masterful Laurent Poitrenaux) as it transpires that his affair with Esther is not as simple and compartmentalised as he thought. As the story goes back and forward further clues gradually emerge, fleshing out the storyline but leaving the details as shady as Esther's own background. The Blue Room is a workable and stylised piece of cinema that offers good entertainment, but many critics questioned why it was considered for Un Certain Regard this year at Cannes.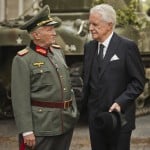 DIPLOMATIE | VOLKER SCHLöNDORFF | 2014 | **** | Best adapted Screenplay CÉSAR 2015
Based on a play by Cyril Gely, Niels Arestrup brings his sinister talents to this slick WWII drama when he plays General Dietrich von Choltitz, a German assigned by Hitler to carry out the destruction of Paris in 1944. Fortunately he underestimates the negotiation tactics of Andre Dussollier's Swedish consul, Raoul Nordin, and it soon emerges that both men have personal rather than moral issues at stake. Thrillingly tense and skilfully-crafted, the narrative is teased out slowly as the city's cultural heritage hangs on a thread at the mercy of two men's powers of persuasion. A brilliantly acted and tightly-scripted wartime treat.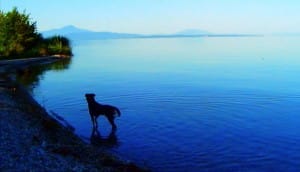 GOODBYE TO LANGUAGE, | ADIEU AU LANGUAGE | JEAN-LUC GODARD | 2014 | ***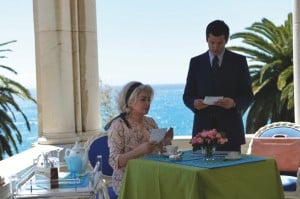 FRENCH RIVIERA, | l'HOMME QUE L'ON AIMER TROP | 2014 |**
ARIANE'S THREAD | AU FIL D'ARIANNE | ROBERT GUEDIGUIAN | 2012 | **
Robert Guédiguian takes a light-hearted break from his usual leftist political fare with  slice of magical realism set in his beloved Marseiiles and starring his regular collaborators Ariane Ascaride (in the lead) and Jean-Pierre Darroussin. Very much along the lines of GLORIA (2013) it focuses on a middle-aged woman who is suddenly all alone for the first time in her life on her birthday. Marseilles is very much a character here, and athough there are plenty of darker undercurrents to this sunny sejourn as Ariane's attempts to have fun are thwarted by a series of set-backs, like a glass of Pastis on a hot day, it goes down smoothly enough but, at times, has you wondering whether you're really seeing straight.
GARD DU NORD | CLAIRE SIMON | 2013 | ***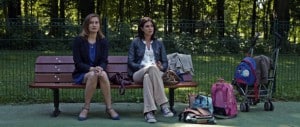 FOR THE FULL PROGRAMME FOLLOW THE LINK