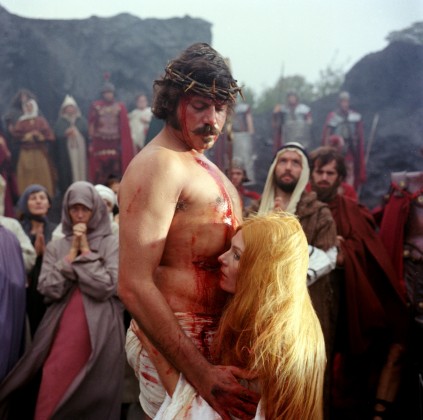 Director/Script:         Ken Russell
Cast:  Oliver Reed, Vanessa Redgrave, Dudley Sutton, Max Adrian, Gemma Jones, Murray Melvin, John Woodvine, Georgina Hale
107min  UK/US       Drama
A year after his passing, the welcome re-release of Ken Russell's incendiary 'The Devils' is based upon factual happenings in the plague-ridden French walled-city of Loudun, in 1634. Established heavily upon two main sources, John Whiting's playThe Devils and Aldous Huxley, who exacted a huge amount of research for his book on the subject entitled The Devils Of Loudun. In it, Huxley describes the scenario as redolent of a 'rape in a public lavatory' and Russell very much took this as inspiration for his film design, as did the debutant film-score composer, Peter Maxwell Davies.
A happy chance meeting on a train between a friend and colleague of Russell's and a young designer and artist called Derek Jarman, gave Jarman his first experience of set design and the film a quite brilliant set. Jarman later stated that his experiences with Russell were instrumental in shifting him across to being a filmmaker himself.
The amazing set was built on the backlot at Pinewood. Russell said of the design, 'To anyone living in Loudun at the time, theirs would have felt to be a new city, a contemporary one and one of which they were proud. I didn't want to film in an old, lichen and ivy covered relic that looked ancient. I wanted new. And I wanted it to look like the toilet described by Huxley'.
Russell, who wanted to make an unashamedly political film about religion and the state, was by this time no stranger to controversy with his 1969 Oscar winning Women In Love. Upon completing The Devils and knowing it was at best borderline, Russell showed it to a censor. Scenes were then cut to save the film from an all-out ban and to this day, these scenes remain cut. In the US, the film has only been seen in a select few festivals, despite being backed by Warners at the time of original release.
Many of the cast were at the height of their powers here and for me, this is perhaps Oliver Reed's finest hour. As Russell said, the camera loves him. They had a discussion prior to filming, where they resolved that Reed had three possible levels of playing emotion. Prior to a take, Reed would call over 'which level here, Ken?' and Russell would say '2!' (Or whichever he felt he needed). Originally it even contained a cameo from long-time Russell fan Spike Milligan, but his scene was reshot subsequently with Dudley Sutton.
All the actors were aware that they were filming something remarkable, even at the time of shooting and there is something about brilliant films, however they are received at the time of their release, they remain evergreen; truth remains the truth and they therefore retain an extraordinary power that can span generations of filmgoers. The Devils is one such piece and I urge everyone to go. It would seem politics has changed little since 1634, let alone 1971. AT