London Spanish Film Festival is back again for the 15th time around bringing the latest Spanish releases to central London over five days in September. There will be the usual chance to meet the directors and talent in Q&As, offering exclusive insight and background on their craft.
BUÑUEL EN EL LABERINTO DE LAS TORTUGAS  | Buñuel in the Labyrinth of Turtles
dir. Salvador Simó, with Jorge Usón, Fernando Ramos, Luis Enrique de Tomás | Animation | Spain | 2019 | 80 min | cert. PG| in Spanish with English subtitles
Paris, 1930. Luis Buñuel and Salvador Dalí are the figureheads of the Surrealist movement. Their masterpieces An Andalusian Dog (1929) and The Golden Age (1930) have caused intense scandal for their shocking, violent imagery. Penniless, Buñuel must postpone his next project, a documentary focused on one of the poorest regions in Spain: Las Hurdes. Yet in a stroke of bizarre, miraculous luck, his best friend Ramón Acín wins the lottery, and together they set off to film this unreported hardship. Tempers flare, however, for whilst Acín prefers an unvarnished, pared-back, no-frills approach, Buñuel manipulates reality to achieve his intended political, often manufactured effects. Based on a true story, this animated "making of" of Buñuel's Land Without Bread (1993) asks, with a healthy dose of humour, whether the camera is always, to some extent, a partisan, prejudiced device, exploring the curious complexities of 'fact' and 'accuracy' within taped, captured footage.
Wed 25 Sep | 6.30pm | Ciné Lumière | £13, conc. £11
OLA DE CRÍMENES | Crime Wave
dir. Gracia Quejereta, with Maribel Verdú, Juana Acosta, Paula Echevarría | Black Comedy | Spain | 2018 | 98 min | cert. 12A | in Spanish with English subtitles
Leyre (Maribel Verdú) is a well-heeled divorcee enjoying a comfortable life at her villa in Bilbao. However, her world is turned upside down when her son Asier, threatened with a shotgun and nasty insults, kills her ex-husband stone-dead. In an instant, Leyre will transform from aspiring cupcake entrepreneur to protective mother, going to absurd lengths to save her son and hide the crimes from the police. As the mayhem piles up and up in this fresh, hectic, and hysterical comedy, Leyre is forced to navigate the amorous attentions of Asier's friend Julen, the tax-fraud schemes of her ex-husband's widow, and the volley of frank, hilarious opinions from her ageing, no-nonsense mother.
Thu 26 Sep | 8.30pm | Ciné Lumière | £13, conc. £11
TRINTA LUMES  | Thirty Souls 
dir. Diana Toucedo, with Alba Arias, Samuel Vilariño | Documentary | Spain | 2018 | 80 min | cert. 15 | in Galician and Spanish with English subtitles
Set in the sparsely-populated village of O Courel, Galicia, Thirty Souls is a mysterious, magical, and haunting meditation on the life-cycle of birth and death in rural Spain. Deeply embedded in local folkloric tradition and the fragile balance between innocence and experience, two children, Alba and Samuel, explore abandoned homes in search of missing names and vanished livelihoods. They expose the sheer power of the Galician landscape with its echoing, menacing mountains and sublime sense of imminent threat. This oneiric love-letter to a remote, enchanting region of Spain – which took a full six years to shoot – is painted through daily rhythms and cadences, exposing life at its most tender and brutal, inviting and savage.
Followed by a Q&A with the director | Sat 28 Sep | 4.00pm | Regent Street Cinema | £12, conc. £11
ABUELOS | Grandfathers
dir. Santiago Requejo, with Carlos Iglesias, Roberto Álvarez, Ramón Barea | Comedy | Spain | 2019 | 108 min | cert. PG | in Spanish with English subtitles
Isidro (Carlos Iglesias) has suffered heavily from the Spanish financial crash. He is unemployed at the age of 56, but nobody wants to hire a senior — even one with 30 years of relevant experience. His friends Desiderio (Ramón Barea), a writer of romantic fiction, and Arturo (Roberto Álvarez), a retiree desperate to be a grandfather, feel similarly out of place and behind the times in a globalised world in which image, youth, and technology reign supreme. Even so, the trio refuse to give up, joining forces to prove that they still have something to offer. Side by side they launch a modern, forward-thinking (or so they think) business from scratch: a nursery for toddlers. What could go wrong!? The first full-length feature from director Santiago Requejo, Abuelos is jam-packed with warm-hearted, feel-good humour — and a sharp critique of cultural assumptions about the elderly.
Followed by a Q&A (tbc) | Sat 28 Sep | 6.15pm | Ciné Lumière | £13, conc. £11
LITUS 
dir. Dani de la Orden, with Jorge Cabrera, Belén Cuesta, Miquel Fernández | Comedy-Drama | Spain | 2019 | 85 min | cert. PG| in Spanish with English subtitles
Three months ago, young Spaniard Litus was killed in a car accident. Now, for the first time since his death, his brother Toni gathers his friends together to reminisce about old times and find closure from the tragedy. However, Toni brings unexpected news: Litus left a series of mysterious letters of farewell, one for each companion. As hidden secrets and furtive riddles come tumbling out beyond the grave, director Dani de la Orden provides a complex, layered study of the crushing heartbreak, and tender humour, of a group in mourning.
Sun 29 Sep | 8.30pm | Regent Street Cinema | £12, conc. £11
CATALAN WINDOW
LA FILLA D'ALGÚ / LA HIJA DE ALGUIEN | Somebody's Daughter
dir. ensemble of 4th-year students at ESCAC (Cinema and Audiovisual School of Catalonia), with Aina Clotet, Pep Ambròs, Marta Aguilar | Drama | Spain | 2019 | 72 min | cert. 18 | in Catalan with English subtitles
At the age of 30, successful Catalan lawyer Eli (Aina Clotet) has it all: the career, the boyfriend, the family (she is heavily pregnant with her first child). However, on the day of a major, high-profile court case, her father suddenly disappears, throwing the entire business into jeopardy. After several frantic calls to her nearest and dearest, Eli postpones the meeting as long as she dare, racing around Barcelona to unravel myriad, mysterious secrets that have, until now, been kept under wraps. The camera never leaves her side in this intense psychological thriller played out breathlessly in real-time, as Eli's comfortable, bourgeois stability gradually crumbles before her very eyes… Winner of the Movistar+ award for best full-length film in the Málaga Festival's ZonaZine, this beautifully balanced work is shot by a wide array of graduates from the Barcelona film school (ESCAC), displaying a wisdom and maturity far beyond their tender years.
Wed 25 Sep | 8.30pm | Ciné Lumière | £13, conc. £11
YO SOY LA RUMBA  | Peret: My Name Is Rumba
dir. Paloma Zapata, with Pepita Becas, Miliu Calabuch, La Chana | Documentary | Spain | 2018 | 92 min | cert. U | in Catalan and Spanish with English subtitles
The title makes it clear. Pere Pubill Calaf – Peret – is rumba. This documentary traces the life and work of an enigmatic singer and guitarist who, raised in the humble, gypsy neighbourhood of Sant Antoni, Barcelona, would be universally hailed as the 'King of Rumba' for his fusion of flamenco song with Latin American beats and rhythms. In a career spanning six decades, from the mid-1950s to his death in 2014, Peret rubbed shoulders with Pérez Prado, sang with Elvis Presley, and released global smash-hits such as 'Borriquito'. From his enforced performance at Eurovision, to his long break from stardom to become an Evangelical pastor in the USA, to his triumphant return at the 1992 Barcelona Olympics, Peret provides a warm, intimate portrait – through heartfelt testimonies from grandchildren and friends (Petitet, Justo Molinero) – of a musician full of contradiction and paradox but also, and most importantly, a deep kindness and an irrepressible love of song. A must-see for music lovers, Peret won Best International Film at the MUVI Music Film Festival 2019.
Thu 26 Sep | 6.30pm | Ciné Lumière | £13, conc. £11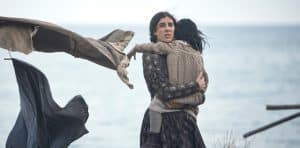 LA DONA DEL SEGLE | The Woman of the Century
dir. Sílvia Quer, with Elena Martín, Nora Navas, Àlex Monner | Drama | Spain | 2019 | 90 min | cert. PG | in Catalan and Spanish with English subtitles
Barcelona, 1919. A city awash with workers' strikes, criminal gangs, and social divisions. Consuelo, a young woman raised in an orphanage, is mistaken for a seamstress at department store El Siglo – the exemplary bourgeois establishment of the era. Yet, rather than point out the error, she simply completes the job to an excellent standard, and is soon offered a full-time contract. However, her lowly background and lack of proper documentation, at a time of entrenched class-based prejudice, threaten to shatter her feminist dreams of empowerment and emancipation. When all seems lost, a possible lifeline emerges: might she be the daughter of famous painter Isidre Nonell and his gypsy muse? A film dedicated to all those women who bravely stirred the winds of revolutionary change at the start of the twentieth century.
Fri 27 Sep | 8.30pm | Regent Street Cinema | £12, conc. £11
PETRA (main picture)
dir. Jaime Rosales, with Bábara Lennie, Alex Brendemühl, Joan Botey | Drama | Spain | 2018 | 107 min | cert. 18 | in Spanish with English subtitles
Artist Petra arrives at the home of celebrated sculptor Jaume Navarro, ready to begin a creative residency. However, nothing is as it seems in this Catalan countryside. After the death of her mother, she is desperate for answers regarding identity and place, suspecting the boorish Jaume of being the father she never knew. Petra is soon embroiled in a series of intricate, spiralling secrecies, as the lives of Jaume's wife Marisa, their photographer son Lucas, his housekeeper Teresa, Teresa's husband Juanjo, and their son Pau forcefully collide in a malicious, absorbing battle of lies, myths, and broken memories. A Greek tragedy Spanish-style, complete with eerie, non-chronological shifts of time, Petra is the sixth feature from art-film director Jaime Rosales, a regular at Cannes for many years.
Followed by a Q&A with Bárbara Lennie with Prof. Maria Delgado (Royal School of Speech and Drama) | Sun 29 Sep | 4.00pm | Regent Street Cinema | £12, conc. £11
ENTRE DOS AGUAS | Between Two Waters
dir. Isaki Lacuesta, with Israel Gómez Romero, Fransisco José Gómez Romero, Óscar Rodríguez | Drama | Spain | 2019 | 136 min | cert. 12 | in Spanish with English subtitles
When filmmaker Isaki Lacuesta released The Legend of Time in 2006, part-fiction and part-documentary about gypsy brothers Isra and Cheíto, Spain's daily El País labelled it a 'miracle'. Fast-forward 12 years, and Between Two Waters finds the impish boys now matured into adult men with pressures, duties, and responsibilities. Having gone their separate ways since childhood, the pair are reunited once more in their hometown, the island of San Fernando. Isra is recently released from jail, desperate to win back his wife and three daughters, and Cheíto, having just finished a long mission with the marines, hungers to settle down with his family. As the brothers' reunion sparks memories of their father's violent death, a series of candid, piercing conversations reveals a profound sense of reconciliation, redemption, and fellow-feeling.
Sun 29 Sep | 4.00pm | Regent Street Cinema | £12, conc. £11
BASQUE WINDOW
EL INCREÍBLE FINDE MENGUANTE | The Incredible Shrinking Wknd
dir. Jon Mikel Caballero, with Iria del Río, Adam Quintero, & Nadia de Santiago | Drama, Time-Travel | Spain | 2019 | 93 min | cert. 18 | In Spanish with English subtitles
To celebrate her 30th birthday, Alba and her friends rent a woodland cottage for the weekend, eager to clink glasses, let loose, and live it up to the maximum. However, the festivities turn sour when Pablo, Alba's boyfriend, unexpectedly breaks up with her, claiming that he needs time. In a neat sci-fi trick, Alba is suddenly frozen in her own time-loop, transported back to the car journey and condemned to relive the separation over and over – but with one hour less each time. Can she avoid the inevitable and persuade Pablo of her love, before it's too late? It's a countdown – and time is running out.
Written and directed by Jon Mikel Caballero, The Incredible Shrinking Wknd is a dark, poignant reimagination of Groundhog Day – but for break-ups.
MUDAR LA PIEL | The Spy Within 
dir. Ana Schulz, Cristóbal Fernández, with Juan Gutiérrez, Mingo Ràfols, Frauke Schulz | Spy Documentary | Spain | 2018 | 89 min | cert. PG | in Spanish with English subtitles
Juan Gutiérrez is a negotiator who strove to generate peace between ETA and the Spanish government during the most violent years of Spanish political conflict (1980s-90s). Roberto Flórez is his best friend and confidant – but also a double-crossing spy, who kept him under secret surveillance at all times. This is the first of countless betrayals, discrepancies, and misgivings at play in this captivating, slippery work – a documentary, but with a healthy dose of fiction – featuring intense, candid interviews with both men in turn. Winner of the 2017 MECAS Award at Las Palmas International Film Festival, first-time directors Cristóbal Fernández and Ana Schulz (Juan's own daughter) create a deeply personal, moving film, exploring the powerful bonds of affection between parent and child, double-agent and mediator, traitor and comrade… and the best of friends.
Sat 28 Sep | 2.00pm | Regent Street Cinema | £12, conc. £11
70 BINLADENS | 70 Big Ones
dir. Koldo Serra, with Emma Suárez, Nathalie Poza, Hugo Silvia | Thriller | Spain | 2018 | 104 min | cert. 18| in Spanish with English subtitles
When little Alba is kidnapped, her mother Raquel has 24 hours to find €35,000 – or 70 €500 bills, known in Spain as binladens because everyone talks about them but never sees them. After a long, gruelling search, she finally locates a bank willing to loan the money, but halfway through the transaction two robbers suddenly burst in, taking everyone hostage and throwing her plans into disarray. Raquel must think fast, outfox her rivals, and save her daughter's life – no matter the price. This third full-length feature from director Koldo Serra is a pulsating watch, with thrilling performances from female leads Emma Suárez and Nathalie Poza.
Sat 28 Sep | 8.45pm | Ciné Lumière | £13, conc. £11
LONDON SPANISH FILM FESTIVAL | CENTRAL LONDON | 25 -29 SEPTEMBER 2019