Dir: Franz Osten | Writer: W Burton based on a play by Niranjan Pal | Cast: Himansu Rai, Enakshi Rama Rau, Charu Roy, Seeta Devi | 97′ | Silent | Drama
SHIRAZ: A ROMANCE OF INDIA is a rare marvel of silent film. This dazzling pre-talkies spectacle was directed by Franz Osten and stars Bengali actor Himansu Rai who also produced the film from an original play by Niranjan Pal. Shot entirely in India with a cast of 50,000 and in natural light, the parable imagines the events leading to the creation of one of India's most iconic buildings The Taj Mahal, a monument to a Moghul Empire to honour a dead queen.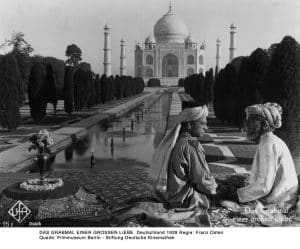 Shiraz is a fictitious character, the son of a local potter who rescues a baby girl from the wreckage of a caravan laden with treasures, ambushed while transporting her mother, a princess. Shiraz is unaware of Selima's royal blood and he falls madly in love with her as the two grow up in their simple surroundings, until she is kidnapped and sold to Prince Khurram of Agra (a sultry Charu Roy). Shiraz then risks his life to be near her in Agra as the Prince also falls for her charms.
SHIRAZ forms part of a trilogy of surviving films all made on location in India by Rai and his director Osten. Light of Asia (Prem Sanyas, 1926) and A Throw of Dice (Prapancha Pash, 1929) complete the trio intended to launch an east/west partnership bringing quality films to India, all based on Indian classical legend or history, and featuring an all-Indian cast in magnificent locations. Apart from the gripping storyline, there is the rarity value of a sophisticated silent feature made outside the major producing nations in an era where Indian cinema was not yet the powerhouse it would become. Rai makes for a convincing central character as the modest Shiraz, with a gently shimmering Enakshi Rama Rau as Selima. Seeta Devi stars in all three films, and here plays the beguiling but scheming courtesan Dalia, determined to get her revenge on Selima's charms.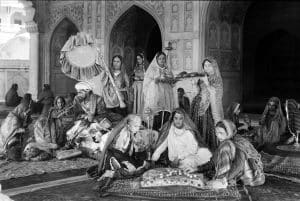 Apart from being gorgeously sensual (there is a highly avantgarde kissing scene ) and gripping throughout, SHIRAZ is also an important film in that it united the expertise of three countries: Rai's Great Eastern Indian Corporation; UK's British Instructional Films (who also produced Anthony Asquith's Shooting Stars and Underground in 1928) and the German Emelka Film company. Contemporary sources tell of "a serious attempt to bring India to the screen". Attention to detail was paramount with an historical expert overseeing the sumptuous costumes, furnishings and priceless jewels that sparkle within the Fort of Agra and its palatial surroundings. Glowing in silky black and white SHIRAZ is one of the truly magical films in recent memory. MT
SHIRAZ IS PART OF WE ARE ONE A FESTIVAL CELEBRATING SOLIDARITY FROM THE FILM COMMUNITY | BFI PLAYER