Director: Buddhadev Dasgupta  Writer: Buddhadev Dasgupta
Cast: Nawazuddin Siddiqui, Ananya Chatterjee, Pankaj Tripathy
132 mins  Language:  Hindi  Origin: India   Drama
A fruitful collaboration between the prominent Bengali filmmaker Buddhadeb Dasgupta and the major Indian star Nawazuddin Siddiqui (recently seen in the highly-acclaimed Gangs of Wasseypur), SNIFFER begins as an amusing off-beat comedy and, by its end, becomes an almost-epic fable of magic-realist proportions. If the use of the word 'epic' implies length, the film admittedly feels a little stretched at 132 minutes, but the beauty of its ending makes the duration more than worthwhile.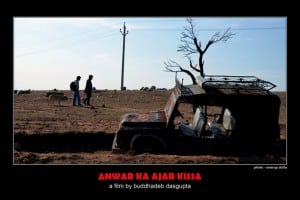 Siddiqui plays alcoholic private detective Anwar, who lives alone with his dog in a Muslim tenement, unaware that he is being closely watched by two of his neighbours: a devout Muslim who wants Anwar evicted due to his drinking, and a young woman who has fallen in love with him. But Anwar, it seems, is haunted by thoughts of his own lost love – the one that got away.
The spectre of the past, and of a simpler more honest way of life, runs throughout the picaresque narrative, in which Anwar's belief in the common decency of humanity becomes increasingly difficult to hold on to. Through a series of cases, the sorry state of modern society is slowly revealed, alongside religious intolerance. When a case leads Anwar away from the city, he is offered the chance to journey back to his past and reconnect with his roots.
If Anwar's drunken monologues to his dogs occasionally fall prey to exposition, the film's quirky, surrealist tone makes them seem all the more fitting. When Anwar takes the dog for a walk late one night, he stumbles across three wailing, ghost-like figures leaning over a bright blue railing: the first has suffered from years of constipation, the second from years with no sex, the third from years of no sleep. It's a haunting moment which nicely encapsulates the film's blend of dark humour, social examination and mysticism. Added to Siddiqui's excellent performance and Dasgupta's fluid camera, it all equates to an experience which will not be soon forgotten.  ALEX BARRETT
SNIFFER IS SHOWING AT THE LONDON FILM FESTIVAL ON FRIDAY 18TH AND SUNDAY 20TH OCTOBER AT RICH MIX AND VUE5 WEST END LONDON respectively.