Dir: David Bickerstaff | Prod: Phil Grabsky | UK Do
Exhibition On Screen is a series of documentary portraits of painters and their iconic works. It goes behind the scenes at major galleries and museums offering insight from experts and curators and dramatised scenes that bring the artists to life.
David Bickerstaff and Phil Grabsky have already highlighted the letters and paintings of Van Gogh. This time the focus is on his famous paintings of sunflowers and how they inspired the artist to create a series of pictures that have become synonymous with the Dutch master and his tragic and extraordinary life. The image of the Sunflowers nowadays stands alongside the Mona Lisa as one of the best known and best loved images around the globe.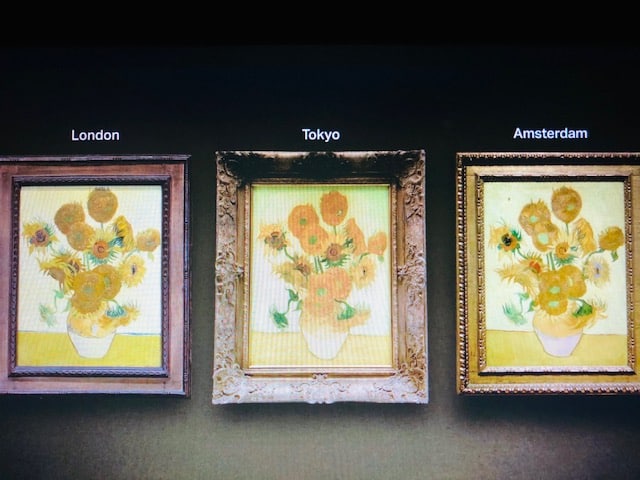 Van Gogh's broad brush strokes and vibrant colour palette embody his passionate and intense nature in a prolific and struggling career that was partly funded by his brother Theo, whose letters to Vincent form part of an earlier film by the director duo (Van Gogh: A New Way of Seeing) and Van Gogh in Japan. Other films focusing on the Dutch master are the animated 2017 drama Loving Vincent with Helen McCrory, and Maurice Pialat's drama Van Gogh 
Here the focus is on the sunflowers that inspired five related paintings. These bold and honest flowers that embody beauty, strength and vulnerability somehow grew in significance. The weed-like crop native to the arid fields of France, Italy and Spain, became the subject of a work of art now worth millions of pounds. In the same way, the flowers connect with Van Gogh's simple and soulful nature and his struggle to find meaning through his art that still resonates deeply with audiences today.
World authorities on Van Gogh's work provide valuable insight amongst them Louis Van Tilborg from the Van Gogh Museum in Amsterdam and Chris Riopelle from the London's National Gallery who take us behind the scenes to reveal the complexities surrounding the five famous depictions of the Arles Sunflowers from collections in London, Philadelphia, Tokyo, Munich and Amsterdam.
Meanwhile actor Jamie de Courcey (from A New Way of Seeing) again fleshes out the artist in dramatised sequences that attempt to show Van Gogh's innermost thoughts about what the flowers really meant to him. MT
Sunflowers is released in cinemas across the UK from 8 June, including Curzon, Everyman, Odeon, Picturehouse, Showcase, Vue and independent cinemas. Find your nearest cinema at exhibitiononscreen.com