Creating a forum for courageous individuals fighting worthwhile causes on both sides of the lens, this year's Human Rights Watch Film Festival returns to the Barbican, BFI Southbank and Regent Street Cinema with an international line-up of 15 award-winning documentary and feature films from Venezuela, South Africa, Palestine, Thailand and more.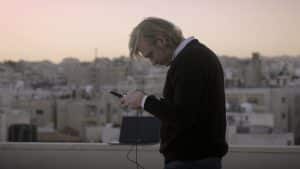 The festival will open at the Barbican on 14 March with Hans Pool's Bellingcat – Truth in a Post-Truth World, which follows the revolutionary rise of the "citizen investigative journalist" collective known as Bellingcat, dedicated to redefining breaking news by exploring the promise of open source investigation. 
Among other topics highlighted in the festival are: modern-day slavery in the fishing industry, South African students' #FeesMustFall movement and the call for the decolonization of the education system; 'boys will be boys' rape culture; the impact of non-consensual gender assignment surgery on intersex infants; urban displacement; and a behind the scenes access to the trial of 

Ratko Mladić. 
Many filmmakers, protagonists, Human Rights Watch researchers and activists will take part in in-depth post-screening Q&A and panel discussions, some of which are detailed below:
UK Premiere: Screwdriver Mafak
Palestine-USA-Qatar 2018. Dir Bassam Jarbawi. With Ziad Bakri, Areen Omari, Jameel Khoury. 108min. Digital. EST. 15

Shot entirely on location in the West Bank, award-winning Palestinian director Bassam Jarbawi's debut feature film tackles the physical and emotional toll of one man's return home after 15 years in an Israeli jail. This mesmerising drama examines the trauma of reintegration after imprisonment, together with the unpredictable set of challenges faced in modern-day Palestine.
FRI 15 MAR 20:30 NFT3 | SOUTHBANK
UK Premiere: Facing the Dragon 
Afghanistan-Turkey-Germany-Australia 2018. Dir Sedika Mojadidi. 81min. Digital. EST. 15 
Afghan-American filmmaker Sedika Mojadidi pursues two awe-inspiring women on the front lines as the United States withdraws from Afghanistan and the Taliban regains their hold. As the country's fragile democracy shakes, threats of violence increase against Shakila, a journalist, and Nilofar, a local politician. They are soon forced to choose between duty and love for their country, and their families' safety. 
SAT 16 MAR 18:10 NFT3 | SOUTHBANK
UK Premiere: Roll Red Roll 
USA 2018. Dir Nancy Schwartzman. 81min. Digital. 15 
In small-town Ohio, USA, a sexual assault involving members of the beloved high-school football team gained global attention. With unprecedented access to a local community struggling to reconcile disturbing truths and the journalist using social-media evidence to reveal them, this true-crime thriller cuts to the heart of debates around engrained rape culture, and unflinchingly asks: 'Why didn't anyone stop it?' 
SAT 16 MAR 20:30 NFT3 | SOUTHBANK
UK Premiere: The Sweet Requiem Kyoyang Ngarmo
India-USA 2018. Dirs Ritu Sarin, Tenzing Sonam. With Tenzin Dolker, Jampa Kalsang Tamang, Tashi Choedon. 93min. Digital. EST. 15

At the age of eight, Dolkar fled her home with her father to escape Chinese armed forces, and faced an arduous journey across the Himalayas. Now 26, she lives in a Tibetan refugee colony in Delhi, where an unexpected encounter with a man from her past awakens long-suppressed memories, propelling Dolkar on an obsessive search for the truth.
Tickets go on sale to the general public on 12 February 2019. Members of BFI Southbank can purchase tickets from 5 February and members of the Barbican can purchase tickets from 6 February.