The STARRING BARBARA STANWYCK season offers a chance to see one of Hollywood's most successful and memorable actors of all time, whose career spanned more than four decades. The season will include an extended run of Preston Sturges' hilarious comedy The Lady Eve (1941), also released in selected cinemas by the BFI on Friday 15 February. During March, the season will highlight the breadth and depth of Stanwyck's characters, whether in classics or in less familiar, rarely screened titles.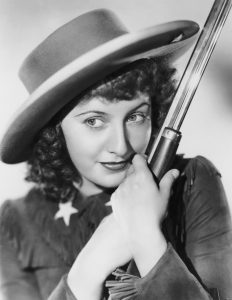 Diva, grande dame and femme fatale, Stanwyck adapted to any genre, be it comedy, melodrama or thriller. Her natural wit and raw emotion was particularly resonant in her Westerns, where she played  resourceful, confident women holding their own in a male-dominated world. The BFI are screening 3 examples in March. Her first western Annie Oakley (George Stevens, 1935) was based on the life of 'Little Miss Sureshot,' one of the most famous sharpshooters in American history; Stanwyck oozes confidence in her portrayal of the determined and spirited protagonist. Cecil B. DeMille brought a characteristically epic sense of scale to the western with Union Pacific (1939), about the construction of the First Transcontinental Railroad. Mixed in with the historical elements is a love triangle between a troubleshooter, a gambler, and a train engineer's daughter played by Stanwyck. The director was mesmerised by her performance, and she became one of his favourite stars. In Forty Guns (Samuel Fuller, 1957), a late-career highlight for Stanwyck, she portrays a wealthy landowner exerting influence over an Arizonian township by commanding a staff of 40 men. Beautifully shot and packed with psychosexual subtext and directed with bravura, Samuel Fuller's western influenced a generation of filmmakers, including Godard.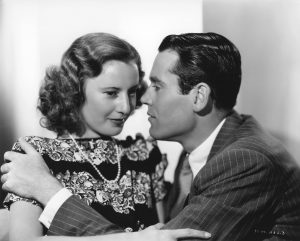 In the delightful screwball-mystery-romance The Mad Miss Manton (Leigh Jason, 1938), a scatty but canny heiress (Stanwyck), whose claims to have discovered a murder are dismissed by the police, enlists a working-class journalist to help prove her case. Ball of Fire (Howard Hawks, 1941), follows a nightclub dancer who needs to lie low, and a house shared by eight professors provides the ideal hideout. Inspired by the story of Snow White and boasting razor-sharp dialogue and perfect Hawksian comic timing, Ball of Fire is another classic screwball comedy. Written by a master of screwball – Preston Sturges – Remember the Night (Mitchell Leisen, 1940) sees a New York attorney (Fred MacMurray) take pity on a shoplifter he's prosecuting. He gets her out on bail and invites her to his family home for Christmas – which somewhat complicates their relationship. There is genuine chemistry between Stanwyck and MacMurray in their first film together, an amusing and affecting blend of courtroom drama, road movie and romance. The pair reunited for another tale of adulterous temptation There's Always Tomorrow (Douglas Sirk, 1955); he's a toy manufacturer feeling neglected by his family, and she is the ex-employee whose return to Pasadena reignites illicit passions. Forbidden (Frank Capra, 1932) sees her playing a librarian falling for an unobtainable man.
Two more Frank Capra films will screen in March – in The Miracle Woman (1931) Stanwyck plays a minister's daughter who, following the death of her father,  teams up with a conman to stage evangelical shows in which she performs 'miracles'. Meanwhile Meet John Doe (1941) sees her play a journalist who invents a story about a tramp planning to commit suicide in protest of the state of the world. The resulting interest forces her paper to get someone to fit the role and the man they find (Gary Cooper) instantly becomes a celebrity – and a political pawn. Completing the season will be screenings of Sorry, Wrong Number (Anatole Litvak, 1948), a noir thriller adapted by Lucille Fletcher from her acclaimed radio play, focusing on a wealthy, rather complacent, bedridden woman who overhears a conversation involving a planned murder. (All images are strictly the property of the BFI, and not to be copied)
SCREENING AT THE BFI, SOUTHBANK | FEBRUARY – MARCH 2019 | BFI WEBSITE