Dir: Joseph Losey | Cast: Alain Delon, Jeanne Moreau, Francine Berge, Juliet Berto, Michael Lonsdale | Thriller, 123′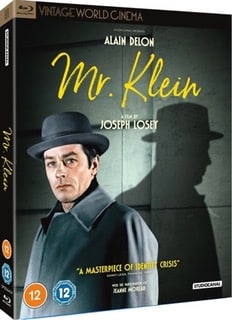 What a fabulous and resonant contribution American director Joseph Losey made to the world of European cinema: each film a work of art that seems to live on. reinventing itself with each new generation. Mr Klein is a case in point and seems more relevant now that it did on its original release in 1976 in telling a story from Nazi-occupied Paris of the early 1940s.
Elegant, unsettling and strangely brooding this noirish thriller reflects another world of caution and insecurity reflecting the current state of crisis. Opulently set in and around the quartier of a Parisian apartment belonging to an art dealer – a superb Alain Delon who plays the central role with a suave and amiable dignity alongside his pouting heroines Jeanne Moreau and Juliet Berto exquisitely attired by French costume designers Collette Baudot and Annalisa Nasalli-Rocca. Gerry Fisher's subtle camerawork and chiaroscuro lighting enhances Alexandre Trauner's magnificent production designs creating an atmospheric sense of place in the beautiful bourgeois Parisians settings. So much so that you almost forgot the storyline that is stealthily working its way to a compelling conclusion, in the background. Not to mention the salient subject of Jewish persecution and anti-semitism which is at the film's core. And crucially, it is the police that are carrying out the rounding up of Jews (some 13,000), not the German soldiers.
Elliptical in nature, in the same way as The Servant and Accident, Franco Solinas (Battle of Algiers) wrote the script along with Fernando Morandi and Costa-Gavras, but Losey drew on his experience with Hollywood Blacklisting to create the atmosphere of creeping uncertainty and mistrust that steals through the feature.
Delon's Robert Klein is running a tight business buying up art works from Jewish Parisians desperate to leave the country. But gradually his facade drops when a Jewish newspaper bearing his name is delivered to his private address, forcing him to check the provenance of the paper, and prove his identity and his raison d'être. And as he digs deeper, the more the mud seems to stick to his hand-tailored tweed suits, eventually landing him in deep shit when things spin out of control, as they eventually do, in the best possible taste. A fascinating film about suspicion, illusion, collective recrimination and the strange way people behave when the ground starts to shift. MT
Joseph Losey's MR. KLEIN | Fully restored on Blu-Ray, DVD & Digital on September 13