Dir: Joseph Losey | Wri: Harold Pinter | Cast: Dirk Bogarde, Michael York, Stanley Baker, Jacqueline Sassard, Annie Firbank, Alexander Knox, Freddie Jones | UK Drama 105′
Another Losey/Pinter/Priggen/Bogarde collaboration and Losey's last film with Bogarde. Constructed in flashback after a car crash in the opening sequence, this was another book adaptation by Pinter, who jumped at a fourth chance of working with Joseph Losey.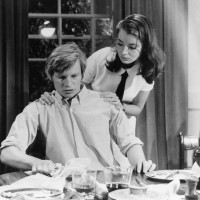 Although finally shot in colour, black and white was considered long and hard; indeed, the chosen palette is decidedly muted, the colours really taken out by debut DoP Gerry Fisher, under instruction from Losey.
This classic dissection of British life focuses on power-play among the upper classes; as with almost all Pinter, the menace seethes just beneath the sheen in a world of sunny picnics, tennis and punting down the river. In this case the brutality of deception, lies and envy is given vent through games and even the making of an omelette, in a claustrophobic academic world where everybody knows everybody else's business.
Exploring this underbelly: the true cost to those halcyon, timeless days at Oxbridge, Bogarde and Baker play Dons to the students of Michael York and a feline Jacqueline Sassard (as Anna), who stirs the loins of middle-aged Bogarde, even though he is married with two kids.
Michael York will always have his detractors but here he is at his best as the dashing young blade, vying for the aloof Austrian Anna's affections. Stanley Baker cuts a dash as the man living life on his sleeve, much to the irritation his long-suffering, buttoned-down colleague, Bogarde.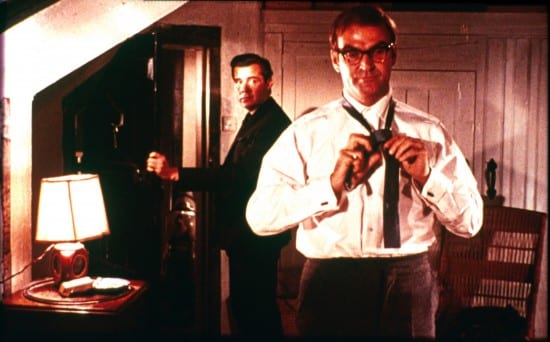 Harold Pinter and Annie Firbank make fleeting but impactful appearances, as do Terrence Rigby, Freddie Jones and Alexander Knox as the Provost, who has seen it all and misses nothing.
The original DVD from StudioCanal has a bundle of extras: Talking About Accident, Losey and Pinter Discuss Accident, John Coldstream on Bogarde and Harry Burton on Pinter.
Another very classy outing then from the Losey/Pinter union and a very profitable one at that; Losey was again pushing the envelope in how he shot scenes and Pinter proved a willing sparring partner, himself experimenting with the methodology of how one can tell a story. MT
ALSO AVAILABLE ON MUBI from 13 April 2020