Douglas Sirk's entire and prodigious output is the focus of this year's 75th RETROSPECTIVE at Locarno Film Festival, thirty five years after his death. Along with documentaries and television features centred on his features, previously unpublished documents from the archive of the Cinematheque Suisse will offer audiences a fresh look at a filmmaker much admired by the French New Wave along with Bernardo Bertolucci, Rainer Werner Fassbinder and Todd Haynes.
Douglas Sirk (1897-1987) started life as Detlef Sierck in Berlin (UFA), spending his early years in his parents' native Denmark and Hamburg before emigrating via France to Los Angeles just before the Second World War, spending his final years in Ticino, Switzerland where he died in Lugano.
Fêted for his florid anti-realist Hollywood melodramas of the 1950s such as Magnificent Obsession (1954), All that Heaven Allows (1955), Written on the Wind (1955), A Time to Love and a Time to Die (1958) and Imitation of Life (1959). His early features, a feature debut April, April! (1935), Pillars of Society (1935) and the Venice Golden Lion nominated Zu neuen Ufern (1936) were birds of a different feather and throwbacks to his time in Germany and early experience in theatre during the Weimar Republic before fleeing to Hollywood in 1937 where his first film was a Nazi themed thriller Hitler's Madman in 1943 followed by a film noir Summer Storm starring George Sanders in 1944. A year after that came the first of his melodramas All I Desire (1953) in his initial collaboration with Barbara Stanwyck. Rock Hudson was a Sirk regular along with George Sanders. Sirk also experimented with the western genre with some success in Taza, Son of Cochise in 1954.
After returning to Europe Sirk settled in Switzerland, working again for the theatre in Germany and teaching at the Munich-based Hochschule für Film und Fernsehen (HFFM), where he supervised the completion of three short films.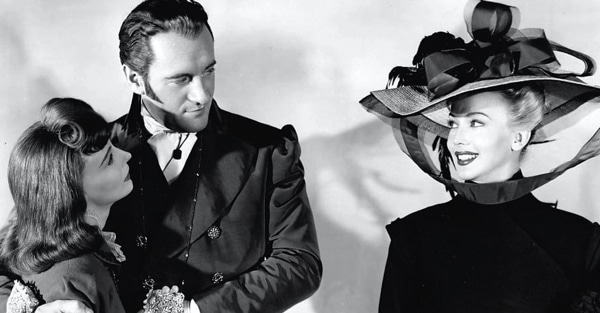 A Scandal in Paris (1946) 
Scandal is based on the autobiography of Francois Eugene Vidocq, erstwhile criminal who became the Police Chief of Paris. Adapted by Ellis St. Joseph, Vidocq tries his best to camouflage his real past: His father was a wealthy man, and probably the first victim of his criminal son.
In 1775, we meet Vidocq (Sanders) and his sidekick Emile (Tamiroff) on the verge of fleeing prison with the help of a file hidden in a cake. Vidocq is soon made a lieutenant in the French army, a perfect foil for stealing jewellery from wealthy women who fall under his spell. Next on the list is the chanteuse Loretta de Richet (Landis), who is married to the Chief of Police  (Lockhart). After successfully completing his assignment, Vidocq sets his eyes on the de Pierremont family jewels owned by the Marquise de Pierremont (Kruger) and her daughter Therese (Hasso). But having trousered the gems, Vidocq changes tack, the master thief not only 'solves' the case, but also 'recovers' the jewels, becoming Richet's successor, a move that will give him access to the vault of the Paris Bank. Events culminate in a deadly struggle at a merry-go-round in the woodlands, the exact same place where Therese revealed she knew everything about Vidocq's shady past.
DoP Eugen Schuftan (1983-1977), a legend would go on to shoot Eyes Without a Face (1960) and early Hitchcock features, goes uncredited, with Guy Rose getting the only camerawork mention. Schuftan gives the feature a decisively European look reminiscent of Max Ophuls' pre-war fare. Hans Eisler's score echoes this arrestingly stylish look and Hungarian born producer Emeric Pressburger makes up the team whose roots were cultured in the old continent before the rise of fascism.
George Sanders is brilliant as the ambivalent anti-hero, the same goes for Carole Landis who, in one of her scenes as a chanteuse, very much impersonates Marlene Dietrich in Der Blaue Engel. But, alas both actors had a string of unhappy relationships and would go on to commit suicide: Landis in 1948 at the age of twenty-nine and Sanders in 1972, plagued by dementia and depression. Signe Hasso on the other hand never lived up to her billing as Greta Garbo's successor, living a long and happy life, mainly starring in TV commercials.
Fellow émigré director Edgar Ulmer mentioned Scandal's sublime quality unique to Sirk's oeuvre, that lends an ethereal touch to this romantic drama with is exquisite costumes by Norma (Koch). @Andre Simonoveisz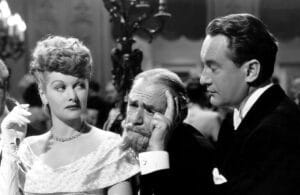 Lured (1947)
One of Sirk's lesser-known films is this sleek potboiler made when he was working as an upmarket director for hire, George Sanders was still dapper and debonair (cheerfully admitting to being "an unmitigated cad") and Lucille Ball a brittle wisecracking dame used as bait to catch a mass murderer known as  the 'Poet-Killer' due to his habit of leaving quotes by Eugene Baudelaire.
Sirk recalled the film fondly, acknowledging the contributions of designer Nicolai Remisoff and cameraman William Daniels in creating a typical Hollywood London entirely on the soundstage.
The supporting cast recalls the days when Hollywood was awash with talent, hence the fleeting presence in supporting roles of top ghouls Boris Karloff and dear old George Zucco; all concerned to be enjoying themselves, especially the latter, visibly relishing the fact that he's playing a comic copper in a bowler hat rather than the usual mad doctor. @RichardChatten
Magnificent Obsession (1954)
Douglas Sirk's 1959 remake of Imitation of Life was a masterpiece that transformed the thirties original. Five years earlier Magnificent Obsession set the ball rolling – complete with biblical references and pianos and heavenly choirs on the soundtrack – it parodies the original rather than transcends it.
The warm and sympathetic Jane Wyman (described by other members of the cast as a "girl") is always a pleasure to watch, however, and both she and it glows in Technicolor; with Russell Metty's photography showing early evidence of the high contrast gloss he would perfect in his later teamings with Sirk. @RichardChatten
All That Heaven Allows (1955)
Following their success in Magnificent Obsession Jane Wyman and Rock Hudson were re-teamed in this glossy Technicolor romance set in rural New England.
To be commended for acknowledging that middle-aged women still harboured passions, Miss Wyman plays a widow who shocks friends and family by announcing her intention to marry a young hunk in a lumberjack shirt.
Rainer Werner Fassbinder encountered similar disapproval when he fell in love with a North African Arab and used Sirk's film as the basis of  Fear Eats the Soul. @RichardChatten
There's Always Tomorrow (1955/6)
Barbara Stanwyck and Fred McMurray are reunited over a decade after Double Indemnity in this soulful drama that had already been made in 1934 by Edward Sloman. Sirk's version is based on the novel by Ursula Parrot, who had ten of her books adapted for the Hollywood screen and There's Always Tomorrow, as subversive as anything shot in the dream factory of the 1950s, is sadly often neglected.
Metty's grainy black-and-white photography, his expressionistic use of angles, are one highlight of this feature, but let's not forget Ursula Parrot, the came up with the story. Apart from being extremely successful, she was also quite a tearaway. In 1943, at the age of 43, she went off with a soldier who was about to be locked up for narcotic offences, right under the nose of the Military Police. Later released on bail, when cross-examined, she claimed to have  "acted on impulse, and anyhow, the soldier in question was a damn good guitar player". Somehow, it makes sense that Sirk, another outsider in Hollywood, should be the one to bring her work onto the screen. @Andre Simonoveisz
DOUGLAS SIRK RETROSPECTIVE | LOCARNO FILM FESTIVAL 2022