The focus is on women in this decade long celebration of Italian cinema that takes place from 4 – 9 March at Cine Lumiere in London. A rich and eclectic mix of the most recent films come under the spotlight including Liliana Cavani's cult classic thriller The Night Porter (1974) starring Charlotte Rampling and Dirk Bogarde.
The six day event opens on 4 March with Ginevra Elkann's playful comedy If Only (2019) that won critical acclaim at last year's Locarno Film Festival.  Also to look forward to is Guido Lombardi's road movie Volare that sees a young boy reconnected with his father returning from prison and Igor Tuveri's stylish crime drama 5 is the Perfect Number starring Tony Servillo as a hitman in 1970s Naples. 
IF ONLY (Magari) | Director: Ginevra Elkann | Cast: Riccardo Scamarcio, Alba Rohrwacher, Milo Roussel, Ettore Giustiniani, Oro De Commarque, Céline Sallette, Benjamin Baroche, Brett Gelman, Luigi Catani | 100 mins
Alma, Jean and Sebastiano are three tight-knit siblings who live with their mother in Paris. One day they are packed off to Italy to spend the rest of the school holiday with their unconventional and completely broke father, Carlo(Riccardo Scamarcio), who they haven't seen for two years. Instead of taking them on the skiing trip they had been promised, Carlo whisks them off to a rundown coastal cottage. They are joined by his bohemian co-writer and lover Benedetta (Alba Rohrwacher), and what ensues is a shambolic Christmas package to remember, complete with a first crush, acts of teenage rebellion, but also tender moments of reconciliation.  This semi-autobiographical film by accomplished producer and first-time feature director Ginevra Elkann received critical acclaim when it opened the Piazza Grande section at last year's Locarno International Film Festival.
Ginevra Elkann studied film directing at the London Film School. She began her film career as assistant director on Bernardo Bertolucci's Besieged and was also a video assistant on Anthony Minghella's The Talented Mr. Ripley. She is an accomplished producer and distributor (respectively, at Italian companies Asmara Films and Good Films). Her production credits include Abdellatif Kechiche's Mektoub, My Love (Canto uno), Noaz Deshe's White Shadow and Babak Jalali's Frontier Blues. Since 2006 she has been President of the 'Pinacoteca Giovanni e Marella Agnelli' art gallery in Turin.
FLESH OUT (Il corpo della sposa) | Dir: Michela Occhipinti | Cast: Verida Beitta Ahmed Deiche, Amal Saad Bouh Oumar, Aminetou Souleimane, Sidi Mohamed Chinghaly | 95 mins
Living in Mauritania, working in a beauty salon and addicted to social media, Verida (Verida Beitta Ahmed Deiche) is a modern girl. However, before getting married in three months' time she needs to undergo 'gavage', or force-feeding, so that she gains a substantial amount of weight to become voluptuous, and thus an ideal model of beauty and wealth. This means that her mother will ensure that she eats and drinks as much as ten times a day. As the weeks of this trial go by and the impending wedding approaches, Verida starts to question her life and her country's traditions. Michela Occhipinti's emotionally rich film is a sympathetic portrait of a woman awakening to misogynistic conditioning disguised as cultural convention.  The film screened in the Panorama section at last year's Berlinale.
Born in 1968, Michela Occhipinti spent her childhood in Rome, Hong Kong, Geneva and Morocco. In 2003 she spent a year in Argentina and made her first documentary film Give Us Back the Constitution (¡Viva la Pepa!), about the country's social situation. From 2005 – 2007 she worked with the Italian channel RAI 2 to direct several reports on immigration issues. Her other documentary films include Sei Uno Nero, about the prevention of HIV and malaria in Malawi, and the feature-length documentary Lettere dal deserto (Elogio della lentezza), which was shown at over 80 festivals around the world.
SIMPLE WOMEN | Dir:Chiara Malta | Cast: Jasmine Trinca, Elina Löwensohn, Francesco Acquaroli, Anna Malvica, Mirella Mazzeranghi, Betti Pedrazzi, Paolo Graziosi, Thomas Bradley, Michael Rodgers, Cosmina Olariu, Ozana Oancea, Roberta Zanardo, Gea Dell'Orto, Elisa Liberatori |  85 mins
Since childhood, the Italian film director Federica (Jasmine Trinca) has been passionate about cinema. One film in particular has always played an important role: Hal Hartley's Simple Men, starring the Romanian actress Elina Löwensohn. A chance encounter with her icon offers Federica the opportunity to make a film about her life. However, the real Elina Löwensohn is very different to the one in Federica's imagination, and soon the true characters of both the actor and the director start to be revealed.
Paris-based director Chiara Malta has written and directed numerous short films in which she mixes various forms of narration, including documentary and animation. Her feature-length documentary Armando and Politics opened the 2008 Turin Film Festival. Simple Women is her debut feature-length fiction film and had its world premiere at the 2019 Toronto International Film Festival, where it opened the Discovery section.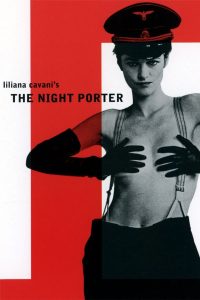 THE NIGHT PORTER (Il portiere di notte)  Dir: Liliana Cavani | Cast: Dirk Bogarde, Charlotte Rampling, Philippe Leroy | 118 mins
Set in Vienna in 1957, a secret Nazi organisation meets periodically and 'eliminates' dangerous witnesses to their cruel actions during WW II. Max (Dirk Bogarde), a former SS officer, is a night porter in an elegant hotel. When Lucia (Charlotte Rampling) enters the lobby with her husband, she recognises the man who was both her torturer and protector when she was a concentration camp inmate. They eventually find a way to be alone together and replay their concentration camp scenes, thus revisiting a sadomasochistic relationship and exploring a reversal of roles. Operatic and bold, Liliana Cavani's 1974 provocative psychological thriller deftly examines the lasting social and psychological effects of the Nazi regime.
Liliana Cavani was born in Carpi in 1933. After graduating in literature and philology at Bologna University she studied documentary filmmaking at Rome's renowned 'Centro Sperimentale di Cinematografia'.  She is a director and screenwriter who belongs to a generation of Italian filmmakers from Emilia-Romagna who came into prominence in the 1970s, and included Bernardo Bertolucci, Pier Paolo Pasolini and Marco Bellocchio.  In 1965 her documentary Philippe Pétain: Processo a Vichy won the Golden Lion for Best TV Documentary Film at the Venice International Film Festival. In addition to feature films and documentaries, she has also directed operas.
CINEMA MADE IN ITALY | 4 -9 MARCH 2020 | CINE LUMIERE, LONDON SW7