Buster Keaton directed these three films between 1920 and 1929, establishing him as "arguably the greatest actor-director in the history of the movies".  The Navigator, Seven Chances and Battling Butler. may not be on a par with The General; Sherlock and Steamboat Bill Jnr, but they are certainly enjoyable examples of his talents as an entertainer, and presented by Eureka for the first time on Blu-ray boxset.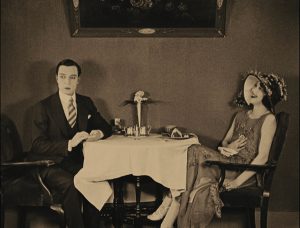 The Navigator (1924, dir. Buster Keaton & Donald Crisp) – Wealthy Rollo Treadway (Keaton) suddenly decides to propose to his neighbour across the street, Betsy O'Brien (Kathryn McGuire), and sends his servant to book passage for a honeymoon sea cruise to Honolulu. When Betsy rejects his sudden offer however, he decides to go on the trip anyway, boarding without delay that night. Because the pier number is partially covered, he ends up on the wrong ship, the Navigator, which Betsy's rich father has just sold to a small country at war. Keaton was unhappy with the audience response to Sherlock Jr., and endeavoured to make a follow-up that was both exciting and successful. The result was the biggest hit of Keaton's career and his personal favourite.
Seven Chances (1925, dir. Buster Keaton) – Jimmy Shannon (Keaton) learns he is to inherit seven million dollars, with a catch. He will only get the money if he is married by 7pm on his 27th birthday, which happens to be that same day! What follows is an incredible series of escalating set-pieces that could only have come from the genius of Buster Keaton. Elaine May made a similar film with Walter Matthau in 1971. It was called A New Leaf.
Battling Butler (1926, dir. Buster Keaton) – A rich, spoiled dandy (Keaton) pretends to be a champion boxer, "Battling Butler", to impress the family of the girl he loves. When the real Butler shows up, he decided to humiliate the imposter by having him fight the "Alabama Murderer"!
BUSTER KEATON: 3 FILMS (Vol. 2) [Masters of Cinema] 3-Disc Blu-ray Set Trailer