Director/Writer : Lynn Shelton | Cast:  Mark Duplass, Rosemarie DeWitt, Emily Blunt | Cert1 5  100 mins
This easy going rites of passage drama along the lines of "Grab a dude and preg yourself up" has three memorable performances and comes from a director who writes from the heart and from her own life experiences. Her follow up to Hump Day (2009) is full of witty insight and watchable scenery, a classic tale of thirty-somethings, it stars Mark Duplass as Jack who's mourning the death of his brother Tom. Mutual friend Iris (Blunt) offers him sanctuary in her island hideaway just off Washington State. She secretly fancies Jack but within hours of rocking up he is bedding her sister Hannah (DeWitt) who happens to be lesbian or, at least she thought she was until broodiness and a few drinks intervened.  After a night of unexpected shagging Iris turns up unannounced.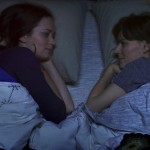 A tangled mess of misconception and conception follows and feelings are shared and thoughts aired by the trio. This brings them closer but has unexpected consequences and far-reaching complications all round.  Skelton's outline script gives an improvised feel that's indie in style but slick enough to appeal to wider audiences.  The result is a tense but funny tale about sex, sisterhood and growing up.
Lynn Shelton, who died on 15 May 2020, went on to make Touchy Feely and Say When (Laggies) before embarking on a successful TV career (Mad Men, Love, Fresh off the Boat amongst others) and Little Fires Everywhere which airs from the end of May, and reunites her with stars Rosemarie DeWitt and Reese Wetherspoon.  MT ©
Now out on DVD-Blu-Ray | Tribute to Lynn Shelton