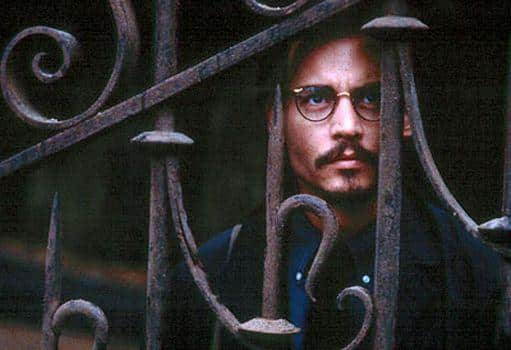 Dir: Roman Polanski | Cast: Johnny Depp, Frank Langella, Lena Olin, Emmanuelle Seigner, Barbara Jefford | DoP: Darius Khondji | Wri: Roman Polanski, John Brownjohn, Enrique Urbizu | 133mins   Horror Thriller
A book collector pops his clogs – quite literally – during the title sequence of this amusingly sardonic thriller starring Johnny Depp as Dean Corso, a shady book dealer hired to locate the last remaining copies of a demonic manuscript purportedly written to raise the Devil.
Perfectly indulging Polanski's penchant for the macabre, the idea was taken from 'El Club Dumas' a novel by Spanish writer Arturo Perez-Reverte, and is one of five horror films the maverick filmmaker has made so far in his eclectic career.
Wojciech Kilar (The Pianist) conjures up an atmosphere of sinuous evil with pristine camerawork from Darius Khondji (Funny Games), Polanski once again surrounding himself with the crème de la crème to create an enjoyably unsettling foray into a world of conspiracy, murder and satanic ritual.
The Ninth Gate (which gets its title from a fictional work 'The Nine Gates Of the Kingdom of The Shadows' (1666)  by Aristide Torcia) was not well received critically, despite a well-judged turn from Depp as a tough and noirishly scuzzy lead who is soon joined by a foxy and sinister sidekick in the shape of Emmanuelle Seigner, who follows him around in an anorak in similar mode to her Mimi from Bitter Moon (1992). But the film did pave the way for The Pianist (2002) which was greeted as a much-awaited return to 'form' and won his an Oscar for Best Director.
Judge for yourself. Ninth Gate is a good-looking, globe-trotting tale of intrigue with Hitchcockian overtones that unspools in a shadowy New York and travels to the more edgy corners of fading 20th century Europe (Sintra, Toledo and Cathar France) involving a range of seedy characters – and it's the performances that really make this worthwhile. It then wanders down a rather absurdist plotline until a denouement which strangely echoes Kubrick's Eyes Wide Shut (1999).  In The Ninth Gate Polanski blends style and technical finesse with the playful nonchalance of a director who has already done it all and can afford to have some fun with this outlandish but engaging tale. MT
THE NINTH GATE IS ON PRIME VIDEO