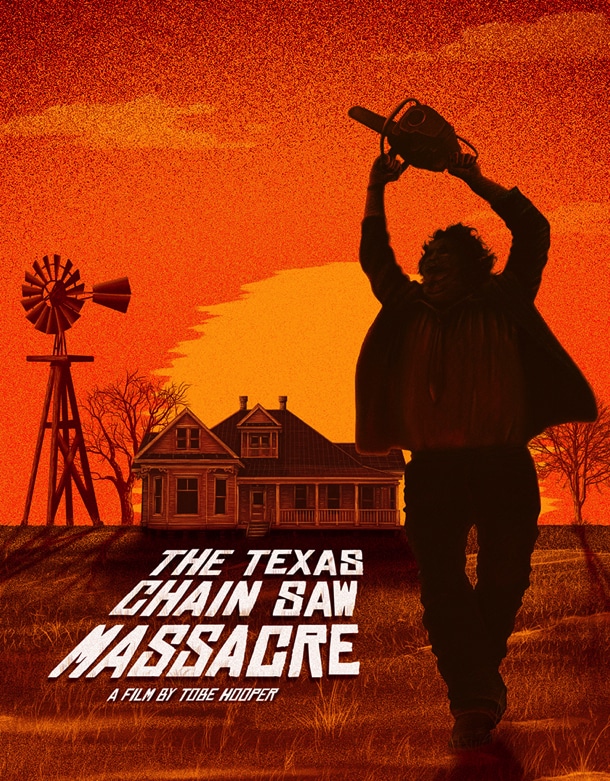 Dir: Tobe Hooper Co-writer: Kim Henkel Cast:Marilyn Burns, Edwin Neal, Allen Danziger, Paul A Partain, William Vail, Gunnar Hansen, Teri McMinn | 83min  Horror   US
Made by Willard Tobe Hooper on a micro budget of $60,000, The Texas Chain Saw Massacre must qualify for the World's best low budget 'slasher'. Made on a shoestring and none the worse for it: the film is effective largely because of its simplicity. In a remote corner of Texas, some kids run into trouble when they stumble on the home of unemployed slaughter-men.
The success of Hooper's film lies in its grainy stock and a few classic horror tropes, the horrifying soundscape pushing just the right buttons to send audiences running for the aisles. The violence takes place off-camera in a basic story that meddles with our conditioned reflexes to imagine the worst: that sound of that saw in action is redolent of a dentist's drill – only worse, communicating pain on a primeval level without a glimpse of bloodshed.
Texas Chainsaw has become synonymous with horror. After the sound, comes the sight of that primal mask. Nothing really wrong with a mask -but it's inhuman and detached, preventing us from identifying the enemy, preying on our subconscious fears. Detachment leads to disorientation, and disorientation is scary; especially when the wearer is called 'Leatherface'.
When he commits the first murder, Leatherface (Gunnar Hansen) drags the screaming boy back into a room and slams the door –  it's a steel door, and metal is indestructible so there's no way back from this place of doom-laden slaughter. With clever editing and scary sound effects – we're peering into semi-darkness for most of the film's 80 odd minutes – almost everything is left to our imagination. A simple skeleton suggests death has occurred here, and endless chase scenes feed our mounting hysteria. Sheer mind over matter. Pain, fear, loss of control. Simple elements; effective terror. You don't need a massive budget, 3D, CGI or even a smear of blood to arrive at Tobe Hooper's winning formula: The original and best. Add it to your collection on bluray. And if someone suggests watching TEXAS CHAINSAW (3D): just tell them about Tobe and his masterpiece. MT
Now on Limited Edition 4K UHD/Blu-ray Box set comes complete with three discs: one UHD and two Blu-rays and in a brand-new presentation featuring additional restoration work. The UHD is presented in Dolby Vision HDR produced by Second Sight Films. Presented in a rigid box featuring stunning artwork, the release comes complete with a slew of special features and a 190-page hardback book. It arrives on 10 April 2023 and will also be available on Standard Edition 4K UHD and Standard Edition Blu-ray.