During his illustrious lifetime. Philip Roth (1933-2018) wrote written 31 novels, of which eight have been turned into feature films. He also created two original treatments for Roger Corman's Studio (Battle of Blood Island) and a TV series "Alfred Hitchcock Presents". Sadly, they have now apprently sunken without trace, and Roth's own adaption of his novel The Ghost Writer (1979), which was directed by Tristan Powell in 1984 for the TV series "American Playhouse" starring Claire Bloom and photographed by Kenneth McMillan, is not available in this country. But do Roth's brilliant books adapt well for the screen?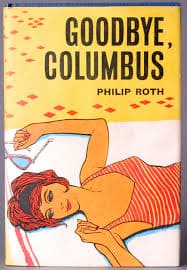 The seven big screen versions, stretching from his first success GOODBYE, COLUMBUS (1969) to the most recent offering, AMERICAN PASTORAL (2016), have not only suffered inadequate scripts and miscasting, but also the sheer impossibility of their transition from novel to screen. Apart from Roth's style -sparse almost minimalist prose –  psychological realism is hard to capture: long reflections spanning whole days are relatively easy to write down, as are the dialogues in Roth's protagonists brains, churning over and over again the smallest details – but the poor cinematographer deals in images, and does not want his work mistaken for a radio play. And what about Roth's quest for Jewish identity?: a Sisyphus effort, which is the central theme in nearly all his novels. Equally, Roth's political chronicles of America from the Thirties to today, which show a loss of faith in the American Dream – and the male Homo sapiens in particular, are not so easy transferred into images.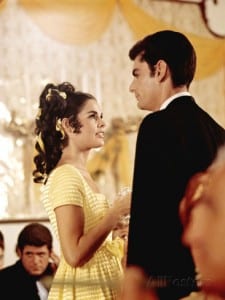 Larry's Pearce's GOODBYE, COLUMBUS is perhaps the most authentic film version of any Roth novel. The spare and direct prose of the 1959 novella makes it difficult to adapt to the screen, but Pearce follows the original extremely faithfully. Neil (Richard Benjamin) lives with aunt Gladys in the Bronx (in the novel Newark/NJ, where Roth grew up) and works in the local public library. The young man is an unobservant Jew, very much to the chagrin of his aunt. When, at the beginning of the summer, he starts a passionate love affair with Brenda Patimkin (Ali McGraw), a Jewish girl from nouveau riche Westchester, who at the end of the summer will go to college in Boston, Neil feels first liberated, then anxious: For the adult Patemkins, father Ben (Jack Klugman), who is a sink manufacturer and his wife (Nan Martin), he seems not to exist as a person: "You are in the library business" is the most personal comment they can make. Nevertheless, he is allowed to spend the last two weeks of the summer holiday in the Patemkin's posh, but tastelessly decorated home, where the couple have sex while the family are asleep. Brenda is suffering from her controlling mother and indifferent father, and expects Neil to fill her life with a total and obedient love. There is even talk of marriage between the (secret) lovers at the wedding of Brenda's brother Ron (Michael Myers), but Brenda sabotages their relationships when, having left for Boston, she leaves her diaphragm for her mother to find. In the end there are accusing letters from the parents, and a sad goodbye (instead of rampant sex) between Brenda and Neil in a Boston hotel. Neil's summer of love is over. GOODBYE, COLUMBUS has all the future hallmarks of Roth's more mature work: the rejected class intruder; the Jewish identity crisis' galore; discussions about the different forms of Jewish organised religion (Reform, Liberal, Orthodox, Orthodox); and the realisation that intellectual work often comes often with a penalty, symbolised by the Neil's preference for lowly paid work in the library, instead of the much higher remuneration possible in Mr. Patemkin's factory.
And, last, but not least, the realisation, that great sex has nothing to do with love. Even though Richard Benjamin was nearly thirty when shooting the film, he looks (and acts) very much like an insecure man in his early twenties, whilst Ali McGraw is every inch the "Coca girl" on the advertising calendars. DoPs Gerald Hirschfeld (Cotton comes to Harlem) and Enrique Bravo (Last Summer) portray a still innocent America of the late '50s in pastel colours and lush panoramic shots – an innocence long gone ten years later after the Kennedy and King murders in the midst of an escalating Vietnam War.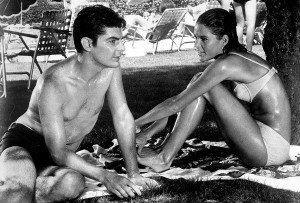 It is difficult to understand how so many talented artists could make such a total hash out of PORTNOY'S COMPLAINT, the Roth novel filmed in 1972 three years after its publication. Director/writer Ernest Lehman of Hitchcock fame, whose only directional work this derision of a film was, had the great DoP Philip Lathrope (Touch of Evil) behind the camera and a star-studded cast – but to no avail. Whilst the novel is a stream-of-consciousness attempt, with Ulysses very much on the mind of the author, the film version is ham-fisted try, lacking any subtlety, clumsy and in very-bad-taste.
New Yorker Alexander Portnoy (Richard Benjamin, again), is repressed by his mother Sophie (Lee Grant), and uses his psychologist Dr. Spielvogel ('Play Bird', in translation) to unburden himself and come to terms with gargantuan sexual appetite. Alexander recalls childhood memories, including the story of a piece of liver, used by him for sexual gratification, which ends later up later on the dinner table of the family. Even though Lehman only describes the scene, it is still offensive – unlike Roth's writing, which is anything but. The rest is equally unpalatable, showing Alexander's abusive sexual relationship in the worst possible light. What is a critique of male sexuality in the novel, is transformed into a clumsy voyeuristic feast in the film version. Mary-Jane (Karen Black), called derogatively 'the monkey' seems to be the answer to Alexander's quest, since she obliges him in various sexual positions. But when she asks for commitment, he bolts. The pinnacle of tastelessness is Portnoy's relationship with the Israeli woman Naomi (Jill Clayburgh), which is pure gutter taste. Lehman does not even try to show Alexander's struggle which his Jewish identity, these conflicts are just reduced to a bad relationship with his parents: apart from his overbearing mother, Alexander's father Jack Somack is just another caricature, his main interest in life being his fight against constipation. A truly deplorable effort.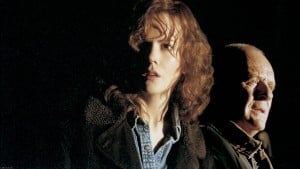 Just the opposite is Robert Benton's very sober screen version of THE HUMAN STAIN, filmed three after the publication of the novel in 2003. Based on the script by Nicholas Meyer, Benton (Kramer vs Kramer) stays close to Roth's concept, including the role of the narrator Nathan Zuckerman (Gary Sinese), the most used of the author's Alter Egos, appearing in nine novels. Set in the late 1990, Zuckerman has taken refuge in a lakeside cabin in New England, recovering from two divorces and prostate cancer. His reflective solitude is disturbed, when classics professor Coleman Silk (Anthony Hopkins), who lectures at the Athena College, intrudes on Zuckerman grief, with his own story. Coleman (who, as it turns out, is of Afro-American heritance, having masqueraded all his life as a white Jew), has been sacked by the College for making racist comments about two students whilst lecturing. He wanted to write a book about his unjust dismissal, taking revenge on the ones who wronged him; blaming his wife's death from a stroke on the College administration. But he has shelved the project, after starting an affair with Faunia Farley (Nicole Kidman), a worker at the college, who is, at least in the book, semi-illiterate. The couple is not only chased by Silk's persecutors from Athena College, but also Faunia's ex-husband, the disturbed Vietnam veteran Lester (Ed Harris), who stalks his ex-wife. This narrative is played to the background of the Bill Clinton impeachment, where we listen on the radio to Kenneth Starr's accusations. Roth has put together a contrast between Zuckerman's youth and the late 1990: in flashbacks we see the post-war era full of hope. Benton's care and earnestness deserves better than the total miss-casts of Hopkins and Kidman, two actors with egos as big as their star-status. There is no chemistry between them, and their hamming destroys, unfortunately, some of Benton's efforts.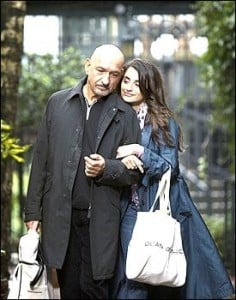 ELEGY (2008), based on Roth's novel The Dying Animal from 2001 and directed by the Spanish director Isabel Croixet (The Secret of Words) is the most melancholic and sensitive of all the screen adaptations. Again scripted by Nicholas Meyer, it features David Kepesh (Ben Kingsley), a professor of Literature in his sixties, in this third outing as Roth' Alter Ego. Kepesh is living alone in Manhattan and hardly teaching anymore since his regular appearances on radio and TV have given him money and fame. He is a great seducer, mainly of his female students, even though he now has to be more careful, picking his targets only after they have finished their course with him. Kepesh, a detestable character in the novel, is attributed with more sympathetic character traits in the film. The main protagonists in his life, which he sounds out when in crisis, are the womaniser and poet George O'Hearn (Denis Hopper), who dies suddenly of a stroke; his long-term lover (and former student) the wealthy business woman Carolyn (Patricia Carlson) and his forty year old son, the fine art dealer Kenny (Peter Sarsgaard) – all of them are more fleshed out than in the novel. Some years previously, Kepesh has had a relationship with the beautiful Consuela (Penelope Cruz), the attractive daughter of a wealthy Cuban emigrant. The ageing man was particularly fascinated by the breasts of his ex-student, who in turn, was perhaps more interested in Kepesh's original Kafka letter to his lover Milena. The machiavellian Kapesh keeps an emotional distance from his lovers and consequently ended the relationship with Consulea, after he missed her graduation party on purpose. But then Consuela, more than thirty years his junior, re-enters his life, facing a mastectomy. Whilst the novel has an open ending – ELEGY sees him laying beside her in the hospital bed, promising he will always be there for her. Whilst the precise tone of the novel is lost, Coixet still manages a serious portrait of the closeness of sex and death. DoP Jean-Claude Larrieu (The Woman on the 6th Floor) uses light sparingly, the colours bleaching out more and more in tune with Consuela's deterioration. He preserves the intimacy of the female body, but without any prudishness. Overall, ELEGY is an accomplished drama, even if Roth's intentions are not always realised.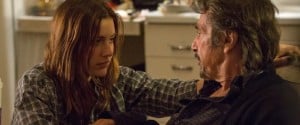 THE HUMBLING, Barry Levinson's film version of the 2009 novel, premiered in Venice in 2014, is symbolic for (nearly) everything that can go wrong with a Roth novel in transformation to the screen. To start with, we have the misfits masquerading as the leading couple: Al Pacino is trying, without even an attempt at subtlety, to portrait the ageing thespian Simon Axler, who lost his talent together with his mind. But Greta Gerwig, as a thirty-something lesbian, coming to his rescue (?), manages to outdo him: she is so coarse and over-bearing that Pacino's underperforming is less and less visible.
But it would be wrong, to blame the actors alone. Levinson (Good Morning Vietnam), has seen better days, and together with his script writers Buck Henry and Michael Zebede, he has misread Roth's intention: a satire on fading values in the USA – be it relationships of all sorts or the arts: everybody is just faking it – has been turned into a grand goodbye-tour for the hapless Axler, who falls under the spell of Gerwig's Peegen. She is a lesbian, but soon confesses to Axler "I guess this ends my 16-year old mistake". It is not this cheap line alone that makes the audience cringe, but the obvious contradiction, since Peegen is still more interested in her own gender, than the failing actor. Every scene is over-the-top, like a self-parody: Axler pours his heart out to an audience, who are glued (too) obviously to their mobiles. In the psychiatric ward, we watch Axler getting help like in a Mel Brooks movie. And the actor's Connecticut mansion, where most of the action is played out, is again simply too morose and claustrophobic. The best moments include a haggling-duel between Axler and his agent (Charles Grodin), where they discuss the ins-an-outs of a hair-replacement commercial. Needless to say, that the ending (Henry and Zebede's on-stage coitus), very subtle in the novel, is cranked up, to go with what went before. And again, Roth's critical prose is simply transformed into a superficial merry-go-round, without any analysis or detachment. THE HUMBLING is part of a four-novel-series 'Nemesis' – and even the most ignorant adaption should pay tribute to the meaning of this.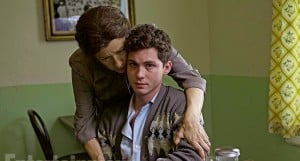 First time director/writer James Schamus' 2016 version of Roth's INDIGNATION (published in 2008, also as part of the 'Nemesis' series), is – apart from the casting of the male lead Logan Lerman – the near-perfect exception in the quagmire of adaption flops. Here at last we find the reflection, detachment and analysis we have been longing for. In a sober, traditional style, very much like John Krokidas' Kill your Darlings, Schamus recounts American history from the perspective of a young Jew. In 1951, during the Korea war, Marcus Messner (Lerman) tries to escape from his controlling father Max (Danny Burstein), a Kosher butcher in Newark/New Jersey. The neurotic parent treats his teenage son like a child, wanting to know his precise whereabouts at all times. Mother Esther (Linda Emond) sacrifices herself, and replaces Max' apprentice as a full-time assistant, so that Marcus can go to college in Winesburg/Ohio – freed from the clutches of his father. Winesburg College is a proper micro-cosmos of WASP dominated America at the beginning of the '50s when even restaurants in New York advertised on their doors "No Jews or Negroes".  Of the 1200 Winesburg students, not even a hundred are Jewish, still outnumbering the three Afro-American members of the campus. Marcus is canvassed by members of the Jewish and Independent Fraternity, but declines: he is his own man. Rooming with three other Jews, including the obnoxious closet-homosexual Flusser (Bertram Rosenfield), Marcus opts for independence, alone in a small attic room. Soon he gets tired of the mandatory visits to Chapel at least ten times a year, and has a blazing row with Dean Hawes (Tracy Letts), quoting Bertrand Russel's 1927 pamphlet "Why I am not a Christian".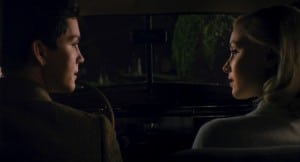 When he falls in love with the beautiful, but fragile Olivia Hutton (Sarah Godon), who has tried to commit suicide before coming to Winesburg, Marcus's emotional limitations are exposed: performing fellatio on him in a burrowed Cadillac, the young man is more repelled than attracted. His mother, wanting a divorce from the father, whose mind is even more deteriorating, visits Marcus and meets Olivia, spotting the scar on her arm. Esther proposes an exchange: she will not leave the husband, and Marcus will look for a new girlfriend. But personal matters are overtaken, when Marcus is found to have designated a "replacement" student for the Chapel visits: both are expelled, and Marcus's nightmare becomes reality: he has to enter the fighting US infantry in Korea as a Private. Schamus, producer of Brokeback Mountain among others, has elegantly adjusted the ending in the screen version. This is a story of an amour-fou, with almost fetishistically ingredients: when Olivia is swinging her leg, sitting on the library chair, Marcus is watching intensely, forgetting even his work ethos, we are reminded of Bunuel. The claustrophobic atmosphere of the college, which is not so much a place of learning, but an opportunity for middle-class WASP girls to replace the father with a new, reliant breadwinner – whilst being regulated to an extent, that even petting is made nearly impossible.
Reflecting the experiences of Roth himself, INDIGNATION is a portrait of a soul-destroying era, where puritanism still ruled supreme. The cast is brilliant, apart from Lerman, who is simply a little too dorky to be real. DoP Christopher Blauvelt (I am Michael) creates a campus world where nearly everyone acts like emotional zombies, his impressive achievements also include imaginative images of repressed sexuality.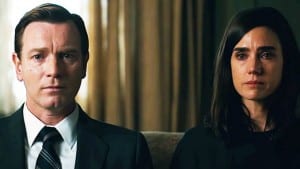 AMERICAN PASTORAL, written in 1997 as part of an 'American Trilogy', certainly deserves better than Ewan McGregor's 2016 half-hearted directional debut, and his miss-casting of himself and Jennifer Connolly. For once, one cannot lay too much blame at the feet of the scriptwriter, in this case John Ramano, who stayed quiet faithful to Roth narrative. It is McGregor's acting as 'Swede' Levov, which lets everyone down, because he comes over like the Musil hero in Man without Attributes – but not because he hides an inner struggle, but because there is none. Narrated by Roth's alter ego Nathan Zuckerman (David Strathhairn), who went to school in Newark/NJ with Levov's brother Jerry (Rupert Evans), this is a family affair told without any proper references to the historical background – and considering we are talking about the late '60s/early '70s in America, this is quite a feet. McGregor more or less sleepwalks through the film, observing much, but unable to put any personal imprint on the tragic incidents which seemingly arise around him by accident. The 'Swede' Levov, a High School star in all sports possible, looks like a Scandinavian, even though he is as Jewish as they come – not that one would guess this from McGregor's performance. He is married to catholic ex-beauty star Dawn (Jennifer Connolly), the couple developing no on-screen chemistry at all. Their daughter Merry (Dakota Fanning), suffers from a stutter, and suddenly turns into a violent protester against the Vietnam War. She is responsible for the death of innocent bystanders in the bombing of post-offices and other institutions. Dawn disappears, and her father tries to find her with the help of an anarchist friend of hers, Rita (Valerie Curry). But Rita is more interested in seducing the 'Swede', who stays faithful to his wife. Unfortunately for Levov, he will soon find out that his wife is planning to elope with David Whalen (Bill Orcutt). At his funeral, Zuckerman, Jerry and Merry (who is trying to make up for her crimes), mull over his life. Bland, conventional, without cohesion and no feel for the historical circumstances, AMERICAN PASTORAL is just an empty stringing together of events.
Trying to end on a positive note, we can report well-founded rumours, that Roth's novel The Plot against America (2004) is in pre-production to be filmed. This is one of Roth's most innovative works, using alternate history as a plot device. Set in 1940 in Newark/NJ, it portrays a country where the semi-fascist Charles Lindhbergh jr., beats Franklin Delano Roosevelt in the presidential election, bringing about country wide anti-Semitic riots and pogroms. The novel is told from the perspective of a certain eight year old Philip. Bring it on – and make it a standout. And a fitting tribute to his outstanding life. AS
A Philip Roth Retrospective will feature at this year's UK JEWISH FILM FESTIVAL (8-22 November, Nationwide) in honour of the much loved author. The festival will be screening three of its favourite cinematic interpretations of his work, including: Goodbye, Columbus, Human Stain and Portnoy's Complaint.