Dir:Thomas Vinterberg | Cast Mads Mikkelsen. Susse Wold, Thomas Bo Larsen, Lars Ranthe, Anne Louise Ranthe | Drama, Denmark.  111mins. 

Thomas Vinterburg's study of abuse strikes at the core of his beloved Danish roots and follows in the footsteps of Festen without the Dogme. Jagten's gripping screenplay by Tobias Lindholm sails right up to the wind and never lets go in this mischievous psychodrama set in a close knit community in the heart of the Danish countryside.
Mads Mikkelsen is Lucas, an appealing metrosexual man who has returned to his childhood roots after a difficult divorce and a custody battle for his son. The performance won him best actor in Cannes in a bumper year where Michael Heneke's Amour won the Palme D'Or.
Working as a teacher in the local mixed infants, Lucas soon strikes up a relationship with pushy colleague Nadja (Alexandra Rapaport) and gets back in touch with old friends and family. His laid back nature makes him popular with the kids and particularly with little Klara (Annika Wedderkopp) who is the little daughter of his best friend Marcus (Thomas Bo Larsen).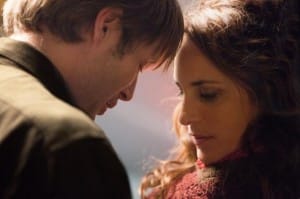 The popular idea that kids are innocent is proved wrong here when Klara's infant imagination gets out of control. It's easy to dislike her, although this was never Vinterberg's intention at the start, and the little girl turns in a convincing performance as a nonpro. The theme of viral networking is twisted into the plot at this point when Klara casually blurbs her mixed  message which rapidly becomes fact, spreading like wildfire through the village and leading to a catastrophic fallout, revealing what happens would spoil the tightly wound plot. But the repercussions of what happens next provide much food for thought and are still relevant, even though the film was made nearly a decade ago.
Vinterberg has won over 60 international awards for his films in a career that have been in the spotlight for nearly three decades. Yet he still considers his 1993 graduation film Last Round, to be his best. Ironically, this echoes his latest feature Another Round (2020), and now Denmark's hopeful in this year's Academy Awards, so for Vinterberg – the spotlight's back. MT©
THE HUNT is on ARROW PLAYER