Although Leo McCarey (1898-1969) was feted during his career winning three Oscars and nominated for a further 36(!), he seems to have fallen out of fashion. Today he is remembered for just three features: The Marx Brother's vehicle Duck Soup (1933), An Affair to Remember (1957), actually a remake of his superior Love Affair from 1937, and the The Awful Truth. To my knowledge, there are no book length biographies currently in print, rather odd, if you consider that McCarey directed 23 sound features. This year's Locarno Film Festival offers a welcome opportunity to enjoy his work in a lavish retrospective dedicated to this Hollywood great.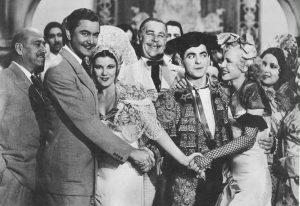 After High School McCarey actually started out as a prize fighter before bowing to the will of his father and studying law at USC. Enterprisingly he then took over a copper mine, but the venture went bankrupt and his career as a lawyer also faltered. He next turned his hand to song-writing but athough he composed over a thousand songs during his lifetime, he would have been unable to make a living from it. Then in 1919 came his lucky break as assistant to Tod Browning at Universal. Later joining the Hal Roach Studio, he made it from gag man to Vice President. But more importantly, he was to pair Stan Laurel and Oliver Hardy in these ventures. McCarey checkered life experiences provide rich material for his films: Bing Crosby would play a failed songwriter in Love Affair, there is boxing content both in The Milky Way (1936) and The Bells of St. Mary (1945). Whilst liking "a little bit of the fairy tale" in his films, McCarey became a director of features just as the sound system was launching, giving him the opportunity to work with stars early on in his career. And there was always a steely side of reality imbedded in his escapist endeavours: The Kid from Spain (1932) with Eddie Cantor, Belle of the Nineties (1934) with Mae West, Six of a Kind (1934) with WC Fields and Milky Way with Harold Lloyd.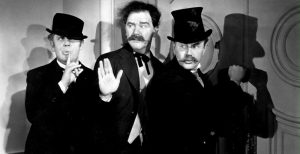 Often criticised for being 'a director of great moments', McCarey made it to the big times as a serious filmmaker in 1935 with Ruggles of Red Cap. Charles Laughton plays a British butler who has to serve two American 'Nouveau Riche' social climbers when his master 'loses' him in a card game. Ruggles is a blueprint for what would follow: the absurd interactions of protagonists who either try to help or undermine each other, but always with the same result: chaos.
In 1937 McCarey won his first Oscar for The Awful Truth. It stars Irene Dunne and Gary Grant (his first great success; he actually had a cunning resemblance to McCarey), as a separated couple, who try to help each other, finding a new partner, but only succeeding only in sabotaging their best efforts. It says a lot about McCarey, that he "would have rather won for Make Way for Tomorrow, shot in the same year. Make Way is the story of Lucy Cooper (Beulah Bondi) and her husband Barkley (Victor Moore) who find out on the day of their family re-union that their house is foreclosed. They move in with their middle-aged children, but separately: Mum with son George, Barkley with daughter Cora. This is, in spite of the observant humour, a real tragedy, and would inspire the great Japanese director Ozu for his Tokyo Story.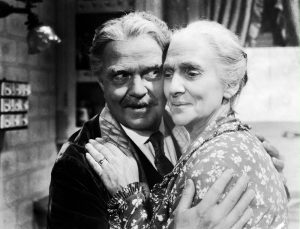 After winning his second and third Oscars for Going my Way (Best Original Script and Best Director), the story of a popular Irish priest Chuck O'Malley (Crosby), who is more interested in boxing and songs than the lecturing; Good Sam in 1948 marked the beginning of his decline. Between 1948 and his death in 1969 McCarey would only direct five more features: alcohol, drugs and illnesses taking their toll. Somehow the humanist got lost in the perfidious way of Un-American-House Committee witch hunts. My Son John (1952) is the sob story of a mother who discovers that her titular son John (Robert Walker, who died before shooting was complete), is a communist. Not much better is The Devil Never Sleeps (aka Satan Never Sleeps), his last feature from 1962 where a native Christian missionary woman in China is raped by a communist soldier, who later recants his ideology and helps her to flee the country.
Whilst McCarey's detractors are entitled to point out that he is by no means an auteur in the sense of Hitchcock or even Capra (with whom he shares many parallels), this was mainly due to his to the width and charming versatility of McCarey's career which started out in slapstick and in ended in social commentary. To McCarey images are mostly secondary; rhythm and sound dominate throughout his oeuvre. But the themes and motifs feature throughout make him unique in the canon of the American cinema. AS
LEO McCAREY RETROSPECTIVE | LOCARNO INTERNATIONAL FILM FESTIVAL 2018