Nuri Bilge's langorously contemplative dramas draw on Turkish life and offer a unique style of visual storytelling often reflecting his personal experiences as exponents of the disillusionment and unfairness of Turkish life, particularly where family trauma or social injustice implodes on the individual.
The past collides with the present, the countryside with the city and the rich with the poor in these gorgeously rendered reveries that muse on fraught domestic scenarios, betrayal or officialdom calling to mind the work of Tolstoy, Ibsen or even Terence Davies. 
Social realism shapes his early work that observes everyday life in thoughtful moments of reflection. His beguiling moody cinematic style and need for spontaneity combines magnificent widescreen images with a potent intimacy that draws us into the minds of his often troubled characters whose lives are exposed through vibrant visual storytelling. His delicately rendered black and white feature debut Kasaba (The Small Town, 1997) sees the changing seasons through the eyes of two school children whose family is at odds with the local set-up in and forms part of the unofficial "Provincial Trilogy" along with Clouds of May and Uzak.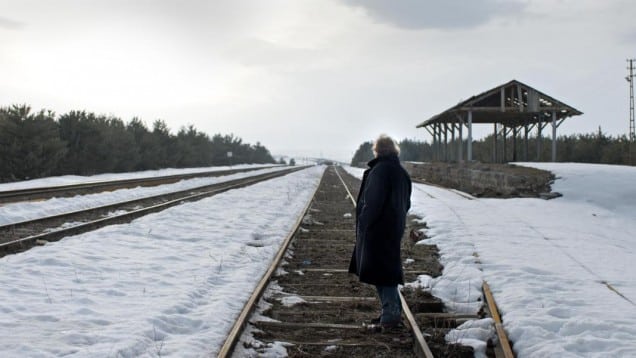 Uzak is a study in alienation which sees a man's life imploding after his marriage breaks down and he is forced to re-adjust to changing circumstances of his personal life. In some ways this same theme is teased out in Climates that explores the deteriorating relationship of a married couple and the repercussions as their marriage slows spins out of control. Two crime thrillers follow: The powerful Three Monkeys is a visual metaphor for anxiety, a moody reflection on family guilt echoed after a tragedy under the glowering skies of Istanbul. The darkly amusing Once Upon a Time in Anatolia burns through the torpor of a stifling summer afternoon where the impact of crime and officialdom weighs down on the lives of those involved in a local murder and their tight-knit families. Clouds of May (2009) actually stars his own father as a filmmaker returning to his village to cast the locals in a feature about their daily trials and tribulations.
In his Palme d'Or winner Winter Sleep (2014) Ceylan hones his discursive style in an intense meditation on the ties that bind. Set in the snow-swept panoramas of his beloved Anatolia, a couple engage at length on the complexities of their relationship and their family. This brings us full circle to his most recent and resonant work The Wild Pear Tree that once again sees the present connecting with the past when a troubled writer returns to his hometown in Marmara to seek financing for a book while dealing with his ageing father's gambling debts.
ON BLURAY/DVD from 11 NOVEMBER at NEW WAVE FILMS