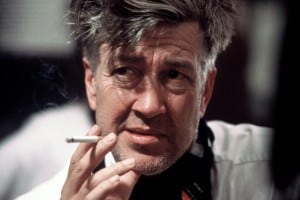 Writer| Dir: David Lynch | Cast: Justin Theroux, Naomi Watts, Laura Harring, Ann Miller | US  Mystery Thriller |
"One night, I sat down, the ideas came in, and it was a most beautiful experience. Everything was seen from a different angle…Now, looking back, I see that (the film) always wanted to be this way. It just took this strange beginning to cause it to be what it was." David Lynch.
David Lynch's neo-noir existential thriller is dreamily weird and strangely intoxicating to watch. Themes of denial, aspiration and unrequited love coalesce in a cryptic psychological thriller whose apparent normality mingles with a surreal and darkly comic  speculative storyline unfolding when a wannabe actress arrives in Los Angeles and befriends a semi-amnesiac woman she finds hiding in her family apartment.
Now regarded as one of of Lynch's best films it launched the career of Welsh actress Naomi Watts who has gone from strength to strength as the vulnerable figure of hope who finds rejection and disillusionment in the city of dreams. David Lynch reinvented postmodernism making it edgy and fashionable again. Mulholland Drive was original devised as a TV series after Twin Peaks was rejected for TV, so here Lynch gave it an ending.
It also starts with a car crash the beguiling sole survivor Laura (Elena Harring) staggering disorientated from a stretch limo onto LA's Mulholland Drive. She fetches up in a nearby apartment where wannabe actress Betty (Watts) later arrives after a long flight from Canada. So vulnerable and lost is Laura that Betty develops a strange and sympathetic attraction to her that eventually morphs into attraction and love in scenes of a graphic sexual nature.
Betty is an entirely straightforward and fresh-faced ingenue at the start of film – much in the same vein as Kyle MacLaclan's Jeffrey in Blue Velvet (where Isabella Rossellini plays Dorothy, the equivalent of Laura). It seems that this dazed and confused female image could come from Lynch's recurring teenage memory of a neighbour who appeared semi-naked and bleeding on the driveway of his family home, as discussed in David Lynch – The Art Life (2017).  All this feels plausible and yet imbued with a hypnotic sense of disorientation where 'Rita' (from a poster of Rita Hayworth) and Betty's dark persona's appear as Diane and Camilla. Diane is also a struggling actress and Camilla's lesbian lover. Successful star Camilla is swept away by Justin Theroux's film director Adam, and the jealous Diane has her killed in the 'car crash'.
Confused? The reality depends on which side of the looking glass we are standing. Looking forward, "Betty" is vouchsafed a vision of where infatuation and professional failure could lead. Looking backward, the drama's first part is the final anguished, transfiguring dream of "Diane". All this is open to interpretation but in such a way as the reverie is pleasurable as well as intoxicating – like tripping on medazolam. There is a weirdly authentic cameo from Maya Bond as Aunt Ruth, and Monty Montgomery as a cowboy cum Diddy man.
Angelo Badalamenti's languorous score washes over the feature that glows in Peter Deming's sumptuous visuals (Peter provided the vibrant images on Oz the Great and the Powerful and Twin Peaks). MULHOLLAND DRIVE is a sensual experience, unforgettable and alluring. MT
Latest digital restoration of a 4k transfer now on BFI Player | DVD, Blu-ray & EST