Dir/Writers: Jon Nguyen, Olivia Neergaard-Holm, Rick Barnes | 90min | Doc
"Sometimes you have to make a big mess to get to where you want to be"
David Lynch tells the strange story of his unorthodox and fascinating life in this intimate documentary. Memories of an idyllic childhood in Montana and Idaho lead to a dark episode in Philadelphia and finally through to the present day where his time is spent painting and enjoying contentment of creative expression- 'the art life' – in his studio in the Hollywood hills. It's an existence that contrasts with the unsettling quality of his films.
It emerges that Lynch drew compulsively as a child, and this film is all about his development as an artist that led to his successful career in filmmaking. Even if you don't know his films, Lynch is a witty and engaging racconteur, recalling with often minute detail, the feelings and sensations that inform and shape his creative impulses.
Working again with the team behind his 2007 documentary Lynch, which was filmed during the making of Inland Empire, THE ART LIFE offers compelling insight into his past, fleshed out with photographs and personal footage which is cleverly edited by Olivia Neergaard-Holm.
Early life seemed quite ordinary for David, growing up in a sheltered rural bliss of Missoula, Montana and then Boise, Idaho with his 'perfect' parents. The eldest of three children, he enjoyed a close friendship with best friend Dickie Smith and his mother encouraged his pencil drawing talents by not providing a colouring book. Unsettling incidents involving Dickie's father (which he can't bring himself to recount) and a naked woman wandering around in the street, crying and bleeding from the mouth, were pivotal moments in Lynch's adolescence which seem to spark a dark introspective quality that later found its way into his films, Eraserhead, Blue Velvet and Mulholland Drive.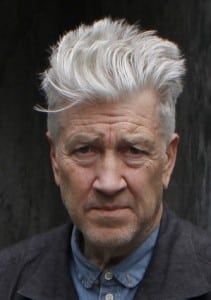 Moves to Spokane, Virginia and DC followed due to his father's job as a research scientist. He described him as "his own man" who would "always meet him halfway". But in his late teens David got in with the wrong crowd and fell short of his mother's expectations. It was as if she had hoped for something special from David that he had not delivered. And from then on she was "disappointed" in him.
David clearly loved his parents but it was his friendship with Toby Keeler that led to his obsession with 'the art life". Toby's father Bushnell was a professional painter and offered to let part of his studio to David for a small fee. From then on, David painted until well into the evening, and fell out with his father who wanted him home by 11pm. But when Keeler Snr telephoned his father to tell him that his son was actually working seriously on his painting, Lynch Snr acquiesced. From then on David's free spirit soared.
Boston Museum school got the thumbs down because he refused to comply with the restrictive teaching methods there. David craved the freedom to express his creativity often if that meant sitting and listening to his radio until the battery ran flat. The film brings out a solitary stillness to him that indicates a deep inner life, yet he is by no means a loner. His first marriage to fellow art student Peggy Reavey led to Jennifer, the first of his four children. His toddler daughter from his fourth wife joins him in his California studio.
Like many people, David compartmentalised his life to reflect his varying interests and the friends who share these different parts of his existence and are never introduced to each other. But when he got a place at Pennsylvania Academy of Fine Arts, his creative talents flourished despite the grimness of the broken down part of Philadelphia that became his home. It was here that he made his first "paintings that moved, with sound". often featuring Peggy his girlfriend and mother of daughter Jennifer. In 1972 during the making of Eraserhead, David describes receiving a grant to study filmmaking at AFI Conservatory as one of the happiest moments of his life. It gave him creative and financial freedom to explore his craft, and he continues to this day, working intensively at home. Long periods of contemplative silence are punctuated by Philip Nicolai Flindt's dense percussive sound design and an atmospheric score by Jonatan Bengta. MT
NOW ON MUBI