The London Korean Film Festival (LKFF 18th-24th November 2019) this highlights the historic milestone of 100-years of Korean cinema along with an exciting mix of UK and International premieres, guests and events across a diverse set of strands.
Korean cinema continues to prove its worth on the international stage. This year alone has seen Bong Joon-ho win the Palme D'Or with Parasite at the Cannes Film Festival and Lee Chang-dong's Burning (2018) released to critical acclaim in UK cinemas, while Train to Busan (Yeon Sang-ho, 2016), The Handmaiden (Park Chan-wook, 2016) and Little Forest (Lim Soon-rye, 2018) have all found recent success. Now, with 2019 marking the centenary of Korean cinema, the LKFF will shine a light into the past to offer insight into the full and fascinating history of a groundbreaking national cinema that has lead up to the acclaimed hits of today.
This celebration of Korea's cinematic history opens with classic melodrama The Seashore Village (1965) a story of a young woman, Hae-soon, living in a village heavily populated by those who have lost their husbands at sea. A vivid portrait of the hardships faced by the women of the village and their methods of coping through sisterly comradeship and an understanding of the natural world around them, the film features striking monochrome cinematography. Courtesy of veteran director Kim Soo-yong, now in his 90s, who made his film debut in 1958 with A Henpecked Husband and went on to make over 100 films in a long and distinguished career, the revered filmmaker will be present on opening night to discuss The Seashore Village, his life in film and 100 years of Korean cinema.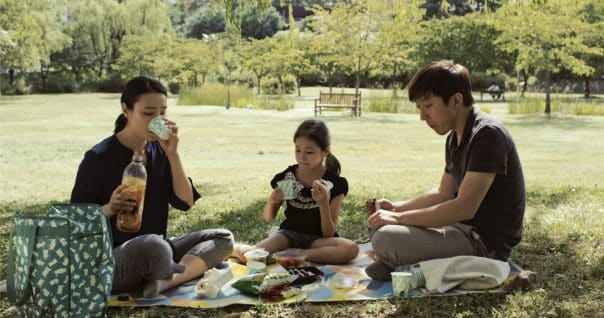 Continuing the festival's championing of new independent cinema, the LKFF will hold its Closing Gala on 14th November Scattered Night (2019, above). Told through the eyes of two young children who must wait as their parents go through a disruptive divorce. Minimalist and sober in style, the film offers an intimate and heart-breaking child's eye view of a family is disarray.
Other classics due to screen are Yun Yong-gyu's touching melodrama A Hometown in Heart (1949) which follows an orphaned young monk as he traverses temple life while longing for the return of his mother. Moving into the 1950s. Lee Kang-cheon's Piagol (1955) finds a group of communist fighters waging war among mountain villages under the harsh leadership of a zealous commander. With its nuanced depiction of communists the controversial film was originally banned for a perceived pro-communist message. From legendary director Shin Sang-ok (who would later be kidnapped and forced to make films for the North Korean leader Kim Jong-il) comes The Flower in Hell (1958), set against the back-drop of occupied post-war Korea. Disaster befalls the lives of prostitute Sonya as she schemes to find a new life for herself by seducing the younger brother of her hustler boyfriend Young-sik who makes money by stealing from the US military.
The Korean Film Archive has made a huge database of classic films available on its YouTube channel with English subtitles. They have put together a list of some of the most influential and important films from each decade and we have pleasure in sharing these with a credit to the organisation
The 1930s
Sweet Dream (Lullaby of Death) (미몽 – 죽음의 자장가 | 1936 | Yang Ju-Nam)
One of the few lost films from the Japanese colonial era (1910-45) that has been rediscovered in recent years tells the story of Ae-sun, the vain wife of a middle-class man who has no interest in looking after her family and is chased out by her husband, only to find out her lover is not the prosperous entrepreneur she thought he was but a poor student and criminal.
The 1940s
Tuition (수업료 | 1940 | Choi In-Gyu)
A film based on the memoir of a fourth-grade student who received the grand prize in a writing contest sponsored by the Gyeongseong Daily. A boy, whose parents sell brass spoons on the street while his grandmother is sick in bed, struggles to find money for his tuition.
Spring of the Korean Peninsula (반도의 봄 | 1941 | Lee Byung-Il)
A young filmmaker and his crew struggle to bring the famous Korean story of Chunghyang to the big screen. The film allows a fascinating insight into the complexities of filmmaking in Korea in the 1940s, and via posters on the studio walls indicates the wide variety of film influences, from German expressionism to Hollywood dramas, that Korean directors in this period had.
A Hometown of the Heart (마음의 고향 | 1949 | Yoon Yong-Kyu)
A touching yet subtly presented story of a boy in a Buddhist temple hoping to find his mother. One of the few surviving works from the politically turbulent period of the late 1940s, just before the outbreak of the Korean War (1950-53).
A Hometown of the Heart (1949) – Image © LKFF Website
The 1950s
Piagol (피아골 | 1955 | Lee Kang-Cheon)
This decade saw the first major attempt in cinema to confront the recent war and its ideological divisions. Piagol focuses on partisan Communist fighters based in the South who, hiding in the mountains, continued to fight on behalf of the North.
Madame Freedom (자유부인 | 1956 | Han Hyeong-Mo)
Films of the 1950s confronted some of the key issues facing Korean society as it rebuilt itself anew. Like Madame Freedom, an adaptation of the decade's most scandalous serial novel, many centred on women who symbolised the tension between collapsing traditional values and the influence of Western capitalism. The box-office success of this film encouraged a renewed flow of investment into a film industry hit hard by the war.
The Flower in Hell (지옥화 | 1958 | Shin Sang-Ok)
Inspired by both Italian Neorealism and Hollywood genre films, The Flower In Hell paints a hard-edged portrait of a broken city where the only way to get ahead was to break the law.
The Flower in Hell (1958) – Image © LKFF Website
The 1960s
Aimless Bullet (오발탄 | 1961 | Yoo Hyeon-Mok)
Filmmakers took advantage of weakened censorship in the 1960s to introduce more pointed social criticism into their films. This certainly applies to Aimless Bullet, a searing depiction of the economic wasteland of post-war Seoul whose brooding pessimism and superlative filmmaking helped establish it as an all-time classic.
A Woman Judge (여판사 | 1962 | Hong Eun-Won)
"I will defend her to the end!" Heo Jin-suk, the titular protagonist of Hong Eun-won's first film – and only the second Korean feature by a woman director – is defending her mother-in-law who has confessed to murder, but she could be speaking for all women's rights.
The Seashore Village (갯마을 | 1965 | Kim Su-Yong)
Introduced at the Opening Gala of last year's LKFF, The Seashore Village follows the story of a beautiful fishing village home to a community of widows who have lost their loved ones at sea. This was one of the earliest successful munye (literary adaptation) films, a genre which would come to define much of South Korean cinema during the 1960s.
The Seashore Village (1965) – Image © LKFF Website
The 1970s
Woman of Fire (화녀 | 1971 | Kim Ki-Young)
Woman of Fire (recommended by film critic Anton Bitel) sees Kim Ki-Young remake his stunning classic The Housemaid (1960) with an energy and passion that would come to define Korean cinema of the 1970s. Focusing on the role women play within the home, the film follows a composer and his wife, whose lives are thrown into turmoil by the introduction of a new housemaid.
Hometown of Stars (별들의 고향 | 1974 | Lee Jang-Ho)
Lee Jang-ho's sensational debut introduced his sardonic experimental style and focus on socially relevant cinema, through the story of a woman who turns to alcoholism after suffering a torrent of emotional and physical abuse from men.
The March of Fools (바보들의 행진 | 1975 | Ha Gil-Jong)
Ha Gil-jong's penultimate film starts off as a bawdy comedy, as two drunk students try to get laid with varying degrees of success. Slowly the tone becomes melancholy as they consider their destinies in a repressive society where they feel out of place.
Ticket (1986) – Image © LKFF Website
The 1980s
People of the Slum (꼬방동네 사람들 | 1982 | Bae Chang-Ho)
A shantytown south of Seoul has collected poor people and misfits from all over the country into its twisting alleyways. Myeong-suk is known as 'black glove': she wears that glove on a hand severely burnt while saving her baby boy from a horrible injury. For his debut film Bae planted a love triangle inside a Korean neo-realist setting where poverty pokes sharp elbows into the basic decency of ordinary people. The film's success launched him into a career as the most popular director of the 1980s.
Ticket (티켓 | 1986 | Im Kwon-Taek)
Min Ji-sok (Kim Ji-mee) is the no-nonsense owner of a cafe in the tough port town of Sokcho. Her 'girls' serve more than tea or coffee, if a male customer purchases the right ticket. Against the background of the women's sorrows and moments of happiness, we learn the story of how Ji-sok herself ended up in dead-end Sokcho.
The Age of Success (성공시대 | 1988 | Jang Seon-Woo)
A year after the release of Oliver Stone's Wall Street (1987) with its sardonic credo of "greed is good", director Jang Seon-Woo unveiled what looks three decades on like the Korean response – a vivid, madcap comedy of corporate intrigue and naked self-advancement.
North Korean Partisan in South Korea (1990) – Image © LKFF Website
The 1990s
North Korean Partisan in South Korea (남부군 | 1990 | Chung Ji-Young)
Director Chung Ji-Young captures a previously rarely seen aspect of the Korean War, focusing on the North Korean side of the conflict. Based on the experiences of real-life war correspondent Lee Tae, the film illuminates the struggles of the men and women, soldiers and civilians fighting for survival in the conflict – portrayed as inherently human, whichever side they're on.
Seopyonje (서편제 | 1993 | Im Kwon-Taek)
This musical drama tells the story of a family of pansori (traditional Korean opera) singers trying to make a living in the modern world. It broke box office records to become the first Korean film to draw audiences of over one million and helped revive popular interest in traditional Korean culture.
A Single Spark (아름다운 청년 전태일 | 1995 | Park Kwang-Su)
This seminal protest drama by Korean New Wave filmmaker Park Kwang-Su offers two narratives: the true story of young textile factory worker and activist Jeon Tae-il, who famously set himself ablaze in 1970, and the partly fictionalized efforts of another activist, who five years later tries to commit Jeon's tale to the page while evading capture. The film was co-written by none other than the future Korean cinema masters Lee Chang-dong and Hur Jin-ho.
This is just a selection of what's on offer at this year from 1 -24 NOVEMBER for the full programme visit the website.