New artistic director Lili Hinstin unveils her eclectic mix of films for the 72nd Locarno Film Festival which runs from 7 until 17 August in its luxurious lakeside location. Locarno is known for its edgy profile and this year will be no different: Films by established auteurs Koji Fukada, Asif Kapadia, Kiyoshi Kurosawa will screen alongside an inventive array of undiscovered newcomers and sophomore cinema in a selection that embraces traditional stories and more experimental and avantgarde fare.
Hinstin takes over from Carlo Chatrian, who served as artistic director of Locarno since 2013 and now returns to the Berlinale. Hinstin is the 13th artistic director of the Locarno Festival since it was founded in 1946 and is only the event's second female artistic director following on from Irene Bignardi (2000-5).
The largest open air cinema space in Europe, the Piazza Grande, will welcome up to 8,000 viewers for 19 full-length, 2 short films, and 6 Crazy Midnight, a total 11 world premieres. The magnificent state of the art Grand Rex cinema will pay host to this year's Retrospective BLACK LIGHT conceived by Greg de Cuir Jr. showcasing international 20th century black cinema with stars such as Pam Grier, Ousmane Sembene, Spike Lee and Euzhan Palcy who will introduce his restored print of Rue Cases-Negres.
There will be another chance to see Tarantino's Once Upon a Time in Hollywood, Luebbe DeBoer's Sundance breakout Greener Grass and Kapadia's Cannes documentary Maradona, along with the Joseph Gordon-Levitt-starring hijack thriller-drama 7500, Carice Van Houten-starring Instinct, and British comedian Simon Bird's directorial debut Days Of The Bagnold Summer. Making its world premiere is also the  intriguing Italian horror feature The Nest from Roberto de Feo whose 2010 short film Ice Scream was one of the most awarded worldwide during the year of its launch.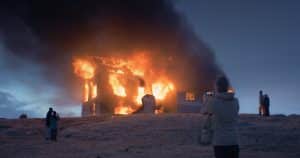 Films in the main competition vying for the Golden Leopard include the latest crop of South American stories: The Fever from Brazilian director Maya Da-Rin sees a disillusioned man hovering between reality and a dreamlike existence; from Argentina Maura Delpero's Hogar (Home) is set in present day Buenos Aires where two homeless teenagers are bringing up their kids in a religious institution run by Italian nuns. Icelandic director Runar Runarsson (Sparrows) will be there with his latest Echo. The first ever Locarno competition film in Gallego entitled Longa Noite (Endless Night) is a second surreal feature from Spanish director Eloy Enciso; and previous Golden Leopard winner Pedro Costa (Horse Money) is back with a Cape Verdean set drama Vitalina Varela. Activist and award-winning animator Mina Mileva and her Bulgarian co-director Vesela Kazakova have filmed their realist drama Cat in the Wall in Peckham, London. It follows the trials and tribulations of a mother and her daughter.
This year's Cineasti del Presenti, a sidebar dedicated to original and Avantgarde cinema, includes works from acclaimed actress Jeanne Balibar – Merveilles à Montfermeil, and Elsa Kremser and Levin Peter's Space Dogs explores the work of Laika, the first canine astronaut. Matjaz Ivanisin's debut drama Oroslan shows how traditional mourning rituals help to heal the community's grief in a village in Slovenia. From the magical midsummers of American teenagers in Tyler Taormina's Ham on Rye to Klaudia Reynicke's surreal female-centric drama Love me Tender– these are just some of the films in a programme full of daring inventiveness.
The President of the main competition jury will be Catherine Breillat, and she is joined by this year's guests: Mathieu Amalric, Bi Gan, Bong Joon-ho, Denis Cote, Joseph Gordon Levitt, Maren Ade, Jake Perlin, Bi Gan, Aline Schmid, Alba Rohrwacher, Hilary Swank and Bela Tarr and John Waters whose will receive a Leopard of Honour for his daring, outrageous, often hilarious work: "Somehow I became respectable…What the hell has happened!"
LOCARNO FILM FESTIVAL 2019 | 7 -17 AUGUST 2019