Polish director Krzysztof Kieslowski (1941-1996) brings a raw emotional simplicity to his films that disarm even the hardest heart. Nothing is overstated or irrelevant in his sober depictions of human life during the last thirty years of Polish communism.  Starting his career as a documentarian, by the mid 1970s a novel by Romuald Karas was to inspire his first feature The Scar (1976).
THE SCAR (BLIZNA, 1976)
Dir.: Krzysztof Kieslowski; Cast: Frantisek Pieczka, Marius Dmochowski, Jerzy Stuhr, Halina Winiarski; Poland 1976, 106 min.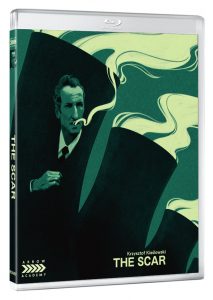 In the small Polish city of Olechov, the local party committee decides to build a huge chemical complex. The project is forced through despite the local fear of environmental fallout. Stephan Bednarz (Pieczaka) heads up the project. A very straightforward and honest Party man, he and his wife (Winiarski) used to live in the area and had some unpleasant experiences there, although the exact nature of these is not alluded too. Bednarz is responsible to the Party boss (Dmochowski), who has his hands full with infighting in his many sub-committees. Stephan's wife (Winiarski) has been very sceptical from the beginning, along with his assistant (Stuhr). Everyone wants a piece of the action, and Stephan is buried under an avalanche of complaints. Kieslowski and DoP Slawomir Idziak handle the crowd scenes very well, as the focus narrows on Stuhr's assistant. Fans will appreciate this dour slice of social realism made starker by Kieslowski's documentary style which lacks humour or even irony. A bleak start for the director's dramatic career.
CAMERA BUFF (AMATOR, 1979/80)
Dir.: Krzysztof Kieslowski; Cast: Jerzy Stuhr, Malgorzata Zablonska, Ewa Pacas; Poland 1979/80, 112 min.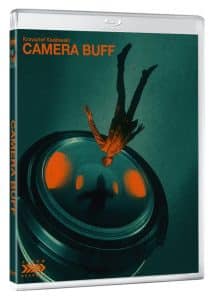 Camera Buff is a much more human affair. Kieslowski, co-writes in a drama that concentrates on the individuals, the society issues melting into the background. Remarkably, Kieslowski had five DoPs sharing camera duties. The story revolves around Filip Mosz (Stuhr) who has bought himself a an eight millimetre camera to film the birth of his daughter. He takes his new hobby seriously: When his daughter falls off her chair, he continues to shoot oblivious. "Would you have gone on filming, had she fallen off the balcony?" asks his wife Irka (Zablosnka). As his talent develops, his boss asks Filip to be the official chronicler of Party activities. With responsibility comes privilege, and the "man with the camera" turns into more than just an observer: When he shoots the workers mending the pavement, he does so from his balcony – symbolising his new empowerment. Family life takes a back seat and he belittles his wife when she walks out on him: "I saw you walking away. You looked so small. I will always see you like this". Filip is proud to be a chronicler, but, as one of his friends puts it "filmmakers are service providers". His new sense of entitlement blinds him to his obligations to society. Total autonomy and independence are illusions, as Julie will find out in Three Colours Blue.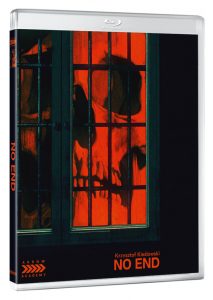 NO END (BEZ KONCA, 1985 
Dir.: Krzysztof Kieslowski; Cast: Grazyna Szapolska, Maria Pakulniss, Alexander Bardini, Danny Webb; Poland, 107 min.
Even though playful at times, No End is a serious story, the narrative's absurdist elements never overshadow the sober nature of the human struggle at the film's core. The main character Ursula Zyro (Szpolska) has lost her lawyer husband Antek (Radziwilowicz) to a heart attack. And Antek faces the camera in the opening scene describing the moments surrounding his death on the way to take their son Jack to school. He was set to defend a man accused of organising activities for the repressed Solidarity movement during a time of draconian martial law in Poland. Ulla, an English translator, currently working on 'the' Orwell project, feels guilty, because their marriage had been going through a bad patch. Ulla reaches out to an American tourist (Webb) and they sleep together even though he doesn't even speak Polish, but Ulla shares her grief all  the same. Meanwhile, the activist's case is taken up by an old lawyer called Labrador (Bardini), who had been Antek's teacher, but is now rather cynical, convincing his new client to agree a plea bargaining sentence. Meanwhile, Antek comes back to haunt proceedings as a ghost, still talking directly to the camera and watching over Ulla and Jacek. At one point he is seen stroking a dark Labrador (sic). It's amazing that No End got through the Communist censors and made it to cinema screens. Ironically, the only criticism came from the opposition parties and the Catholic Church. No End was Kieslowski's first time collaboration with scriptwriter Krzyszof Piesewicz, a partnership that was to last until the end of Kieslowski's career – and further. The two worked together on three scripts before the director's death. These were filmed by Tom Tykwer, Stanislaw Mucha and Danis Tanovic, in the first years after the new millennium. AS
ON LIMITED EDITION BLURAY | CINEMA OF CONFLICT: FOUR FILMS BY KRZYSZTOF KIESLOWSKI | 20 APRIL 2020