Dir.: Shivendra Singh Dungarpur; Documentary with Jiri Menzel, Vera Chytilova, Woody Allen, Raoul Coutard, Milos Foreman, Ivan Passer, Ken Loach, Andrzej Wajda, Agnieszka Holland; India 2018, 448 min./Special features 23 min.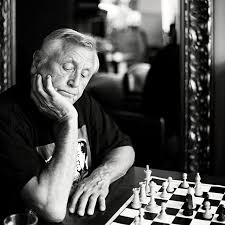 Indian filmmaker Shivendra Singh Dungarpur fell in love with the films of Jiri Menzel (1938-2020) after watching the Czech director's Oscar-winning debut Closely Observed Trains (1966) and this new documentary certainly does his hero justice – weighing in at over seven hours and eight years in the making – it also serves as a deep dive into the Czechoslovakian New Wave (that culminated in 1968 when Russian forces invaded!).
After meeting the Czech master in a Prague cafe ten year's ago Dungarpur's obsession grew, and the result is this labour of love – which would take him all over the world – CzechMate re-igniting the spirit of a world long gone by, at a time when Eastern Europe's right-wing authoritarian regimes have ironically replaced their former Stalinist dictatorships.
Dungarpur had to be persuasive in chasing down the contributors to this mammoth endeavour "It was a challenging, often frustrating task to capture their stories: it took three years and a ruse to convince the Diamonds of the Night director Jan Nemec to give an interview; "I had to chase the veteran actor Josef Somr to a village hundred kilometres from Prague, and still he refused to talk to me. I drove five hours one way from Bratislava only to have Closely Observed Trains star Dusan Hanak refuse to open the door, forcing me to try again later. But in the end, I got them all".
Jiri Menzel was a subversive rebel in the vein of Czech literary figure The Good soldier Schweijk. He chose to tackle the authorities head-on, unlike his compatriots Milos Foreman (Loves of a Blonde) and Ivan Passer (Intimate Lighting), who emigrated to Hollywood. Most of his films are portraits of small-town life (Cutting it Short, The Snowdrop Festival, My Sweet Little Village, and he brought out the humanity in his provocative characters who were loveable in spite of it all.
During his time at FAMU Film School in Prague, Menzel got to know the writer Bohumil Hrabel (1914-1997), who became the Czech New Wave's leading light. But it was Vera Chytilova who gave Menzel his first break as assistant director in her 1963 feature Something Different. Hrabel went on to script Menzel's own debut feature Skylarks on a String (1969) a rather mild comedy about life in a "reform" Camp, more satire than anything else. But it was banned by the authorities and kept locked up, only to be screened in 1989 – before winning the Golden Bear at the Berlin Festival a year later. Meanwhile, Menzel was left out in the cold cinema-wise and in the intervening years worked in theatre with plays by Chekhov, Shakespeare, Michael Frayn, and later Vaclav Havel's stage adaptation of 'The Beggars Opera', (based on the original 1728 libretto), with a film version that would follow in 1991.
Five years after Skylarks Menzel would continue with his comedy output his 1976 Secluded, Near Woods garnering the Golden Shell at San Sebastian in the same year, and Who Looks for Gold (1974) was selected for Berlinale but went home empty-handed, and Cutting it Short receiving at Honorable Mention at Venice in 1981. In 2006  he adapted Hrabel's novel I Served the King of England, which took the FIPRESCI prize at Berlinale the following year and this was his penultimate feature in a career that culminated with his energetic opera-themed swan song The Don Juans that met with a rather mixed reception, described by Variety called it a "frothy operatic romp" haunted by the spectre of the hated financier.
Dungarpur offers little in criticism of his idol whose only dissenter appears to be Agnieszka Holland, who thought Menzel's approach to "twee", particularly his portraits of the Nazis in Closely Observed Trains. For what it's worth, the Polish director apparently preferred the more sombre confrontational works of the New Wave's Slovakian filmmakers: Jurak Jacubisco, Dusan Hanak and Stefan Uher.
Menzel's story is the story of the Czechoslavak New Wave in microcosm. Many suffered more than Menzel: Evald Schorm (Courage for every Day) and Eduard Grecner (Nylon Moon) were banned from working for decades, Stefan Uher (Genius) died prematurely from cancer at 62. Others, like Otokar Vavra (Witchhammer) gave in to the regime, but were criticised afterwards for getting too close. It was a non-win situation.
As for CzechMate, DoPs David Calk, Ranjan Palit, K.U. Mohanan and Jonathan Blum help to keep Dungarpur's Opus Magna flowing gracefully. As film essays go, this is certainly as comprehensive as possible. It is carried by the playful relationship between Menzel and Dungarpur – echoing the jaunty exuberance of his oeuvre. Passionate and brimming with verve, this is a gem which can be tackled at once, or dipped into again and again for the pleasure of revisiting the Czech master's life and work. Like most worthwhile things, CzechMate needs time commitment, but is well worth it for the joy of the ride. AS
AVAILABLE ON SECONDRUNVD.COM VOD from 26 OCTOBER | on BLU-RAY 2 DISC SPECIAL EDITION