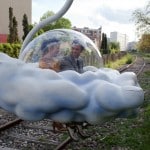 Michel Gondry's poetic and surrealist French drama MOOD INDIGO is based on BORIS VIAN's fantastical novel L'ECUME DES JOURS (Froth on a Daydream). The story has captured the imagination of various feature filmmakers since the book was written in 1947 and has also been made into an opera by the Russian composer Edison Denisov.  It tells how Colin, a romantically idealistic young man, falls in love and marries Chloe, a beautiful Parisian girl. Romantic love turns to tragedy when Chloe develops a weird and inexplicable illness, turning their lives upside down.
The exciting news is that we have three copies of the book to give away. To be in with a chance of winning one, please answer the following question:
Q. Boris Vian was a famous French writer, poet and translator but he was also influential in which field of music during his lifetime?
a. Opera
b. Jazz
c. Orchestral
Please send your answer to filmuforia@gmail.com by the competition deadline: Midday on 5 DECEMBER 2014.