Thierry Frémaux (now general delegate) has unveiled the 2019 official selection. And this year's Cannes looks to be a glittering number with plenty of real stars gracing the Croisette (Elton John, Isabelle Huppert, Tilda Swinton and Claude Lelouch), four female filmmakers in the main Competition line-up which strikes a good balance of well known auteurs and new filmmakers – and some promising British Films: Dexter Fletcher's biopic Rocketman; Asif Kapadia new documentary about his hero Diego Maradona, and another dose of dour social realism from Ken Loach. Cannes and Netflix are still at loggerheads – in the best possible way – but where would Cannes be without a little controversy to hit to headlines…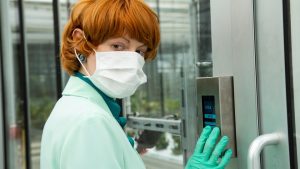 The four Palme d'Or hopefuls directed by women are— Mati Diop's Atlantique (she was memorable in Simon Killer);Jessica Hausner's Sci-fi-ish debut Little Joe stars Ben Whishaw and Emily Beecham in a story set in the world of genetic engineering (left); Céline Sciamma's Portrait of a Lady on Fire (with its all female cast) and Justine Triet's Sibyl a psychotherapist themed drama which has distinct echoes of Ozon's l'Amant Double. Infact, 13 of the 51 filmmakers (about 25%) are women. And Thierry intends to continue with the trend.
Alejandro González Iñárritu, who won the festival's directing prize for Babel in 2006 will head up the jury. This year's official poster (above) pays tribute to the director Agnès Varda, who died last month at age 90, and features an image from her final film La Pointe Courte. And for the first time ever, the opening film Jim Jarmusch's The Dead Don't Die will also play in competition. Styled as a zombie comedy is has a superb cast: Adam Driver, Bill Murray, Chloë Sevigny and Tilda Swinton.
Also in the main competition is Pedro Almodovar with Pain and Glory described as a fictionalised auto-biopic. He's be nominated before but never won the Palme so it would be a feather in the Oscar winner's cap. Canadian Xavier Dolan is back with a Quebec-set drama Matthias and Maxime. Il Traditore is Marco Bellocchio's drama about Tommaso Buscetta the first mafia informant in 1980's Sicily. Ira Sachs's Frankie is set in the bewitching town of Sintra which will add another dimension to the story starring festival doyenne Isabelle Huppert along with Brendan Gleeson, Marisa Tomei, Greg Kinnear and Jérémie Renier. Romanian filmmaker Corneliu Porumboiu tries his hand at comedy with The Whistlers which unites him once again with Vlad Ivanov (Hier and Sunset). Ladj Ly is the only first time filmmaker on the comp list and he brings a drama expanded from his 2017 short entitled Les Miserables about the Seine-Saint-Denis anti-crime brigade. Veteran favourites The Dardennes Brothers will be there will Muslim-themed Young Ahmed. Malick's A Hidden Life (aka Radegund) explores the life of Franz Jägerstätter, an Austrian conscientious objector to the Third Reich who was executed in 1943 and contains final performances from Michael Nqyvist and Bruno Ganz, sadly no longer with us.
Other directors returning to competition include Oh Mercy, a Roubaix-set crime drama from Arnaud Desplechin and a family drama from South Korea's Bong Joon-ho (Okja). And Cannes regular Kleber Mendonça Filho co-directs his latest (with Juliano Dornelle), a horror film entitled Bacurau.
Un Certain Regard sidebar has films from Catalan auteur Albert Serra – Liberté – and The Wild Goose Lake, a Chinese thriller by Diao Yinan (Black Coal, Thin Ice). Bruno Dumont's follow up to Maid of Orleans story Jeannette (2017) is simply called Joan of Arc. 
And where would Cannes be without the megastars of the Riviera? Double Oscar-winning Claude Lelouch claimed the Palme d'Or back in 1966 with the iconic Un Homme et Une Femme. And he follows this up with the same classic duo in The Best Years of a Life (Out of Competition) uniting Jean-Louis Trintignant with Anouk Aimée. Veteran heavyweights Abel Ferrara and Werner Herzog also join the party.
TV-wise there will be a chance to sample Danish director Nicolas Winding Refn's 10-parter  Too Old to Die Young. Venice started the TV-streaming service trend, and Cannes has now joined the bandwagon.
Thierry Frémaux left the press conference with his usual cheeky promise that other titles will soon be announced. And everyone was excited to hear that these could include Quentin Tarantino's Once Upon a Time in Hollywood exploring the final years of the Golden Era with a starry line-up of Al Pacino, Leonard DiCaprio, Dakota Fanning and Margot Robbie.
For the time being no Netflix films will be included in the Palme d'Or competition, indeed the streaming giant does not have a film ready in time to be presented this year. Martin Scorsese has declared that special affects have delayed his entry of The Irishman which was very much on the cards for Thierry Frémaux and Pierre Lescure, and will now most likely appear at Venice.
Other regulars and possible contenders are Steven Soderbergh's The Laundromat, the Safdie brothers' Uncut Gems and the latest from Noah Baumach and Ad Astra from James Gray. So watch this space. MT
CANNES FILM FESTIVAL | 14 -25 MAY 2019
Jury
Alejandro G. Iñárritu
Elle Fanning
Maimouna N'Diaye
Kelly Reichardt
Alice Rohracher
Enki Bilal
Robin Campillo
Yorgo Lanthimos
Pawel Pawlikowski