The first wave of titles have been announced for the first edition of the Chinese Cinema Season. spooling out over the next three months and kicking off on 12 February (Chinese New Year) all over Europe.
The longterm festival will showcase UK Chinese language premieres and highlight overlooked gems and classics to cinema-lovers in the UK and Ireland. New films will be added to the party, along with the usual Q&As and panel discussions with industry professionals, filmmakers and actors, and academics.
Over 50 films will be on offer over the course of the season all available on VOD, along with themed mini retrospectives. Along with Coronavirus this is 'a love letter' from China.
Popular films such as festival favourite Youth are available along with a Shanghai Animation strand featuring 10 films from 1950s to the present day. Studio Ghibli is possibly more widely known for Anime titles, but Ghibli's Hayao Miyaki visited the Shanghai studio back in 1984 setting up his own studio a year later. Features include the delightful Lotus Lantern (1999) a UK premiere.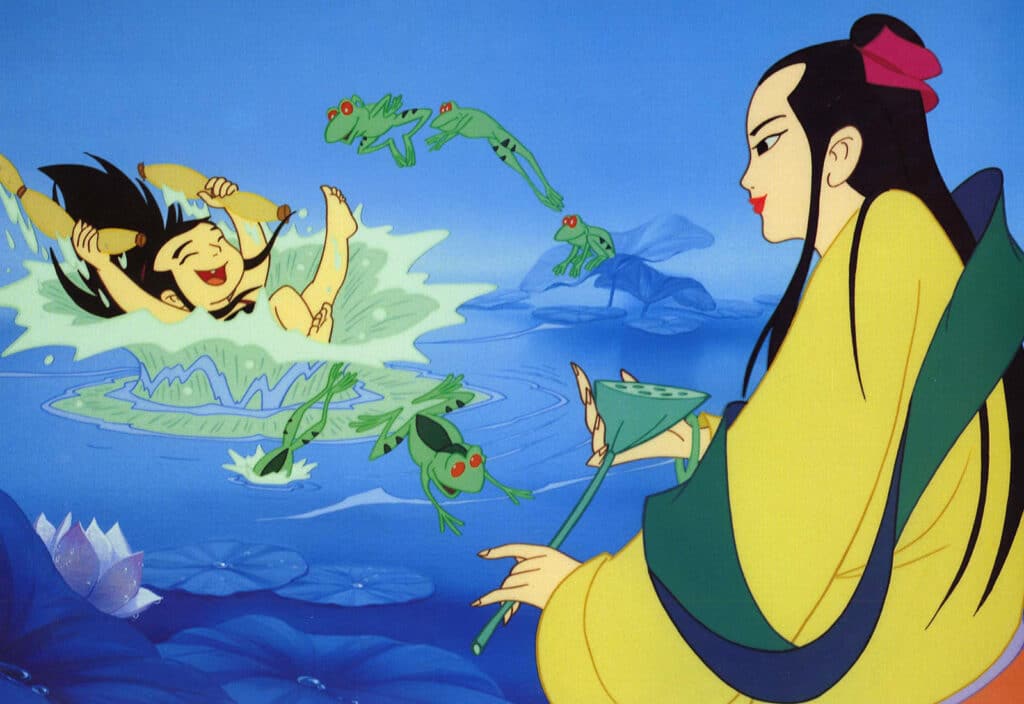 Documentary wise there will be a chance to see DOUBLE HAPPINESS (2018), A YANGTZE LANDSCAPE (2017) and DAUGHTER OF SHANGHAI (2019). 
Double Happiness Limited
Taiwanese director Shen spent seven years detailing eight couples' lives from falling in love, getting married and having children, getting them to ask each other questions that they would not touch on in their daily lives, and leading the audience to reflect on their own definition of marriage and happiness.
A Yangtze Landscape
Setting off from the Yangtze's marine port, passing Shanghai, Nanjing, Wuhan, the huge Three Gorges Dam, and Chongqing, all the way to the Yangtze River's source in Qinghai/Tibet over thousands of kilometres, this unique work of sound and vision utilizes the "Yangtze", in the director's words, as a metaphor of the current chaos in China.
Bazzar Jumpers
Three Uyghur friends in love with parkour fight prejudice and family opposition to train for China's most popular and dangerous parkour event in Beijing.
Daughter of Shanghai
A waltz through the life of Chinese English actress Tsai Chin: the daughter of the Peking Opera master Zhou Xinfang, the first Chinese student at RADA, and the first Chinese Bond Girl. The director Michelle Chen is confirmed to do a Q&A with other contributors TBC to celebrate the premiere of this film.
.
FIRST FILM SPOTLIGHT
12 February to 12 May
This section introduces contemporary Chinese directors and their striking debuts. Three films will be shown in the opening month: A First Farewell (2018) by Lina Wang, The Crossing (2018) by Bai Xue, and The Silent Holy Stone (2006) by Pema Tseden. Encompassing Mandarin, Cantonese (The Crossing), Tibetan (The Silent Holy Stone ) and Uyghur (A First Farewell )dialects and cultures, these films reflect how diverse life can be in the different regions of China.
A First Farewell * UK PREMIERE *
Isa Yassan, a young Muslim boy in Xinjiang Province, balances caring for his ailing mother, schoolwork, and farm duties, soon experiences "the first farewell" in his life – as his father decides to send his mother to a nursing home and they leave the village. Lina Wang, from Xinjiang, wrote and directed this film, which won the Crystal Bear and Special Prize of the Generation Kplus International Jury at Berlin International Film Festival, as well as several other awards at Tokyo, Shanghai and Hong Kong film festivals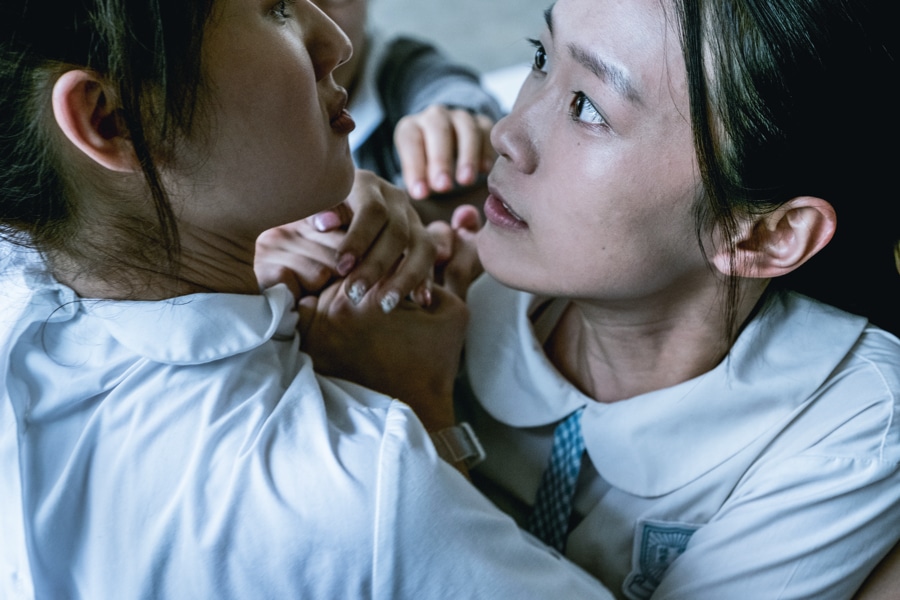 The Crossing (above)
Sixteen-year-old Peipei crosses the border between mainland China and Hong Kong every day, customs officials waving her through with just a glimpse of her high school uniform and innocent face. She joins a gang to earn quick money by smuggling iPhones across the border, but soon finds herself in way over her head. The debut from BAFTA Leading Light writer-director Bai Xue, was nominated for Best First Feature Award and Crystal Bear at Berlin International Festival, won the NETPAC Award at Toronto International Film Festival, and best first film awards at Pingyao, Hong Kong, and Dublin Film Festivals.
The Silent Holy Stone
A young Tibetan monk returns home for the New Year and discovers a television which he intends to bring to the monastery and show to his master. Tibetan director Pema Tsedan's debut, immediately preceding his recent feature Balloon (2019), shows how the director established his personal style from the very beginning.
DOMESTIC HITS
12 February to 12 May
In recent years, the world has witnessed the rise of the Chinese mega-blockbuster and the seemingly unstoppable rise of the film industry in China. this section features commercial films that triumphed at the domestic box-office with relatively high production value. For the opening month the following are showing: Sheep Without a Shepherd (2019), Youth (2017), and The Captain (2019).
Sheep Without a Shepherd
Lee (Xiao Yang) and his wife Jade (Tan Zhuo) run a small
video business in Thailand. They have two lovely daughters and live a happy life. However, when his eldest daughter kills a schoolmate in self-defence during a sexual assault, Lee has to bury the body and cover the truth, to protect his daughter and families, Lawan (an impeccably steely Joan Chen, The Last Emperor, Lust, Caution) is the feared head of the regional police, and she is dying to find her missing son. The contest between Lee and Lawan is beginning. The battle of wills between Lee and Lawan begins. The film's box office reached more than 1.2 billion RMB in China ($185m), even as the start of the pandemic cut short the film's release. The film is based on the 2015 Indian box office hit, Drishyam.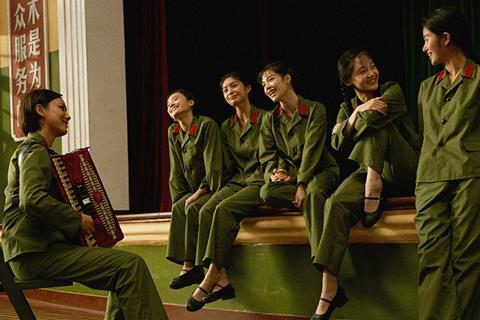 Directed by China's most famous commercial director Feng Xiaogang, Youth takes a look at the lives of the members of a Military Cultural Troupe back in the 1970s Cultural Revolution, exploring their friendship, love, dreams, and devotion to their beloved collective and career. The storyline, to a large extent comprised of the director's personal memories and nostalgia, also resonates with a generation in China who sacrificed their youth to the country and the ideology.
The Captain
One of so-called "main melody" films, stemming from a true story, The Captain demonstrates a breath-taking moment: a commercial pilot and his crew try to save passengers and land their plane safely while the plane shatters at 30,000 feet in the air. Its box office reached more than 2 billion RMB in China (over $300m).
Upcoming Sections
Lou Ye Mini Retrospective
As one of the "Sixth Generation" directors, Lou Ye has been regarded as a "true artist", an "authentic filmmaker" and a "constant fighter" of censorship. Despite the controversies, he achieved great success both in China and worldwide. He was nominated and won numerous awards owing to his unique editing style and camera movement, as well as his sharp observations and narratives about marginalised people and typical, but often undocumented, social phenomena in China. In this section, we will premiere Lou Ye's penultimate film, Shadow Play, which took two years of editing to get the greenlight from authorities.
The platform is powered by Shift 72 (Cannes Marché du Film, SXSW, Macao IFFAM, Tallinn Black Nights) and tickets can be purchased here