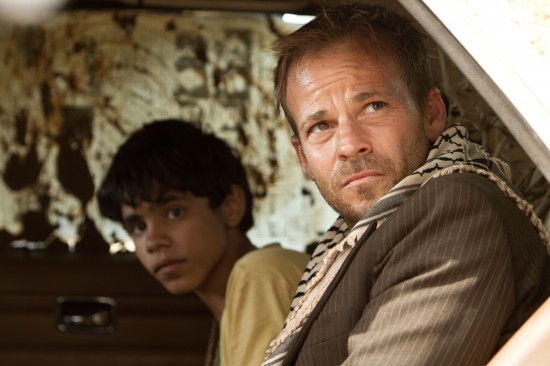 Director: Eran Riklis
Cast: Stephen Dorff, Abdallah El Akal
104mins   Drama
[youtube id="EBeW4v7FAVI" width="600″ height="350″]
Friendship between an Arab boy and a Jewish soldier breaches the cultural divide in this sadly improbable but painterly portrait of the Arab Israeli conflict.
Set in the rolling beauty of hilly Lebanon in the run-up to the ill-fated Israeli invasion of Beirut in 1982 it stars Stephen Dorff as Yoni, an Israeli fighter pilot.  Coming down in the hillside, he is captured by a group of fighters from the PLO amongst whom is Fahed, a cocky little orphan and refugee whose dream is to return to his birthplace in occupied Palestine.
Their improbable relationship takes root in extreme circumstances as they  recognise each other's strengths: Abdallah El Akal is spunky yet vulnerable as the 'kickass'  little boy and Stephen Dorff is mellow and masterful as his adversary in performances of such exuberance they transcend the weak script and storyline.
Aided by breathtaking cinematography of its glorious setting, Eran Riklis's (The Lemon Tree) film delivers a feel good message of eternal hope despite its limitations and the tragic circumstances of its backstory. MT
ZAYTOUN OPENS ON 26TH DECEMBER 2012 AT THE CURZON RENOIR and IS OUT ON DVD 8TH APRIL 2013