Dir: Jalil Lespert | Wri: Laurence Benaiim, Jacques Fieschi, Marie-Pierre Huster, Jalil Lespert | Cast: Pierre Niney, Guillaume Gallienne, Charlotte Le Bon, Laura Smet, Marie de Villepin, Nikolai Kinski, Marianne Basler | France, Biopic drama 104′
The legendary designer and couturier, Yves Saint Laurent, had two biopics dedicated to him in 2014. The first is this one from actor turned director Jalil Lespert, the second is Bertrand Bonello's Saint Laurent.which won the Palme Dog at Cannes for Best Doggy Death scene played by pooch Moujik.
For fifty years YSL was the creative force that shaped the International fashion scene with designs celebrating haute couture and paving the way for prêt-à-porter to gain respectability for those with more dash than cash.
Lespert takes the first (and most significant) part of YSL's career, which deals with his rise to fame; his significant relationship with his business partner, Pierre Bergé, and his emotional decline. This biopic is meticulously-crafted in conveying the importance of style and correct dressing, epitomising French style through wearable elegance. The film features his immaculate designs and particularly his appreciation of the female body in celebrating voluptuous curves and waists (his sister and mother modelled for him in the early days) unlike Chanel whose boxy designs focused on a more gamine look, highlighted by Audrey Hepburn.
After a childhood in Algeria, then a French colony, Yves Henri Donat Mathieu-Saint-Laurent moved to Paris to study fashion design. The film opens in 1953, as Christian Dior appoints him in-house designer. After a dalliance with one of the favourite in-house models (Charlotte Le Bon), he falls for Pierre Bergé (Guillaume Gallienne), who is to become his business partner and the love of his life.
On Dior's sudden death, he is drafted into the army but escapes conscription in Algeria, on emotional grounds. The House of Dior then sacks him and YSL takes them to court, and wins. Lespert's film works best in these early years when it deals with YSL's perfectionist nature and his appreciation of the impeccable professionalism surrounding French design standards, and the seriousness with which the French treat the industry.
Lespert is also at pains to flesh-out his struggle with homosexuality in fifties France, and illustrates how Pierre Bergé was such a vital partner, providing a business brain and an emotional anchor due to their strong chemistry; showing how this was a compatible love match not just a sexual exploit, and also how the two strayed from their relationship, eventually making it stronger.
After they form their own fashion house, YSL moves with the times developing a groundbreaking prét-a-porter collection that responded to a new generation with sportier and more sexy, shape-flattering clothes for women such as the 'Le Smoking', thigh boots, tight trousers and swaggeringly sophisticated trouser suits.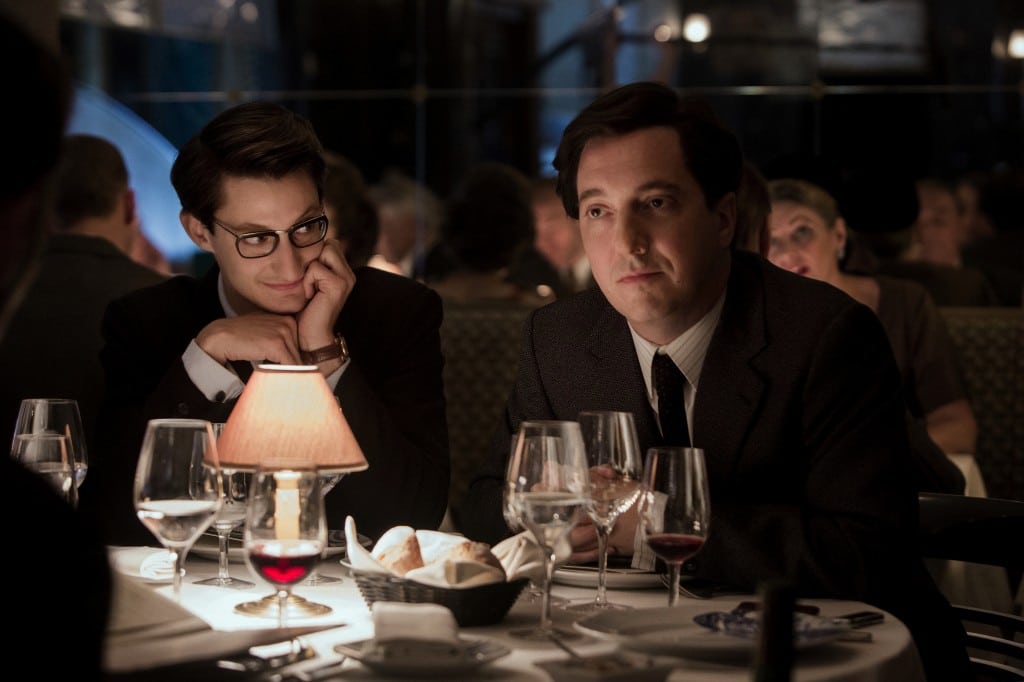 Stylish to look at, the film follows the couture shows on the catwalk, charting how the collections developed creatively demonstrating the importance of business acumen in the face of growing competition from the likes of Courrèges in the late sixties. As the brand grows in profile, the couple consort with the Jet Set, moving between Paris and Marrakech where the drama loosens up as an exotic twist tracks Saint-Laurent's louche descent into drugs and alcohol – a reaction to his stiff upbringing and Bergen's controlling influence. This segment also deals with Yves' friendships with Loulou de la Falaise and Nicole Dorier and also his pioneering fascination with non-white models and ethnic designs, and this is accompanied by an eclectic soundtrack of hits from the era.  The narrative then wanders into more predictable 'sex, drugs and rock-roll' territory rather than exploring Saint Laurent's more personal love life.
Guillaume Gallienne is spectacular as Pierre Bergé, evoking not only his acute business and PR skill and in-depth understanding of Saint-Laurent, but also his aching desire to be seen as more than just a business man; and this shows through in Marrakech when his stiff style is at odds with the other relaxed creatives hanging out there.  Pierre Niney physically inhabits the role of Yves-Saint-Laurent. Not only does he look like the designer but he also embodies his volatility to perfection: his acute shyness in myriad expressions of painful anguish, mercurial anger and also his dignified restraint.
The film ends abruptly but perhaps at best the possible juncture for Saint Laurent as the later years of his life were less ground-breaking than his rise to fame. On reflection, a more in-depth examination of the earlier years would have made more fascinating viewing from a fashion point of view, with less of the repetitive drug-fuelled years which reveal nothing out of the ordinary, but create dramatic heft. Lespert's film is at its best when charting the fashion scene of the fifties and early sixties and his family influences. Watching Pierre Niney, though, you cannot help but feel you're in the presence of the great designer himself. MT
YVES SAINT LAURENT IS ON DVD and NETFLIX