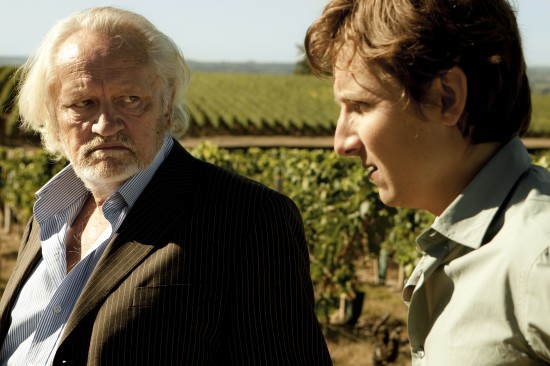 Director/Screenplay: Gilles Legrand
Cast: Niels Arestrup, Patrick Chesnais, Anne Marivan, Lorant Deutsch, Nicolas Bridet
102min  French with Subtitles
Family dysfunction, wine-making and inheritance are the themes that gently ferment in this well-made and watchable French drama set in the renowned vineyards of Saint Emilion, Bordeaux. Gilles Legrand adapted the screenplay from the 19th novel and cleverly blends wine trade terminology and its deep-seated traditions and snobbery of terroir into this full-bodied study of family politics and professional rivalry. It stars Niels Arestrup as a truculent widowed dad who owns a successful domaine with his talented viticulteur Francois, a quietly powerful Patrick Chesnais.
But all's not well in Paradise: Francois has a terminal illness and Paul is not convinced that his son Martin is equipped to carry the business forward retaining the prestige of his fine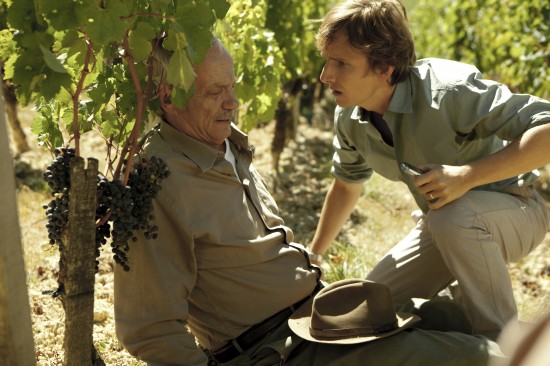 wine. And Francois's son, Phillippe, just back from a California winery, is more suitable for the job.
You Will Be My Son is the sort film Claude Chabrol might have made back in the sixties with more overtly sinister undertones.  Legrand's characters are supremely believable and the storyline is appealing and plausible. But what makes this so enjoyable, apart from Yves Angelo's striking visuals, are the strong performances from Patrick Chesnais, Nicolas Bridet (as his son Phillippe) and Lorant Deutsch as Martin. Anne Marivan is also convincing as Martin's wife Alice, who stands up to Paul in a feisty turn.
Niels Arestrup is particularly powerful as Paul. He's a versatile actor who can be warm and paternalistic as in War Horse or distant and uncomprimsing as in Our Children and here in this portrait of a bitter and sadistic old man intent on blocking his son's chances of inheritance with unexpected consequences for all concerned. Wine buffs with love this foray into the world of wine. MT
SHOWING AT THE CINE LUMIERE FROM 7-21 DECEMBER 2012
A FREE GLASS OF CLOSERIE DE FOURTET WILL BE OFFERED TO EVERY CINEMA-GOER (OVER 18) ON THE OPENING WEEKEND OF RELEASE IN ENGLAND.