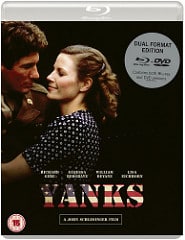 John Schlesinger's YANKS, a moving and romantic WWII tale of love starring Richard Gere and Vanessa Redgrave is based on Lancashire born Colin Welland's original story, he also wrote the script.
Colin Welland was one of England's finest film and TV writers best known for The Dry White Season (1989), Chariots of Fire (1981) and numerous popular TV series including Play for Today and Armchair Theatre. He also appeared in Kes (1969); Straw Dogs (1971) and Villain (1971).
Capturing all the subtle emotional complexity that marked Schlesinger out as a one of our finest directors, this captivating social drama is imbued with English sensibilities of the local characters that contrast so eloquently with the looser and more playful US soldiers, YANKS is full of sweepingly romantic moments and amusing interludes that show how easily petty resentments or racial differences could easily catch fire in the heat of the moment inflaming hearts and minds fraught with the stresses of wartime occupancy.
Ambitious yet intimate YANKS is a World War II epic that won BAFTAs for Best Costume Design (Shirley Russell) and Best Supporting Actress (Rachel Roberts). John Schlesinger (Midnight Cowboy, Far from the Madding Crowd) went on to get the Evening Standard British Film Award in 1981. Crucially, his drama focuses on the human angle, avoiding battle scenes to explore the romantic and social entanglements between the locals and the U.S. soldiers stationed in a small town in Greater Manchester just before the Normandy landings of 1945. The American G.I.s set female hearts aflutter across the social divide: in one amusing scene in a train station Mollie (Wendy Morgan) cries"Excuse me, I'm pregnant!". A woman quickly responds: "So is half the bloody town, love!".
Gere is particularly charismatic as Sgt. Matt Dyson, falling for Lisa Eichhorn's delicate heroine Jean Moreton who misses her fiancée Stan overseas. Redgrave is wealthy socialite Helen, engaged in an affair with a gallant captain (William Devane), while desperate to remain faithful to her husband serving in the British Navy. Sergeant Ruffelo's romantic interlude with Mollie (Wendy Morgan) shows how romance can be heightened by wartime adversity when love and lust helped to counteract the stress and uncertainty of conflict.
Schlesinger had a rare gift for capturing romantic desire and yearning in a typically understated English way, and Yanks was a personal passion project for director whose success with Marathon Man (1976) here allowed him free creative rein. Although the film never really caught fire upon initial release, here is emerges as a soaring classic wartime romance that really deserves to be revisited – hankies at the ready. MT
YANKS NOW AVAILABLE COURTESY OF EUREKA MODERN CLASSICS on 3rd December 2018.
Amazon https://amzn.to/2B4L3GS
Zavvi http://po.st/uNQqq9