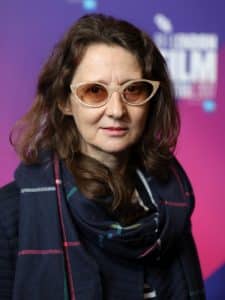 Hollywood may still be struggling with female representation as 2018 gets underway, but Europe has seen tremendous successes in the world of indie film where talented women of all ages are winning accolades in every sphere of the film industry, bringing their unique vision and intuition to a party that has continued to rock throughout the past year. Admittedly, there have been some really fabulous female roles recently – probably more so than for male actors. But on the other side of the camera, women have also created some thumping dramas; robust documentaries and bracingly refreshing genre outings: Lucrecia Martel's mesmerising Argentinian historical fantasy ZAMA (LFF/left) and Julia Ducournau's Belgo-French horror drama RAW (below/right) have been amongst the most outstanding features in recent memory. All these films provide great insight into the challenges women continue to face, both personally and in society as a whole, and do so without resorting to worthiness or sentimentality. So as we go forward into another year, here's a flavour of what's been happening in 2017.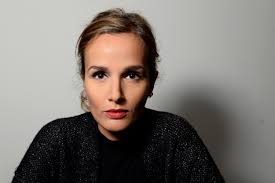 It all started at SUNDANCE in January where documentarian Pascale Lamche's engrossing film about Winnie Mandela, WINNIE, won Best World Doc and Maggie Betts was awarded a directing prize for her debut feature NOVITIATE, about a nun struggling to take and keep her vows in 1960s Rome. Eliza Hitman also bagged the coveted directing award for her gay-themed indie drama BEACH RATS, that looks at addiction from a young boy's perspective.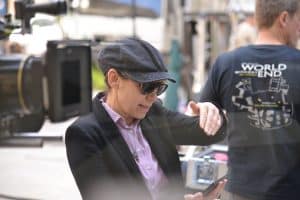 Meanwhile, back in Europe, BERLIN's Golden Bear went to Hungarian filmmaker Ildiko Enyedi (right) for her thoughtful and inventive exploration of adult loneliness and alienation BODY AND SOUL. Agnieska Holland won a Silver Bear for her green eco feature SPOOR, and Catalan newcomer Carla Simón went home with a prize for her feature debut SUMMER 1993 tackling the more surprising aspects of life for an orphaned child who goes to live with her cousins. CANNES 2017, the festival's 70th celebration, also proved to be another strong year for female talent. Claire Simon's first comedy – looking at love in later life – LET THE SUNSHINE IN was well-received and provided a playful role for Juliette Binoche, which she performed with gusto. Agnès Varda's entertaining travel piece FACES PLACES took us all round France and finally showed Jean-Luc Godard's true colours, winning awards at TIFF and Cannes. Newcomers were awarded in the shape of Léa Mysius whose AVA won the SACD prize for its tender exploration of oncoming blindness, and Léonor Séraille whose touching drama about the after-effects of romantic abandonment MONTPARNASSE RENDEZVOUS won the Caméra D'Or.
On the blockbuster front, it's worth mentioning that Patty Jenkins' critically acclaimed WONDERWOMAN has so far enjoyed an international box office of around $821.74 million, giving Gal Godot's Amazon warrior-princess the crown as the highest-grossing superheroine origin film of all time.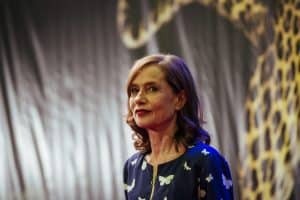 The Doyenne of French contemporary cinema Isabelle Huppert won Best Actress in LOCARNO 2017 for her performance as a woman who morphs from a meek soul to a force to be reckoned with when she is struck by lightening, in Serge Bozon's dark comedy MADAME HYDE. Huppert has been winning accolades since the 1970s but she still has to challenge Hollywood's Ann Doran (1911-2000) on film credits (374) – but there is plenty of time!). Meanwhile, Nastassja Kinski was awarded a Lifetime Achievement Honour for her extensive and eclectic contribution to World cinema (Paris,Texas, Inland Empire, Cat People and Tess to name a few).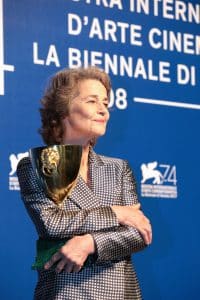 With a Jury headed by Annette Bening, VENICE again showed women in a strong light. Away from the Hollywood-fraught main competition, this year's Orizzonti Award was awarded to Susanna Nicchiarelli's NICO, 1988, a stunning biopic of the final years of the renowned model and musician Christa Pfaffen, played by a feisty Trine Dyrholm. And Sara Forestier's Venice Days winning debut M showed how a stuttering girl and her illiterate boyfriend help each other overcome adversity. Charlotte Rampling won the prize for Best Actress for her portrait of strength in the face of her husbands' imprisonment in Andrea Pallaoro's HANNAH.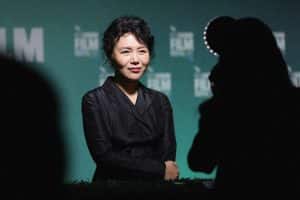 At last but not least, Hong Kong director Vivianne Qu (left/LFF) was awarded the Fei Mei prize at PINGYAO's inaugural CROUCHING TIGER, HIDDEN DRAGON film festival and the Film Festival of India's Silver Peacock  for her delicately charming feature ANGELS WEAR WHITE that deftly raises the harrowing plight of women facing sexual abuse in the mainland. It seems that this is a hot potato the superpowers of China and US still have in common. But on a positive note, LADYBIRD Greta Gerwig's first film as a writer and director, has been sweeping the boards critically all over the US and is the buzzworthy comedy drama of 2018 (coming in February). So that's something else to look forward to. MT
CATE BLANCHETT WILL HEAD THE JURY AT 71st CANNES FILM FESTIVAL | 8-19 MAY 2018