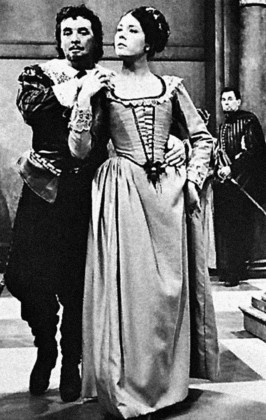 Director:  Gordon Flemyng
Script:  Philip Mackie, Thomas Middleton (play)
Producer: Philip Mackie
Cast:  Gene Anderson, Michael Barrington, Michael Blackham, Michael Burchill, Martin Dobson, Clifford Evans, William Gaunt, Diana Rigg
UK                   ***                   73mins                               Tragicomedy
A Granada Production playing under the 'Blood And Thunder' Play of the Week, Mackie scribed a necessarily heavily cut and gently updated version of one of Middleton's better-known tragicomedies, showing here as part of the BFI Classics on TV: Jacobean Tragedy on the Small Screen.
This was televisions early days, but no less edgy for it. The actors were pretty much running a theatrical performance to all intents and purposes. Filmed live, on one set with three cameras, there really is a sense that come what may, the show must go on, as there was no going back and doing it again.
Middleton's original Jacobean play (@1621) comes not that long after Shakespeare and brings with it another sensibility. Although women still weren't allowed on stage, certainly Middleton was exploring and expanding on the role women play in life and getting more into the psychology of the human condition than in Shakespeare's day.
One of the casualties of making a shortened version for television is the chopping back of this exploration in going for the drama, although there is still a sense of it, the other casualty being the prominence of the church in the play as a whole. Bravely shot by Flemyng, he makes sure none of the actors dwell at all and races the piece along to its extremely (risible) melodramatic denouement.
In a nutshell then, this is a play concerning power, lechery and the giving in to the baser elements of ones passions. Said to be drawn from true happenings in the Medici family in 1580 Florence, the story centres around a Duke's court, where the powerful, meddlesome widower Livia (Anderson) plays an easy and practiced game of chess with the pawns of her city, thinking nothing of hoodwinking a girl into giving herself to her own uncle and facilitating the rape of a married woman (Rigg) by the Duke (Evans) himself.
She quickly comes undone herself though, when she falls for the cuckolded husband in question (Gaunt); a man bought off and powerless to stop his ambitious wife's public philandering. Of course, it all ends badly in this morality tale of the ages.
Shot in black and white, the tape in brief places is showing terrible wear and tear, but this does somehow add to the atmospherics of the piece. If you will forgive the antiquity and accept the super-stylisation of a theatrical, period tragicomic melodrama, in verse, made in the Sixties for television, then there is actually something to be gained from the wit and insight of the original playwright and thus, when all's said and done, perhaps better seen as a play. AT
SCREENING AS PART OF JACOBEAN TRAGEDY ON THE SMALL SCREEN AT THE BFI DURING MARCH AND APRIL 2013