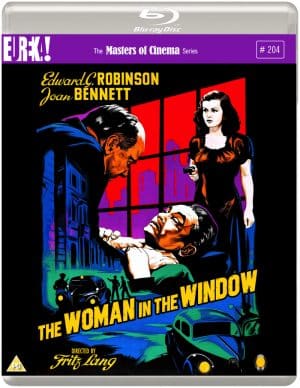 Dir: Fritz Lang | Wri: Nunnally Johnson | Cast: Edward G Robinson, Joan Bennett, Raymond Massey | US Film Noir 107′
One of legendary director Fritz Lang's first noir films, The Woman in the Window is also rightfully considered one of the most important examples of the genre, a landmark movie that became one of the initial representations of noir first singled out by French critics after WWII. A triumph for Lang, legendary writer/producer Nunnally Johnson (The Grapes of Wrath), and leading man Edward G. Robinson (shedding his earlier gangster roles to portray a love-struck obsessive), the mysterious melodrama remains a classic American nail-biter.
Johnson's loose adaptation of J H Wallis' novel Once Off Guard sees Robinson as Richard Wanley, a successful psychiatrist biding his time while his wife and children are on vacation. Lamenting the loss of his salad days, along with his drinking pals Raymond Massey and Dan Duryea, he is surprised and delighted to be picked up in the street by a foxy femme fatale in the shape of Alice (an alluring Joan Bennett dressed by Vogue illustrator and couturier Muriel King), who bears an uncanny resemblance to the subject of a portrait he had just admired in a gallery window. When Richard and Alice retire to her home, her wealthy, jealous boyfriend intrudes, and is killed after a struggle. Alice convinces Richard to cover up the crime, but as Richard's district attorney friend (Raymond Massey) investigates and the boyfriend's bodyguard (Dan Duryea) begins to apply pressure to Richard, the walls begin to close in…
With a darkly drôle climax years ahead of its time, The Woman in the Window is suspenseful film noir at its most seductive, elegantly captured and lit by Milton Krasner (who would go on to win the Oscar for Three Coins in a Fountain in 1955), the thriller also serves as an excellent companion piece to the following year's Scarlet Street, which reunited Lang with Robinson, Bennett, and Duryea in strikingly similar roles.
THE WOMAN IN THE WINDOW (Masters of Cinema) | 20 May 2019